I once had a rousing debate with a respected General Motors PR rep about why Cadillac could never seem to compete with the Germans. There have been exceptions: The original '76 Seville, '92 STS, and any number of V-Series among them, but as a whole, Cadillac never quite got there. And worse, it seemed Cadillac was ashamed of its heritage as it tried to become an American BMW. Well, there are no more excuses. The CT4 has finally beat the Germans without selling its sassy soul.
If you're Cadillac, be the best darned Cadillac you can be.  It has a heritage second to none.  Johnny Cash always wanted one that was long and black and famously sung about getting it one piece at a time.  Elvis gave them away like party favors, once buying over thirty-two in a day (including for a random woman looking in the dealership window).  Stallone is selling his stretch Escalade-based executive land jet for $350,000.  Cadillacs should never imitate.
This Cadillac looks proud of being a Cadillac as there's no mistaking who builds it.  Legendary GM design chief Bill Mitchell set the stage in the 1960s with sharp linear style, wide grille, heavy C-pillar resting on the rear deck, and hints of fins out back.  Expert styling shows in the CT4.  Check the two lines extending from the taillights.  One continues as a crease to the front while the other resolves in the rear doorhandle.  Very nice.  Horizontal elements like the LED headlamps and 18" alloys add detail, but there's no mistaking those tall red light tubes at night.  It looks long, but is one of the shortest Cadillacs ever built.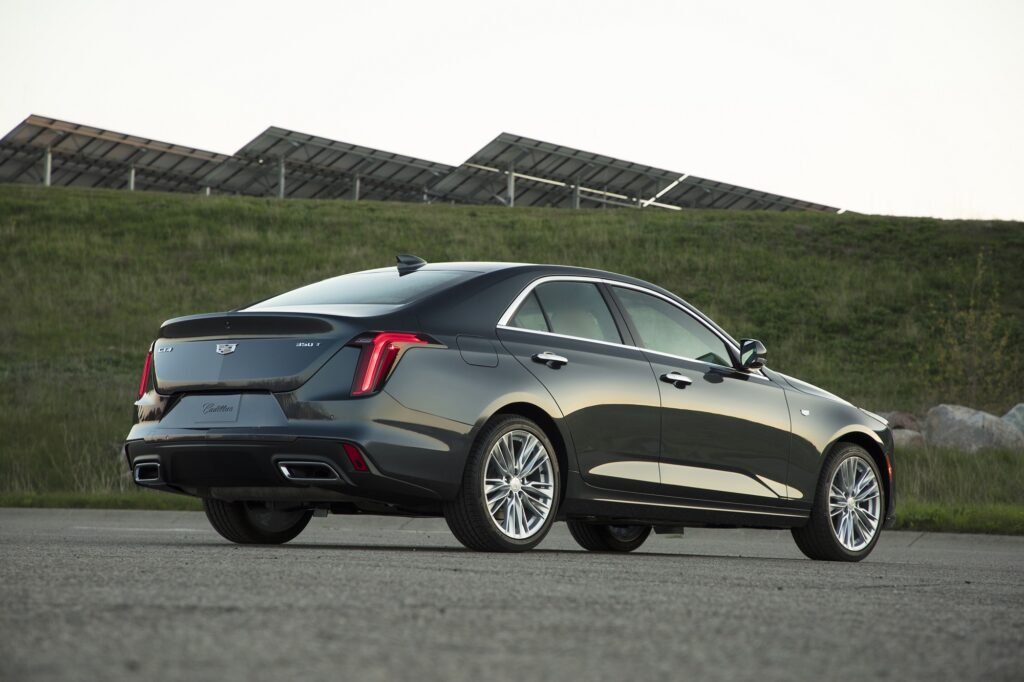 That shows in cramped rear legroom, but the rest of the cabin is wholly first rate.  Plush front seats are heated and ventilated.  A heated leather-wrapped steering wheel and 14-speaker Bose audio system add luxuries.  Devices connect through Bluetooth, Apple CarPlay, Android Auto, and 4G Wi-Fi hotspot.  Easy to understand touchscreen icons are super intuitive, but if you prefer to do it the German way, redundant controls are centered on a joywheel in the console.  Safety is enhanced by adaptive cruise, forward crash mitigation braking, blind spot warning, rear cross path detection, and lane keep assist.  The driver safety alert seat even vibrates in the direction of danger.
I like the way the CT4 looks and how it spoils passengers, but I really enjoyed driving it.  Base models come with a 2.0-liter turbocharged four-cylinder engine delivering 237 horsepower, but our car came with the larger 2.7-liter turbo-four that delivers 310 horsepower and 350 lb.-ft. of torque – all routed through a 10-speed automatic transmission.  All-wheel-drive is optional.  I expected the CT4 to be quick, but it runs 0-60 mph in 5 seconds!  Punch it getting on the Interstate, or when eliminating creepers on two-lanes, and it will slap you in the back.  Driven sensibly, it achieves 20/30-MPG city/highway.
I read a review that criticized the CT4's suspension as "floaty".  What does that even mean?  Not every car needs to be capable of thrashing the road course at IMS.  I drove the CT4 round-trip from Indianapolis to Nashville, Indiana, dicing up curvy hilly roads and Interstate between.  It's a delight to drive.  Where rivals clunk and bump over rough pavement, the Cadillac just glides over.  Sport mode firms the steering and amplifies the throttle response.  In a strange twist, the Germans at this price point are essentially front-drive while Cadillac puts its drive wheels near the tailfins.  It's simply a better balanced car that feels like it was created for adults.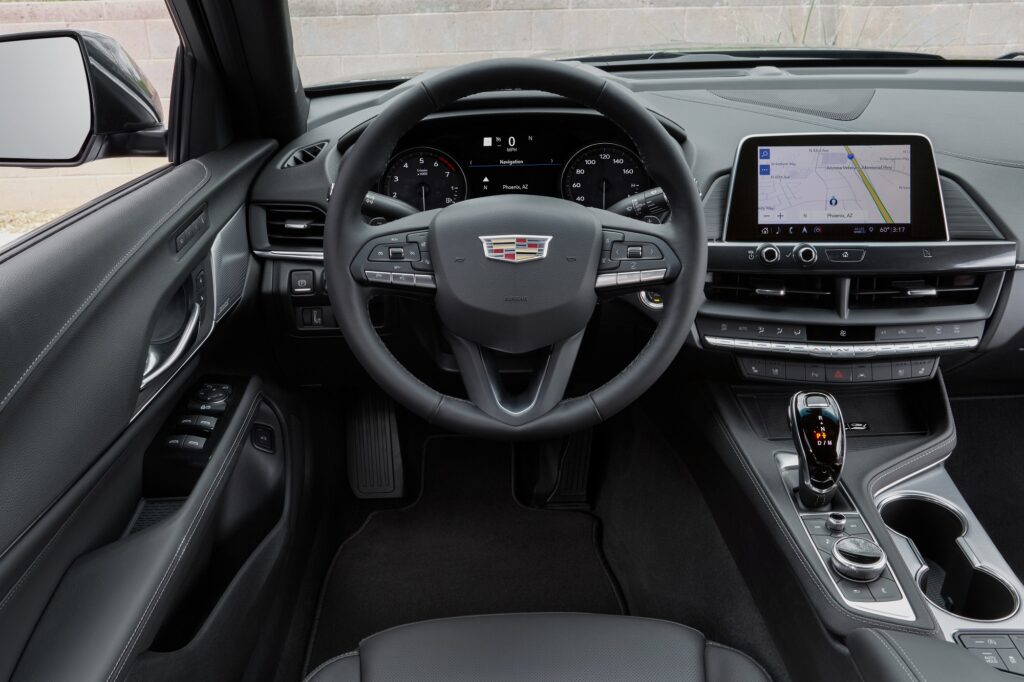 Cadillac should be very proud of the CT4. It looks like a Cadillac from a football field away, coddles passengers, rides comfortably, blasts out power, and flaunts handling of which German automakers should be jealous. Given a low base price of $32,995, or $44,690 as-tested, you shouldn't have to get yours one piece at a time or hit up Elvis for a freebie.
Storm Forward!
Send comments to Casey at AutoCasey@aol.com; follow him on YouTube @AutoCasey.