The luxury class category typically represents the leading edge of performance, comfort, styling, safety, and technology. Once you've gotten behind the wheel of a luxury vehicle, you are spoiled for life! Bottom line, a luxe ride is all about refinement. The 2020 Lexus LS 500 F Sport incorporates plenty of class and with a dash of sass.
The LS 500 F Sport checks all the appropriate boxes as far as the exterior styling. Despite being a family sedan, the full-sizer strikes a beautiful pose that shows off a bold and aerodynamically sleek look. It sports a huge spindle grille nestled between sharp Zorro-inspired headlamps. Despite the flagship sedan's futuristic exterior of flowing curves and creases, it still maintains a high head-turning quotient.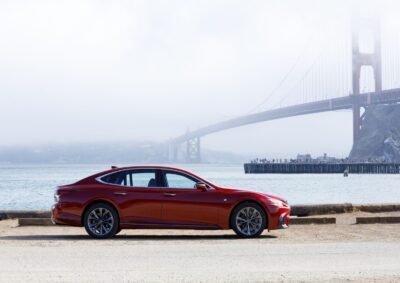 The five-seater has a crest of craftsmanship, comfort, and sumptuousness as far as interior appointments and the tradition continues. The front seats are upgraded to F Sport seats with more bolstering and 28-way power adjustment, including a passenger-seat cushion extension. The LS 500 F Sport's cavernous cabin has upscale touches that you'll want to touch, everywhere you look–aluminum trims, hand-folded pleats on its doors, and loads of leather (wood trimming is available as an option).
The vehicle's infotainment system includes a large 12.3-inch central display screen and a digital instrument cluster. The display graphics on the car will never cause you to have an eye-squinting moment, but everything is controlled by the way-too-sensitive Remote Touch Interface track pad that is a pain to use. The LS comes standard with Apple CarPlay and Amazon Alexa compatibility, but not Android Auto (a few Lexus vehicles support this system). Seating is superb in the sedan; no complaints will be uttered as far as comfort and roominess.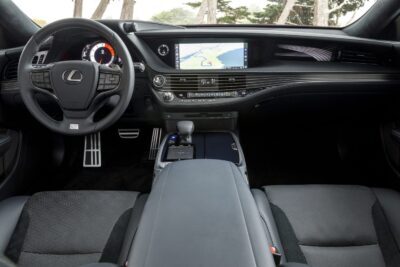 And by golly, there is a CD player that most vehicles have done away with, so those folks who are still into throwback media can REJOICE! The sedan's available Mark Levinson surround sound system that incorporates 23 speakers (including four in the ceiling and one of the largest subwoofers ever in a Lexus) was used to create a beautiful listening experience while cruising. Lexus Enform Wi-Fi is also available on the LS providing up to 4GB of data for one year.
Other tech features that get an A+ rating–the available 24-inch color Head-Up Display, that is not only the largest, but it also connects to Pedestrian Alert and Front Cross-Traffic Alert that helps warn of an impending impact. The Dynamic Voice Command does not frustrate and picks up what you're saying quite accurately. On the safety front, you get ten airbags, road sign assist, vehicle dynamics integrated management, vehicle stability control, brake assist, traction control, ABS, and electronic brakeforce distribution. The Lexus Safe System+ neatly bundles most of the advanced collision sensors and pedestrian sensors and driver-assist features together.
On the performance front, the LS 500 F Sport is no snore on the road. What lies underneath the hood is a 3.5-liter twin-turbocharged V6 that produces 416 horsepower and 442 lb-ft of torque. The consummate and powerful highway cruiser feels hefty, but is reasonably agile and performs smoothly. The vehicle provides a stately ride that might raise your pulse a tad when you drive it enthusiastically. On-road twisties, the LS is a performer that offers more than a modicum of sporty feel. Braking is also commendable. At the pumps, the sedan is a little parched–19 mpg/city, 30 mpg/highway, and 23 mpg combined.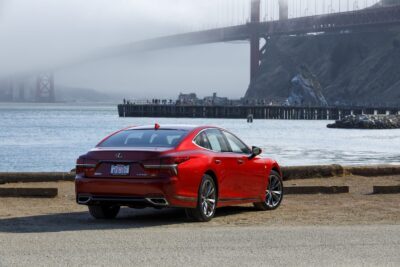 Lexus has always represented iconic luxury, and the 2020 LS 500 F Sport keeps the tradition going. The flagship sedan epitomizes the modern full-size luxury car with its elegant offerings and exacting workmanship. If you're shopping in this class, the LS 500 F Sport should be added to your short list.
Prices start at $81,450. Need more info? www.Lexus.com