There was a marketing study that circulated in the past couple of years that point out the LGBT community's purchasing power for electric vehicles. The conclusion was simple: We will most likely buy one well before any government mandates on them that are in place or forthcoming for the 2030s.
The point is that we're not only loyal to the brands that love us. We are most likely to adopt new technology and stay ahead of the curve on consumer products – including electric vehicles. 
Meanwhile, the number of electric vehicles available for consumers are growing. This is no longer a market where Tesla will deliver every time. Established brands, such as Chevrolet, Ford, Hyundai, Kia, Audi, Porsche, Mercedes-Benz, BMW, GMC, Cadillac, Volvo, and Nissan have EVs ready to go right now or in the months to come. Joining Tesla are start-ups, such as Lucid, Rivian, and Bolinger with additional EVs for us to own or lease. 
We forget to mention Volkswagen. Although the e-Golf introduced their loyal customers to full battery-electric vehicles, the company took what they learned from that vehicle towards developing a new architecture that would spawn several different models for global markets.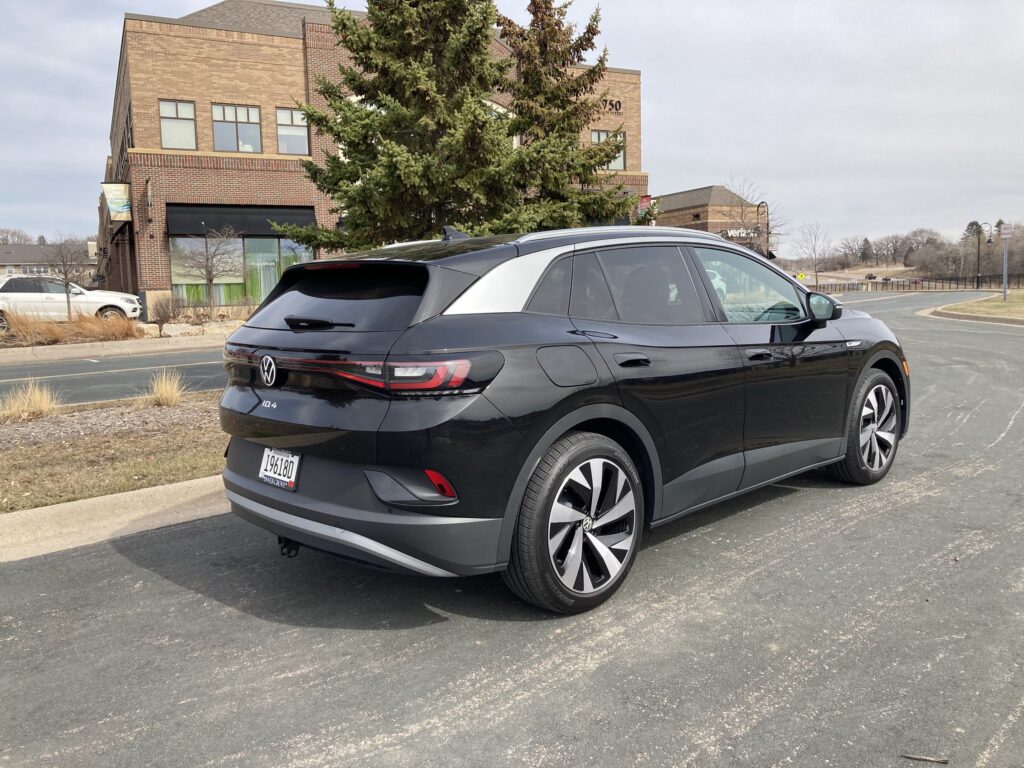 In America, that new architecture has arrived in the form of the Volkswagen ID.4. 
The ID.4 is a compact SUV/crossover that fits between the Tiguan and the upcoming new small SUV, the Taos. Its size would be considered "just right" for LGBT couples and families to enjoy a vehicle offering a comfortable space and solid performance. 
This electric SUV/crossover's size may be right for many communities, but you can definitely take up to five adults in this vehicle comfortably. The instrumentation is on a single screen attached to the adjustable steering column. In turn, you will find a completely different transmission actuator that twists to either go into drive or reverse or press the button at the end to park the ID.4. 
Initially, all ID.4s will be powered by a single electric motor, putting out 201 horsepower and driving the rear wheels only. An all-wheel-drive system will be available later this year. An 82-kilowatt-hour flat battery pack resides underneath the passenger area. 
You can charge up this vehicle at DC fast charging stations, filling the battery to an 80% charge in 38 minutes. The Environmental Protection Agency tested the ID.4 at a range of 250 miles with a fully-charged battery.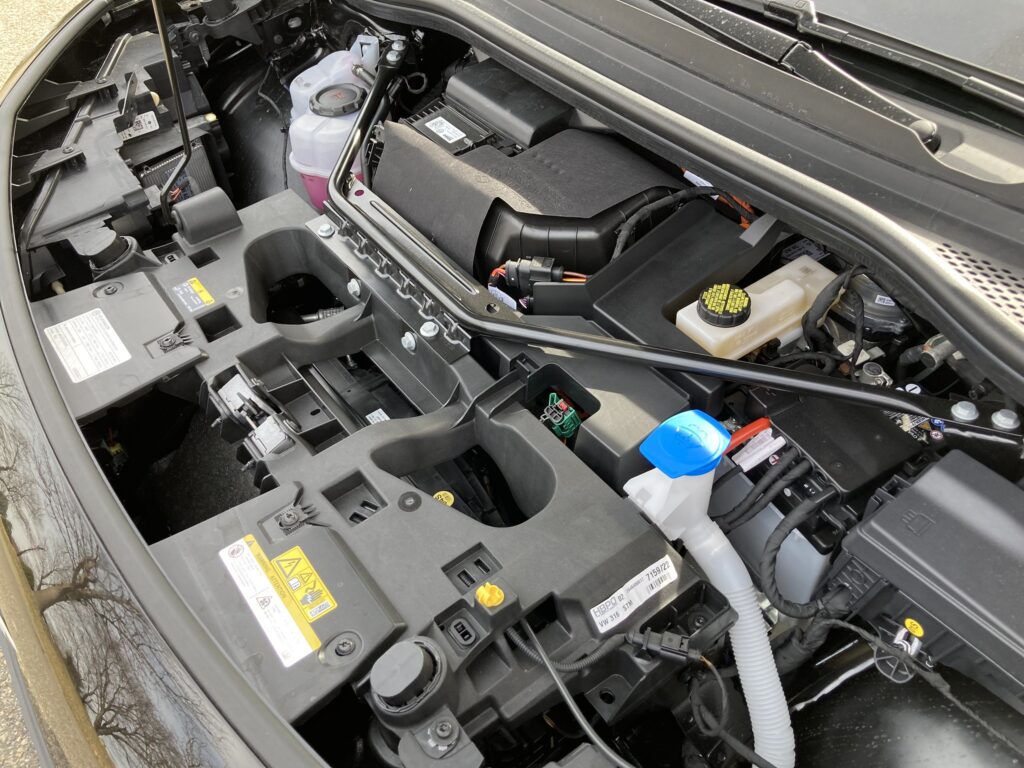 As for the driving experience, we enjoyed the serenity the ID.4 has to offer. There is a hum from the electric motor that should be soothing to the ears. The low-end torque comes on instantly from complete stops, as well as in lane changes and on-ramps. 
The ride quality is very good, and handling is very solid. We also like the tight turning radius the ID.4 has to offer. The steering may feel artificial, but it really does a great job in responding to evasive maneuvers, as well as handling everyday traffic on the highway. 
The brakes send energy back to the battery pack, while maintain great stopping power when you need it. We also love the pedals on our 1st Edition tester, which will remind you of a video player with a "pause" symbol for the brakes and a "play" symbol for the accelerator. 
In terms of practicality, the ID.4 has a nicely sized cargo hold. At 30.3 cubic feet, there is a square-like space behind the second-row of seats that load flush with the bumper. Fold down the second row, and you get 64.2 cubic feet of space all the way to the front seats.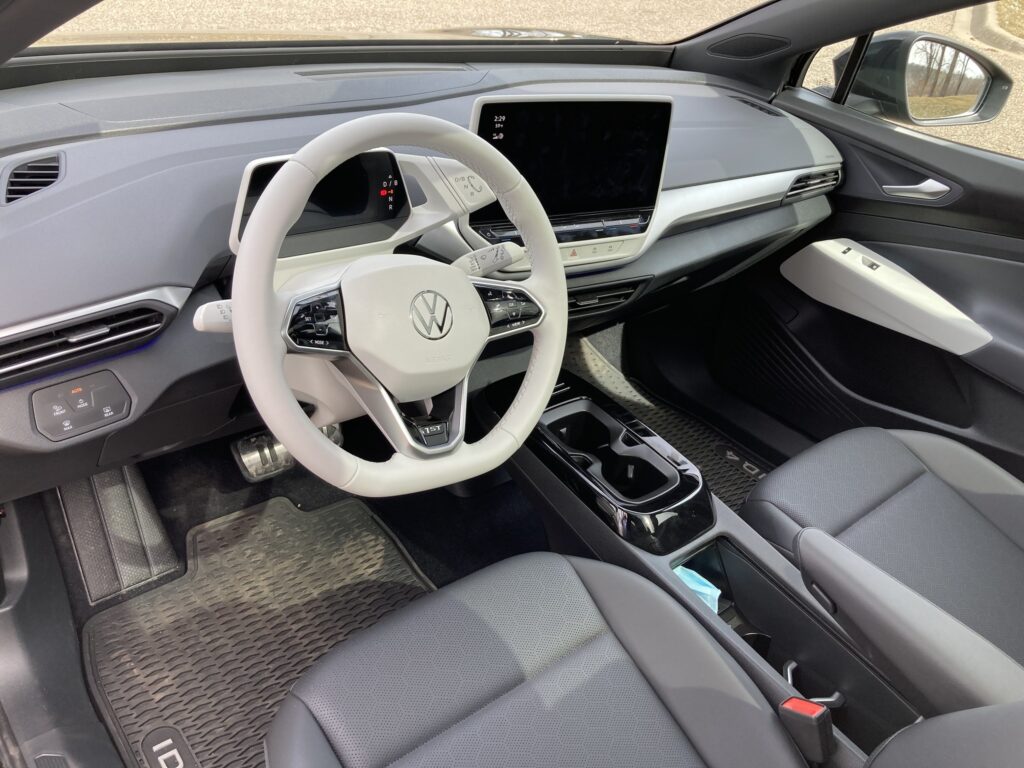 As we mentioned before, the ID.4 seats 4-5 people comfortably. Our ID.4 1st Edition seats wore leatherette upholstery that offer plenty of support, as well. Also, you cannot find a more comfortable second row of seats in any EV in its size class. 
Overall, the ID.4 is handsome while creating a new design language for Volkswagen. The lines are softer and exhibit some details never seen on vehicles from this brand. There is an extensive use of LED lighting both front to back, and the liftgate has a huge spoiler that also acts as a sun visor. 
Visibility is what you expect from a SUV/crossover these days. The glass area is large up front and along the sides, the rear visibility felt pretty narrow. The side mirrors are of a good size, while the rearview camera offers a clear view out back. 
Pricing for the ID.4 start at $39,995. Our tester came with a sticker price of $45,425 before any incentives from government and energy sources. 
Right now, you can go to your local Volkswagen dealer to try an ID.4 1st Edition out for a demonstration drive. If you have a reservation and have placed an order, you can expect your vehicle to arrive shortly – 1stEdition models will arrive first before all other models.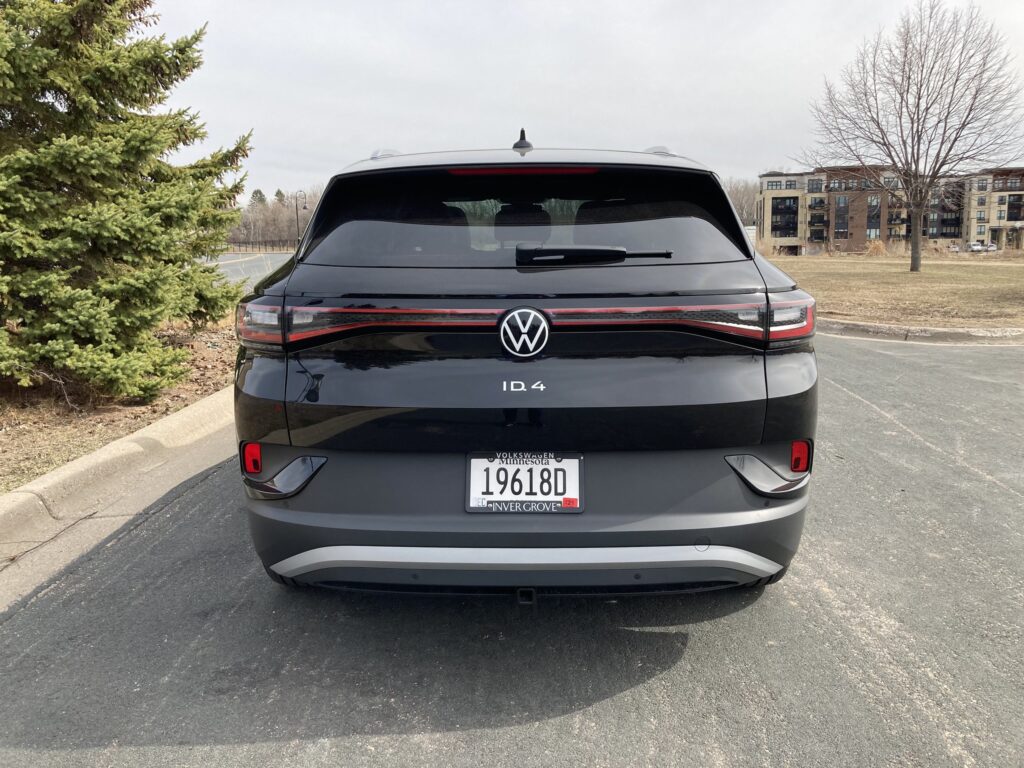 If the Volkswagen ID.4 is the right vehicle for your lifestyle, it is definitely worth a look. You might even find it a nicer EV than, say, a Tesla or a Ford Mustang Mach-E. We have a feeling that there will be plenty of ID.4s popping up at LGBT households pretty soon! 
NOTE: The vehicle we tested for this article was supplied by Volkswagen of Inver Grove, Inver Grove Heights, Minnesota.