Mazda makes some of the most beautiful and enchanting cars available today.  It's as if a team of Japanese engineers had improper relations with Italian artisans.  The Miata may be the case example, but other vehicles like the Mazda6 sedan, CX-30 compact crossover, and CX-9 three-row crossover are also pretty suave.  My favorite, though, is the 2021 Mazda3 Hatchback…with a turbo and all-wheel-drive.  It looks like sculpture and drives like a scalpel.
Design centers on Mazda's Kodo "Soul of Motion" ethos with curves and angles creating smooth tension on a sheetmetal canvas.  Up front, the visage is dominated by a large black mesh grille flanked by squinty adaptive LED headlamps that shine around corners.  A lower front air dam, 18" black alloy wheels, and large rear spoiler amp up the boy racer looks.  Sheetmetal seems to drape over the body, but complex elegance of how the C-pillar curves into the roof chrome detailing along the window line that set the Mazda3 apart.
Slide inside and you'll think you bought an Audi.  Every detail from the chocolate stitching on the padded dash to thin-spoke leather-wrapped steering, and angle of the infotainment screen feel special.  Perforations in the seats show the chocolate hue shining through; aluminum adorns the Bose speaker grilles.  Details matter, but rarely so much in an affordable compact hatchback.
Heated leather seats, heated steering wheel, and power sunroof add luxuries – as does the dual-zone automatic climate control. While it looks nice, the infotainment joywheel makes BMW's iDrive system seem like a model of simplicity. Using the radio tuner is the worst – takes multiple clicks to get to it, then it goes back to the low stations when you try to twirl to the next. And, if the parking brake is going to automatically engage without being asked, it should also disengage sans command.
It's a bit much, but carries over to the safety systems. There's a full suite of crash avoidance tech that includes blind spot warning, forward collision alert with auto braking, rear cross path detection, and lane keep assist. Adaptive cruise and head-up display are especially convenient, but the other systems are so sensitive that you start turning them off. Kind of defeats the purpose.
I'd rather just drive it.  Engineers wielded their swords beneath the body where a turbocharged 2.5-liter four-cylinder engine whips up a peppy 250 horsepower and 320 lb.-ft. of torque.  It routes through a six-speed automatic transmission with paddle shifters should you want to attack a curvy mountain road.  And if you do, the torque-vectoring all-wheel-drive system will be there to hold your hand as it anticipates your moves by slightly over-rotating the car through.  Drive gently to see 23/31-MPG city/highway.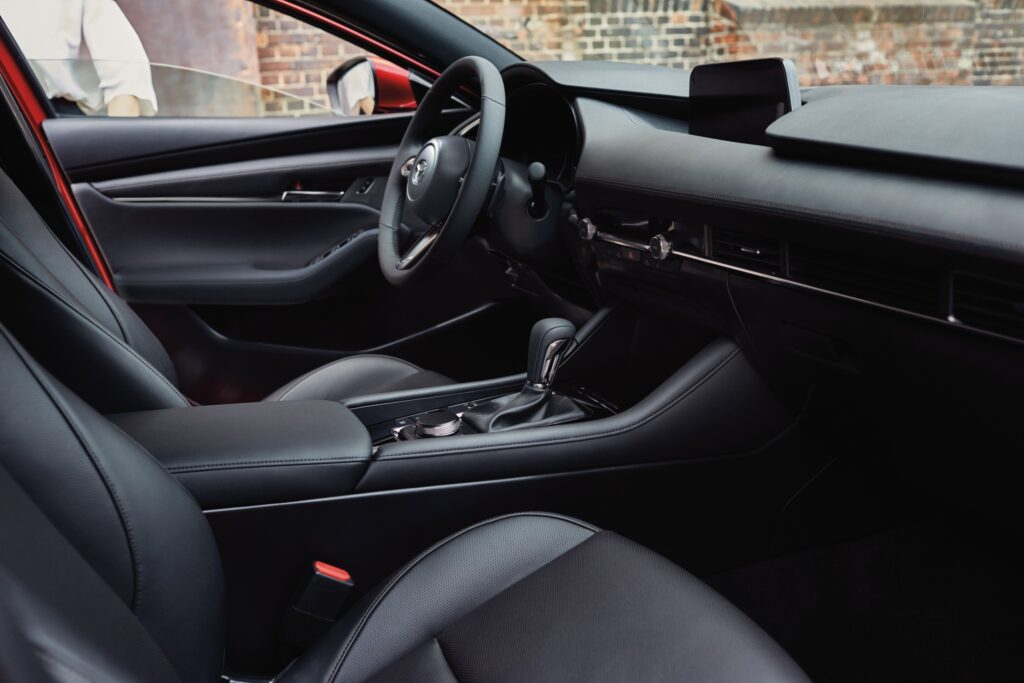 There's no independent rear suspension, but virtually nobody will notice as the torsion-beam set-up does a good job of keeping the car stable and shake-free on almost any road. As a bonus, the arrangement enables a roomy cargo area. Tight steering and a firm suspension tempt drivers to go further and faster, though some may find the ride a bit too firm during rough city commutes. Drive modes configure the powertrain and steering for efficiency, comfort, or sport.
One gets the impression the Mazda3 Hatch was created in an atelier adjacent to a garage, sculptors and engineers working scraper-in-wrench.  The development team could have spit out another practical, yet boring hatchback, but instead conjured a work of art that's as much joy to drive as view.  Base hatchbacks start at $22,650, but came to $35,390 with all of the luxuries, turbo, and all-wheel-drive.  Competitors include the Subaru Impreza Sport, Toyota Corolla Hatchback, Honda Civic Hatchback and VW GTI.
Storm Forward!
Send comments to Casey at AutoCasey@aol.com; follow him on YouTube @AutoCasey.