Ever since it hit the scene, The Cadillac Escalade has been the ride to get if you want to get noticed. It's big, it's splashy, and – to be perfectly honest – it's loud.
And that's the whole point: You make an entrance in the Escalade, and just because it's 2021 and golden toilets and gaudiness is stuff of past US presidents, well, that doesn't mean you can't have a little showiness and class in your life. And it doesn't mean you can't have some largess and class, especially if you have room to park it and show it off……
The Escalade is fully redesigned coming out of quarantine. For 2021, there is more of everything: more legroom, more interior space, more room in the third-row…. And that's an important point: most third-rows are useless. Not this one. It is actually quite functional. And not just for your purchases. Adults can use it, but, yes, caution is always advised.
There are five trims available and the price and the weight goes up from the base. Luxury just drips from this beauty.
My advice: be sure you have plenty of room for the Escalade. It takes up a lot of room and drinks a lot of petrol. Mileage is a decent 21 city / 27 highway, but you'd be surprised how easy it is to burn through that on a fun LGBTQIA+ weekend.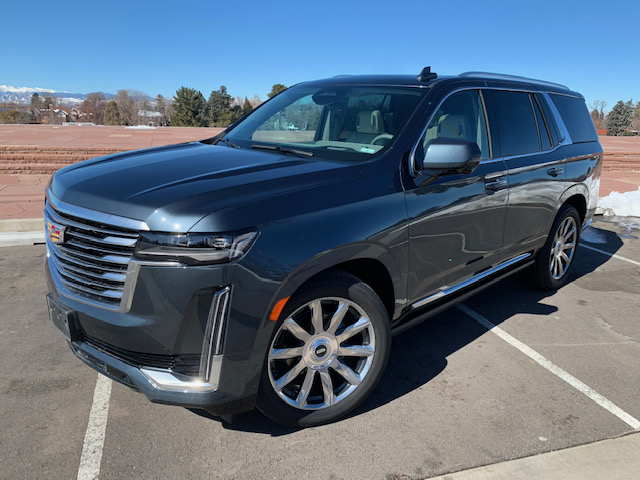 As family vehicles go, this one will set you back: the base price for base 'Luxury' trim is $76,195 US, but there are a lot of standard features to go along with that:
A 17-inch infotainment screen makes it easy to see what's going on (trust me, you will need all that pilot-to-tower action to the right of the steering wheel). The instrument cluster is just over 14-inches, which means it's nice and big and, well, you can't miss it even if you are distracted.
Front and rear parking sensors are also standard (a nice item to have on this behemoth). Keyless 'everything', to include ignition with remote start (a true dream-come-true in winter or in Palm Springs in the dead of summer). Nineteen speakers. Heated front and rear seats. And (drumroll, please): full leather seats. Among other items.
Be advised that with the top two trims, Premium Luxury Platinum and Sport Platinum and Sport Platinum, the price tag will pole vault over $100K. If you are like what we believe most of our readers to be, well, good luck getting a loan for that amount.
I had the good fortune to test the Premium Luxury Platinum trim with 4WD. I will admit, I was a bit nervous. That's an expensive car. I am not a reckless guy, and given that the places to which I motor are in the same class as, say, a burger stand or a discount clothing store….. I was nervous, to be sure.
I have always liked the Cadillac Escalade. My late Uncle Arthur (a Navy man to the core) drove one and he loved it. Of course, he had room for it. He lived in Texas.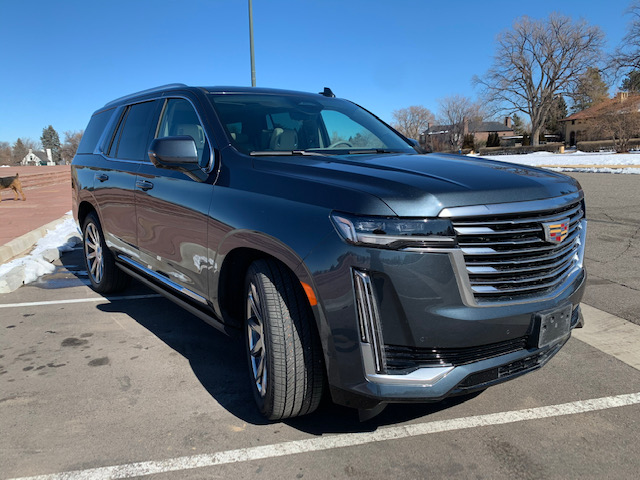 As with anything that can be considered lovable but takes up room and can be considered a bit of a liability, 1) consult with those you love, 2) consider all the costs and, 3) think through all possible scenarios.
One thing about The Escalade when you are getting too close to another vehicle or an object: instead of sounding the alarm, it will buzz you seat. In a very obnoxious way. Which is one big way of getting your attention.
I hated it. I loved it. It saved my arse more than once.
All in a day's work for a vehicle that has outlasted many wars and many presidencies. And attempted coups.