Just in case you don't already know, you need money to consider owning (or even leasing or renting) a Mercedes E Class car.
A standard bearer, to be sure, the E Class is a symbol of luxury throughout the world. Just because the coronavirus pandemic has changed and upended everything, the good news is that it has not changed the status and character associated with the MB-E Class.
If you want one (and can afford one), get one. There may never be a better time. Seriously.
I tested the E-450 4Matic (turbo, AWD) sedan, and, well, yes, I thoroughly enjoyed it. Who wouldn't it? To say it practically drives itself is an understatement.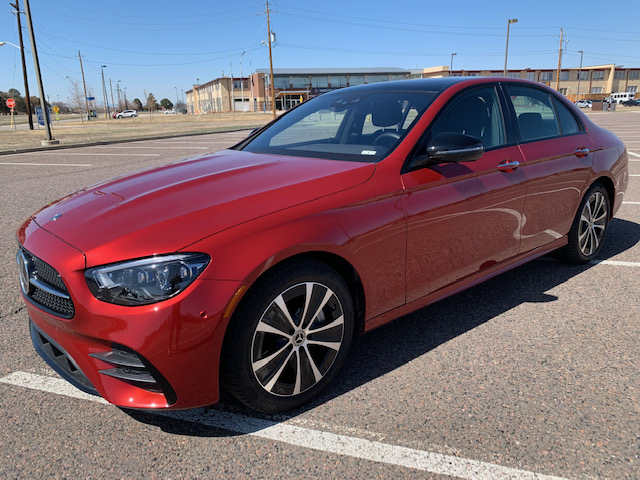 The E-Class lineup is, of course, luxury at its finest, and can come as either a sedan, wagon or coupe. You can get in for as little (har!) as $54K and horsepower can range from 255 to 603. Yes, costs will vary depending upon what you want and who you let drive it.
Solidly in the fifth generation of the E series, the design is more sleek than in years past. Some say it is hard to tell it from other luxury legacies currently on the road, which, yes, that may or may not be true.
The thinking goes, naturally, that if you want to take your time and enjoy that drive at a bit of a slower pace, you get a sedan. If you want to rip it up, you get a coupe, with or without a convertible top. Maybe.
And maybe not.
Pricier AMG trims are available with all kinds of features that can be added. Again, it all depends on what you want. So start building your car from the privacy of… wherever you happen to be.
(At this level of car buying, standard features and economy and a bunch of other discussions are almost ….. meaningless? That's not really what I mean to say, but, yeah, well……)
So let me put your mind at ease: if you are thinking about this car, you already know a lot about it. You also know a lot about BMW and Porsche and have already done a lot of comparison shopping. And maybe not.
And you maybe also have some experience with leasing, which really is a good way to get some experience with luxury cars, but be careful. Costs can add up and before you know it, one little scratch, or (goddess forbid) an accident, and you could owe more that will cost more than to send your spouse or your children to private school. Eek.
But that shouldn't scare you off from enjoying life, especially if your idea of a rewarding life means having and driving a really fine car. Hey, everyone has a different idea of what will bring joy and happiness to their lives.
Call me old-fashioned, but for me, there are days when I just want a solid old-fashioned American democracy that cannot be destroyed.
Especially from within.