Just to clarify, this is a whole new Volkswagen Atlas.
Whereas the traditional Atlas (as if there really is such a thing) is bigger and bulkier and is more for your 'soccer mom' needs, the Cross Sport is more 'athletic', if you will. It is still an Atlas, to be sure. And it is still roomy and can and should be used for your day-to-day family needs.
There is just a little more umph to this one, the 'Cross' 'Sport'. A little more kick. A little more pizzazz. Yet it is still a very reliable vehicle.
Gone is the third row, so if that was important to you (and for many families, yes, that was), you can still get the regular Atlas.
The Cross Sport was a long time comin'.
Families needed a vehicle that could help them get through the day, but they also wanted something that did not necessarily remind them of the daily toil of being a regularly ole family. The challenge was to fit all that into one vehicle. Enter the 2021 Atlas Cross Sport.
Prices start at $30,855 US. Mileage comes in at 21 city / 24 highway, which ain't bad. If needed, you can tow up to 2 ½ tons.
There are many, many trims in the Cross Sport family, so it really comes down to what you want and need. The base trim 'S' comes with 18-inch alloy wheels, Apple CarPlay and Android Auto, roof rails, heated power side mirrors, blind spot monitoring and forward collision mitigation. As with all Volkswagens, The R-Line trim is available, and that will really kick up the drive several notches.
The trim I tested was, in fact, the SEL Premium R-Line, and that was indeed, well …. a lot of fun. The Cross Sport, as the name suggests, is built to go off-road, and it does it rather well. Just be sure the dependents are strapped in properly.
If you are still in you Swinging Single phase (I still am, and I really don't plan on leaving), this may not be your car….
Yeah, but, well…. the Cross Sport may indeed be your car. It is a bigger SUV than most, even though it is considered a 'crossover' SUV, which implies that it is smaller, more agile. (Heck, I cannot keep up with all the new labels they keep coming up with………)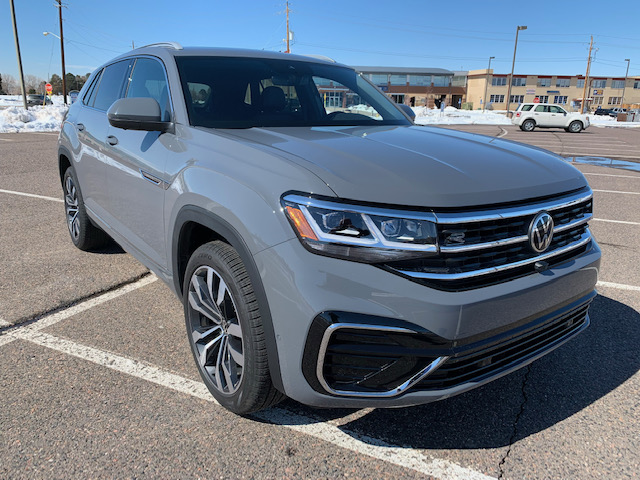 How about this? When you need to spend the day with the nieces and nephews and perhaps do some volunteer work ….. yeah, this is the vehicle for that.
I like the Atlas, and I really like the Cross Sport. It is more compact, to be sure, but it has all the (good) offerings of the regular Atlas. Mostly.
These days, given the pinch of the car market, be sure to breathe and take your time. It's crazy out there. Even in the used car market, it's amazing what people are willing to pay for junk.
Long and short of it: Don't get in an accident and have your current car totaled.
Chances are good your insurance company will not give you enough money to get you a new vehicle at the now-inflated prices you will find on dealer lots.
Just sayin'.