Honda Civics are durable and efficient, the kind of cars you buy for commuting to work and back while dropping Jr. and Little Miss off at early band practice.  But, unlike some of their competitors, they also have souls, the kind of cars you buy for a little you time on a twisting two-lane with your favorite playlist.  Both of these cars come together in one with the 2022 Civic Si sedan.
This car takes me back, though, as my very first test car was a 1999 Honda Civic Si.  It was a two-door with a CD player, power sunroof, and cruise control.  No automated safety systems.  Under its hood was a 1.6-liter four-cylinder engine delivering 160 horsepower and 111 lb.-ft. of torque.  It was shifted with a crisp five-speed manual transmission.  It wasn't fast by today's standard, but came to just $17,445.  It was still the '90s…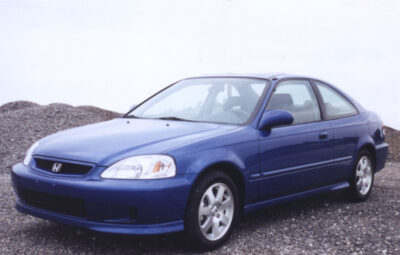 This current generation Civic is a little less sport coupe and a little more boring Accord, but designers stirred some jalapeno into the cheddar cheese.  LED lighting front/rear, black rear spoiler, and dual exhaust finishers elevate its standing in the carpark while 18" wheels with high performance summer tires give it grip after kids are safely delivered.  The black honeycomb grille add retro vibes that reverberate to the interior.
Check the thin honeycomb strip across the dash that hides the air vents. It looks good and works well.  Sprouting from the dash is a large touchscreen with swipe control for the 12-speaker Bose audio system powered by devices connected via wireless Apple CarPlay and Android Auto.  Automatic climate control, power sunroof, and alloy pedals add luxuries.  Si models sport it out with full-back deeply bolstered seats, aluminum shift knob, and leather-wrapped steering wheel with contrast stitching.
Back in the late '90s, safety systems consisted of front airbags and anti-lock brakes.  The current Si goes much further with adaptive cruise control, automatic emergency braking, blind spot warning, and rear cross traffic alert.  Hill start assist holds the car briefly as you move your foot from brake to throttle.  It even tells you if passengers are left in the rear.  Of course, a stiff body structure protects everyone should the worst occur.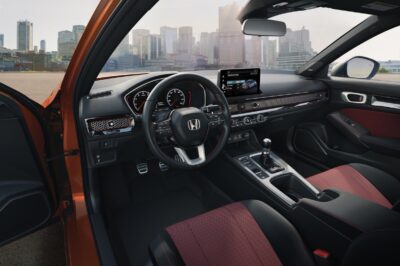 If you've tried to find a car with a stick shift lately, you know they're rarer than a cat in a swimming pool.  But, this car has one – a click-click rev-matching six-speed from the Type-R that is almost as good as the divine shifter in the old Honda S2000 roadster.  It allows the 1.5-liter turbo-four to rev like a turbine banshee, ultimately conjuring up 200 horsepower and 192 lb.-ft. of torque.  It'll scorch the front wheels with the limited slip differential, but driven like an adult heading to church, the powertrain delivers a frugal 27/37-MPG city/highway.
Take the Si for a drive and you realize this is not just a tarted up commuter (though, it functions quite well as one).  The quick steering and sport-tuned suspension work with the turbo to clip apex after apex.  Despite being shy on power compared to others, it revs easily and enjoys a good drive.  The suspension is a bit firm on rough city streets, but not unpleasant.  Configure your experience with the drove mode selector for Normal, Sport, or Individual to alter the steering heft and throttle response.
Back in the day, competitors included the Saturn SC2, Chevy Cavalier Z24, VW GTI, and Subaru Impreza RS.  Today, it's different, yet the same.  I'd put the Civic Si against the VW GTI, but also the Hyundai Elantra N and Subaru WRX.  It's also a bit pricier.  Base Civics start at just $22,350, but our Si came to $28,910.  Inflation, you know!
Storm Forward!
Send comments to Casey at AutoCasey@aol.com; follow him on YouTube @AutoCasey.