My friends and I are at it again.  There is bourbon aging and Kentucky is not far away.  How could this go unanswered, especially with a comfy little crossover at our disposal?  Whether erasing Interstate, or carving up Kentucky backroads, the 2022 Lexus NX 350 is a small nip of luxury worth savoring.
When we leave Indianapolis, it is spitting snow and threatening ice.  The Lexus does not look intimidated wearing its angry wall of spindle grille, slim LED headlamp strings, and bodysides swaggering with bulged fenders and creased sheetmetal over 20" alloys.  LEXUS is spelled proudly across its hatchside.  It's a larger NX, but also a more confrontational one.
With two and a half hours before our first stop, we slide inside…and immediately smack the heated seat and steering wheel controls.  As expected from Lexus, it's pretty lush with black open pore wood, Rioja Red leather, and color-coordinated trim on the doors, console, and dash.  Mark Levinson audio saturates our ears.  My rear seat mate enjoys greater legroom while an enlarged cargo hold awaits our plunder.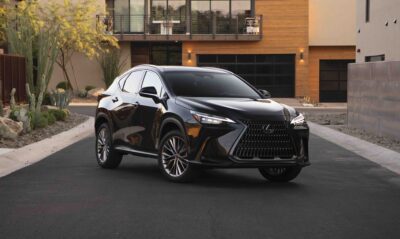 Thankfully, Lexus finally dispensed with its cursed infotainment mouse controller and replaced it with a 14" touchpanel featuring intuitive icons for audio, navigation, and phone.  Devices connect through wireless Apple CarPlay, Android Auto, and Wi-Fi.  Voice-to-text and wireless charging add conveniences.
By the time we arrive at Maker's Mark in Loretto, it's 66 degrees, sunny, with barely a cloud in the sky.  We switch to ventilated front seats and open the panoramic sunroof.  Fields of blue grass and galloping horses stream by as I crank the NX into curve after undulating curve.  The steering is more direct and the suspension takes it in stride, but the brakes need encouragement.  This is a Lexus, not a BMW.
My buddy dips his own bottle of Maker's Mark in red wax as we usher a flight of samples to the patio.  As the driver, I barely sample any.  We could linger near the rick houses all day, but Jim Beam beckons us to Clermont, near Interstate 65.  Step on it!
A non-turbo four-cylinder engine and plug-in hybrid are available, but we taste the 2.4-liter turbocharged four-cylinder that delivers a peppy 275 horsepower.  It routes to the all-wheel-drive system through an 8-speed automatic transmission.  Lexus claims it will scamp from 0-60 mph in just 6.8 seconds.  Quick, but it achieves just 22/29-MPG city/highway and prefers top shelf petrol.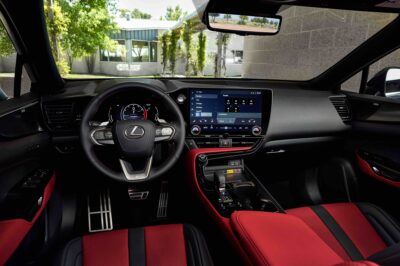 Top shelf also describes the array of safety systems that include automatic emergency braking, lane keep assist, and a 10" head-up display that provides flashing cross traffic alerts and navigation directions.  Adaptive cruise and lane centering steering make the long drive less taxing for me.
We have a relaxing lunch at Jim Beam's chef-run restaurant, but time is short and we want to visit Pappy Van Winkle's old haunt at Stitzel-Weller, home of Old Fitzgerald.  By the time we arrive a half-hour later, temperatures drop twenty degrees as God's angry wind finds us.  After a short trip through the gift shop, we blitz through downtown Louisville and back across the Ohio River – where we run into a snow storm that chases us back to Indianapolis.
By the time I swipe open the hatch and expel our haul, we are delighted by this little sip of turbocharged luxury.  While you can buy an extraordinary bottle of bourbon for $60, a base NX costs a swig more at $39,025.  The NX 350 rises from $42,125 to $53,340 as tested.  Competitors include the Cadillac XT4, Mercedes-Benz GLA, Infiniti QX50, Lincoln Corsair, and Audi Q3.
Storm Forward!
Send comments to Casey at [email protected]; follow him on YouTube @AutoCasey.