Peel off the skin to find the 2022 Chevrolet Equinox RS and GMC Terrain AT4 are virtually identical – same platform, engines, and basic driving characteristics.  But, look even deeper and you'll find the siblings have very different personalities and attitudes.  See which you prefer.
Chevy Equinox RS Is A Spicier Crossover
The 2022 Chevrolet Equinox is one of the best-selling crossovers in America, but it's not terribly exciting.  It could use a bit of a makeover to attract younger and more affluent buyers.  So, designers went to work to imbue a bit more attitude, adding cayenne pepper to the compact Chevy's vanilla frosting.  The result is the Equinox RS.
Coming off of a refresh that saw all Equinox models receive revised front and rear lighting, the RS looks like an athlete ready for a good run.  Sporty RS editions receive black chrome grille trim, dark window outlines, black logos, and 19" Dark Android alloy wheels.  A brooding sinister aesthetic is the key, even when painted pearl white.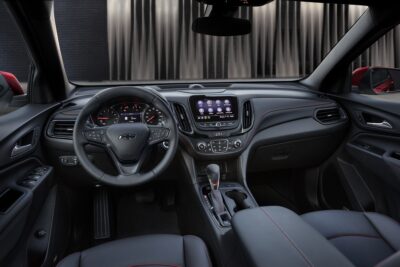 The RS reserves its best for the interior where it's dressed up with black-and-red-stitched leather seats that are heated up front and face a heated red-stitched steering wheel.  There's also Bose audio, dual-zone automatic climate control, and easy device connections through 4G Wi-Fi, Bluetooth, Apple CarPlay, and Android Auto.  Chevrolet's touchscreens are easy to understand, but should come with a proper tuning knobs.
On paper, the RS' 1.5-liter turbocharged four-cylinder engine seems unimpressive with its 170 horsepower and 203 lb.-ft. of torque, but when connected to a six-speed automatic transmission and all-wheel-drive, it's plenty capable.  Towing only rates 1,500 lbs., not enough to pull campers or boats of any real size, but fuel economy rates a relatively frugal 25/30-MPG city/highway.
The Equinox RS is not a quick car, but it is fast, able to ride a wave of turbo torque into the left lane and stream down the road.  The four-wheel independent suspension, quick steering, and narrow track make the Equinox feel much smaller and sportier than it actually is while rumbling over rough pavement without a peep.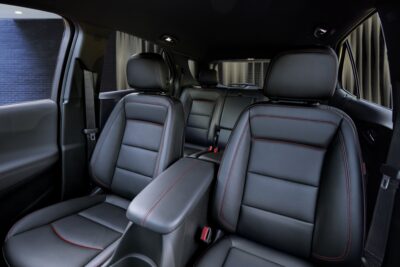 Beyond competent handling, there's plenty of technology to protect everybody.  Adaptive cruise keeps a safe distance on the highway while automatic emergency braking with pedestrian detection, lane keep assist, rear cross traffic alert, and blind zone warning work whenever.  No matter the conditions, the Equinox feels solid and robust – ready to take a crunching if necessary.
Nobody will confuse the Equinox RS with a sport wagon, but it adds enough spice to attract a younger and more open-minded set.  It's also pretty affordable.  A base Equinox costs $25,800, but our well-optioned RS rose to $37,015.
GMC Terrain AT4 Drives More Adventure
Most of what makes a standard Terrain into the more adventurous AT4 is cosmetic.  Exteriors are dressed with a black chrome grille, matching brightwork, and black 17" alloy wheels.  Fog lights, roof rack, and AT4 logos are part of the package.  Crawl under the front to see a steel skid plate that defends against sticks and stones.
The cabin is blessed with aluminum-look trim, contrasting stitching, and AT4 logos embroidered in front headrests.  The heated leather-wrapped steering wheel is standard.  A freshening for 2022 brought push button gear selection and head-up display.  Dual zone climate control, panoramic sunroof, and Bose audio system add luxuries.  Control devices via the 8" color touchscreen with Apple/Android connectivity.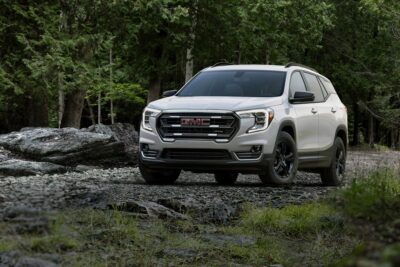 Give GMC credit for layering on safety features that include automatic emergency braking with pedestrian detection, lane change alert, rear cross traffic warning, and lane keep assist.  GM's Safety Alert Seat warns drivers with a throne that buzzes in the direction of danger.  The new head-up display, adaptive cruise, and surround vision cameras further aid drivers.
The engine is shared with the Equinox, but connects to a smoother 9-speed automatic transmission that does a better job of keeping the turbo-four in the right rev range for peppier performance.  All-wheel-drive comes standard on AT4s to aid off-roading and poor weather performance.  Fuel economy is rated 25/28-MPG city/highway.
In the end, GMC created a sportier, slightly more capable Terrain with the AT4.  It did not add create a serious off-road machine like the Sierra and Canyon AT4.  Most buyers will find it offers the right balance of luxury and capability.  Given an as-tested price of $39,960, there is much to like.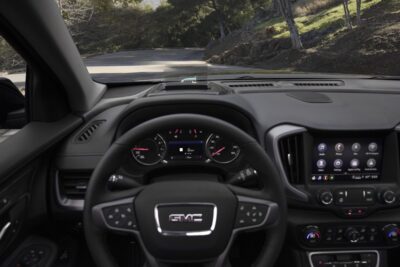 Storm Forward!
Send comments to Casey at [email protected]; follow him on YouTube @AutoCasey.