For me, the Mercedes-Benz S-class will always be defined by the 560SEL, a car from the late '80s that still commands respect from valet stands and left lanes of the world's superhighways.  The big sedan defies its age and is a joy to drive, but today's luxury buyers – especially in America – prefer large crossovers to sedans.  In that spirit, Mercedes offers its powerful and comfortable three-row GLS450 to honor that singular letter.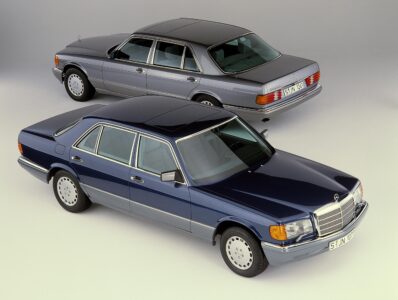 Whether sitting or zipping, the GLS450 commands respect.  That's mostly because it's a big truck with a large star-strewn grille, muscular fenders, and LED lighting all-around.  It definitely gets noticed in Cardinal Red Metallic paint, a $1,750 option.  We went further with 23" AMG wheels and blacked out trim with the Night Package.  Twin nostrils up front and dual exhaust outlets out back hint at the big wagon's on-road potential.
I was a big fan of the last generation S-Class and its sumptuous interior with twin dash screens for instruments and infotainment.  The GLS cribs much of that car, but adds utility with middle-row captain's chairs and a third row that falls and rises with press of switches.  Four passengers travel in sublime comfort, but adults can ride in the rear for short trips.  Space is limited with the third row deployed, so most families will travel with luggage or sports gear over passengers.
Back up front, find all of the luxuries one expects of an S-Class.  Real wood trim, stitched coverings, saturating Bermester audio, twin panel sunroof, and quad zone climate control cater to everyone.  Add heated and ventilated front seats and a heated steering wheel too.  I'm not a fan of the touchpad infotainment controller in the console, but the screen can also be touched and swiped.  It works.  Keeping everybody safe are adaptive cruise, automatic emergency braking with pedestrian detection, lane keep assist, and rear cross path detection.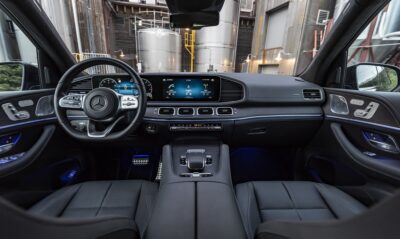 The 560SEL's 5.6-liter V8 generates 275 horsepower – Corvette-level output in its day that would launch big Benz 0-60 mph in 7.8 seconds.  It's rock solid as you set it into the passing lane and commands authority as its hood reaches for the horizon at 150 mph (where legal).  By that measure, the GLS harbors a much smaller 3.0-liter turbocharged inline-six that belts out a significantly stouter 362 horsepower and 369 lb.-ft. of torque, all routed to the 4MATIC all-wheel-drive system through a 9-speed automatic transmission.
Stats are impressive:  Go 0-60 mph in 5.9 seconds, tow 7,700 lbs. of boat or RV, and achieves a relatively economical 18/24-MPG city/highway unhitched.  It's fast and capable, but driving the GLS is elevated with an air suspension system that can be set tight in Sport mode for quick curves or left in Comfort to waft down the highway.  Raise it up to reach that backwoods cabin.  In no mode does it challenge the iron sponge feel of the old 560 as you'll never fully tame the grippy-but-heavy steamrollers at all four corners.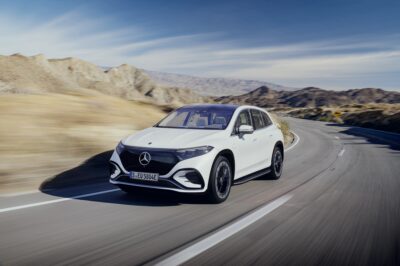 As with the big gas-powered S-Class sedans, the GLS will likely bring an era to an end.  Mercedes recently introduced its all-electric "EQS" series that will see both sedan and crossover versions arrive to blow its ancestors into the past.  Until then, the GLS450 is a match for the Cadillac Escalade, Lincoln Navigator, BMW X7, and Lexus LX.  As expected for an S-Class crossover, the GLS is pricey starting at $77,850 and arriving at $94,180 as-tested.
Storm Forward!
Send comments to Casey at [email protected]; follow him on YouTube @AutoCasey.