It seems all of the news about cars these days focuses on the latest electric vehicles and automated driving, so it's refreshing to drive the redesigned 2022 Subaru WRX.  It's a larger car, a more mature car, but it retains all of the click-click, turbo-kick that's shoved it down the road for decades.  It's the polar opposite of an EV, but is still quite advanced.  Check it out, but bring your love of driving.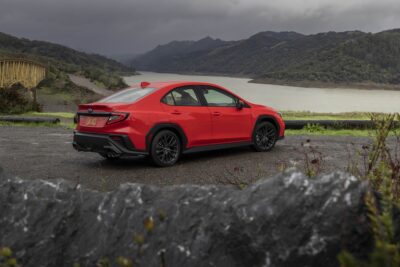 Not everybody loves the styling.  The shapely bodywork gets attention when painted delicious Solar Orange Pearl and the mid-size sedan is handsome with its hood scoop, squinty headlamps, and chiseled fenders – all over dark 18" alloys.  But, gray plastic on lower facias, around wheelwells, and along lower sills is a little too Outback Wilderness for some.  Then again, they seem wholly appropriate for a car that derives its performance heritage not from race tracks, but from rock and gravel roads on the rally circuit.
All of the swoopy creases and plastic cladding obscures the fact it's a big car.  I parked alongside a current Honda Accord at the office and the WRX was nearly as large.  But, it doesn't feel large behind the wheel.  A quite stiff suspension, quick heavy steering, and torque-vectoring all-wheel-drive make short work of long curvy roads.  When not trying out for an international rally, that same all-wheel-drive system one-ups most other muscle cars by taming snow, rain, and mud.  Just hit the throttle and know the computer will get power to pavement.
Beneath the hood scoop is a turbocharged 2.4-liter "Boxer" four-cylinder engine that produces 271 horsepower and 258 lb.-ft. of torque.  Shift it through the base six-speed manual transmission.  My knee hurt from working the grueling clutch in traffic, but I wouldn't trade it for the continuously-variable automatic transmission.  The auto is a $2,050 option and just plain silly in a car like this.  Somebody will have to explain how the WRX gets the same fuel economy as a Subaru Outback Wilderness:  19/26-MPG city/highway.  Subaru really needs to crib Corvette and add a tall cruising gear.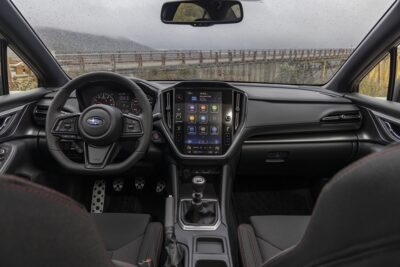 Continuing the journey, a complete redesign puts a tablet-style touchscreen front and center, flanked by simulated carbon fiber accents, stitched dash coverings, and aluminum pedals.  As in my family's Outback, the infotainment system takes too long to boot up, but once awake, is easy to use with intuitive controls.  It's all very high-tech, but there are still actual knobs for volume/tuning plus redundant buttons for temperature and defrost.  Very nice.
Heated front seats and a thick flat-bottom steering wheel add delights.  Owners will also appreciate a relatively roomy back seat and trunk, making the WRX a practical daily driver that can drop off the kids before hitting the skids.  Our car didn't have them, but I'd step up to the Harman Kardon audio system and sunroof for $1,875.  Safety is enhanced with automatic emergency braking, rear cross path detection, and a rear seat reminder.
Subaru made all of the right moves with the new WRX.  It enhances all that made it a world-beating performance car with a roomy high-tech interior and butch styling that better connect it to today's expectations.  If you still have any doubts, just go for a click-click and kick one down the road.  An affordable $29,605 base price rises to just $32,105 as equipped.
Storm Forward!
Send comments to Casey at [email protected]; follow him on YouTube @AutoCasey.