My friends and I are ready for our annual bourbon run to northern Kentucky, or what's in reality nothing more than a bougie bar crawl that usually requires a luxury conveyance equal our quest for distilled, barrel-aged corn liquor.  And boy, did we get the right one this time in the 2022 Lexus LX600 that spoiled us rotten over eight hours of driving, riding, and responsibly imbibing.
It's quite an elegant bulldozer with a grille that stands from bumper to high hood, moving slow-moving peasantry away from our path.  Check also the deeply drawn hood, 22" alloys, detailed chrome window detailing, and LEXUS spelled across its hatch.  It's tall and substantial, providing us a commanding view of the countryside while remaining proportioned to maneuver.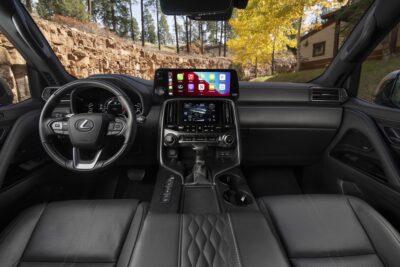 The fight over who has to sit in the back ended when my friends saw the reclining rear seat with heat, ventilation, and massage facing its own infotainment screen.  Those of us up front were also pretty comfy in our heated/ventilated soft leather thrones with quilted leather.  A heated steering wheel faces a flatscreen instrument cluster and is accented with gray wood on the console and doors.  Soda, water, and bourbon balls all stayed cool in the refrigerated console.
It's a bit ridiculous, but there were no complaints – especially with the power moonroof, Mark Levinson audio system, and four-zone automatic climate control.  Infotainment is controlled via a new widescreen instead of the old confusing joystick – a much-appreciated improvement.  All of that connects devices via wireless Apple CarPlay and Android Auto.  We all felt protected by automatic emergency braking, rear cross traffic alert with auto brake, blind spot warning.  Adaptive cruise and a head-up display lightened the mental load.
My friend was enjoying his cool massage nap very much, barely noticing when the lane keep assist system barely kept us from hitting a wayward semi in Louisville.  Whew!
Whether slipping through town, clipping rural two-lanes, or erasing hilly miles like a road-borne jet, the powertrain was smooth and determined.  The current iteration tosses the traditional V8 for a twin-turbo V6 delivering 409 horsepower and 479 lb.-ft. of torque – precisely applied through a 10-speed automatic transmission.  Use it as a plush horse hauler to pull up to 8,000 lbs.  Given its size and capability, the LX600 delivers a reasonable 17/22-MPG of premium fuel city/highway.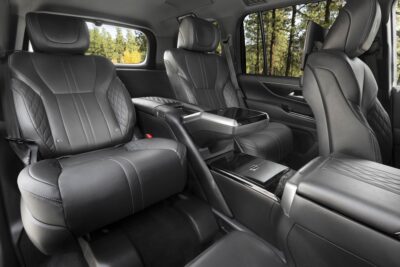 I'm constantly reminded the LX600 is essentially a tarted up Land Cruiser that shares architecture with the Toyota Tundra pickup.  It's a big and capable truck that seems to fight its hydraulic suspension system for control in corners, though the chassis is near magical at smoothing rough roads, planting bridge abutments, and leveling heaving lanes.  Drive Modes adjust everything from Eco to Comfort, Normal, and Sport.  Raise the suspension and lock in the differential for serious off-roading.
When I was in Australia several years ago, it seemed all of the farm owners drove Toyota Land Cruisers.  It was a vehicle luxurious enough to match their stature and capable enough for one's spouse to cross hill and dale to deliver lunch.  The LX600 is that type of vehicle – even if your version of such means erasing highways or undulating Kentucky backroads between drinky stops.
A base price of $88,245 rises to $128,030 as-tested, putting it against the Cadillac Escalade, Range Rover, Mercedes-Benz GLS, BMW X7, and Lincoln Navigator.
Storm Forward!
Send comments to Casey at [email protected]; follow him on YouTube @AutoCasey.