Mercedes-Benz once built its reputation on rock solid sedans that ate German Autobahn for snack.  Of course, the traits that made them great at speed also made them delightful family cars and executive perks for Americans.  A quarter-century ago, the German automaker debuted its first crossover – built in Alabama.  While the plant will soon build MB's new generation of EVs, it's still kicking out world beaters like the 2022 GLE450 SUV.
It looks both elegant and brutal.  Body shapes are more sensuous than in the past with wide fenders, wrap-around glass, curvy rear roof pillar, and twin hood bumps taken from the 1950s "Gullwing".  Our AMG-Line looks menacing with its big wide grille, beady LED headlamps, aggressive body trim, and 22" AMG wheels with big fat tires.  It looks dressed for a night on the town – especially if that town is a fast drive across the state.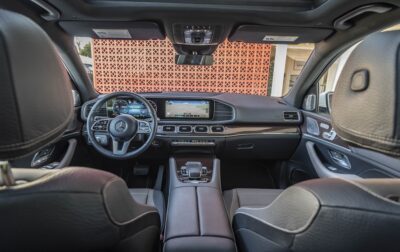 Interior accommodations are sumptuous and sporty, comforting passengers wherever they go.  Being a Mercedes, what looks real mostly is:  Real Grey Oak wood trim and soft aromatic black and white Nappa leather seats.  Go ahead and enjoy heated/ventilated seats up front, Bermester audio system, and panoramic glass roof.  Infotainment is delivered through twin screens as in the last-generation S-Class, but it all works easily to control devices connected via Apple CarPlay and Android Auto.
Mercedes-Benz practically invented active safety and the GLE continues the tradition.  Adaptive cruise, automatic emergency braking, and active steering assist help avoid collisions – as do lane keep assist, blind spot warning, and rear cross traffic alert systems.  Should the worst happen, know the body structure is up to the challenge.
Back in the old days, having "450" spelled in chrome across a Mercedes meant a 4.5-liter engine.  Today, it's more a suggestion of power once produced by a large engine.  Instead, the GLE450 takes its inspiration from a 3.0-liter turbocharged inline-six delivering a whopping 362 horsepower and 369 lb.-ft. of torque to the all-wheel-drive system through a 9-speed automatic transmission.  Auto stop/start pauses the engine at rest, contributing to a reasonable 20/26-MPG city/highway.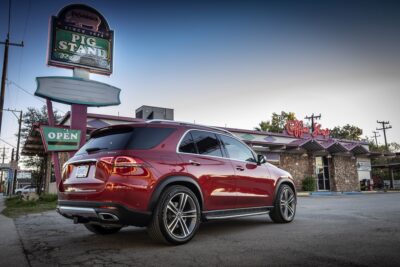 On smooth roadways, the big crossover gathers all of its German heritage and shoves itself down-road forthwith.  On smooth roadways…  On rough ones, the AIRMATIC electronic suspension struggles to tame the wide footprint 22" AMG wheels bouncing at all four corners.  The big 'Benz can get pretty jittery over urban patchwork.  Beyond all that, the vehicle does offer varying drive modes that allow drivers to choose from a comfortable floaty ride to one that's considerably more engaging.  Steering heft and throttle response can be correspondingly configured.
The GLE450 is full of contradictions.  It is large and roomy to carry families, luxurious enough to rival limousines, and a brutal beast ready to tackle fast freeways.  It can also get you to a weekend cabin in snowy weather.  However you like it, the turbo wagon plants its fat American tires on luxury rivals.  A base price of $56,150 – or $82,435 as-tested – puts it against the BMW X5, Audi Q7, Range Rover Sport, Genesis GV80, and Jeep Grand Cherokee.
Storm Forward!
Send comments to Casey at [email protected]; follow him on YouTube @AutoCasey.