As Toyota confronts the end of the gasoline era, it goes all-in with Subaru to produce the second generation of two nearly identical sports cars that revel in their classic heritage.  Think of the GR86 as a front-engine MR2 or scaled down Supra, crisp to the touch and pleasing to the eye.  Toyota will not build another sports car like this, so take a few minutes to learn about this one…and place an order while you still can.
It is a pretty sexy little sphinx, even if it has C-shaped taillamps lifted from the Subaru design catalogue.  From the front, though, the car is more Supra than Subaru with its angry headlamps, wide lower grille, and low sloping hoodline.  Flared fenders at both ends surround 18" wheels.  A fastback roof ends at a substantial decklid spoiler over twin exhausts.  This is a car that begs to be revved and rung.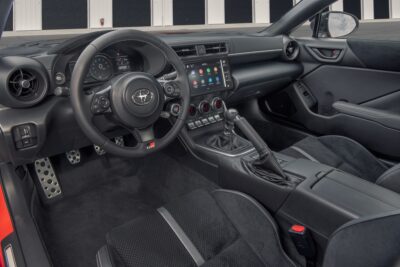 And, the interior properly invites drivers and a friend or two for the task.  There's a very Toyota feel to it with hard plastic, simple controls, and large touchscreen, but sueded buckets, thick leather-wrapped steering wheel, and dual-zone automatic climate control up the comfort quotient.  There are also heated seats, Apple/Android connectivity, and 8-speaker audio system.  A flatscreen instrument cluster is easy to read while adaptive cruise, automatic emergency braking, and lane departure warning systems enhance safety.  Unlike other sports cars, there are two little bucket seats in the rear for gathering a couple of your tiny offspring or petite friends.
It would really make kisses with a six-speed manual transmission, and the GR86 can be optioned with one, but ours came with a six-speed automatic.  Fortunately, the automatic can be paddle-shifted and it connects to a 2.4-liter Subaru-built Boxer four-cylinder engine delivering 228 horsepower and 184 lb.-ft. of torque.  It's no Corvette, but manages to scoot from 0-60 mph in 6.6 seconds on the way to a 134 mph top speed.  That's fast enough, and it still achieves an efficient 21/31-MPG city/highway.
But, sports cars really aren't about raw horsepower.  Handling matters.  This one has perhaps an overly stiff suspension on urban freeways, but can be flicked through corners.  There is a purity to the driving experience, a human interfaced with machine, that is an experience worth savoring.  That Subaru flat-four engine – a similar design to what Porsche uses – keeps weight low down in the chassis to further enhance handling.  All that, and the GR86 can be easily driven to work, dinner, or the mall with little sacrifice.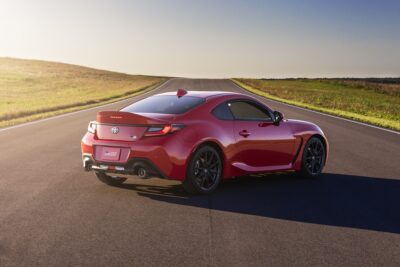 We live in an era when automakers are far more concerned about producing the next seamless electric car, which makes the simplicity of this high-revving classic sports car all the more fun.  One does wonder how cool this light little car would be with the turbocharged WRX engine under-hood.  Maybe we'll find out before electricity turns out the lights on this era.  With competitors like the Mazda MX-5 and Nissan Z, a base price of $27,900 – or $33,507 as tested – seems like a screaming steal.
Storm Forward!
Send comments to Casey at [email protected]; follow him on YouTube @AutoCasey.