Take a look at the Volvo C40 Recharge.  It's extra handsome with its substantial crossover coupe styling, but there's a world-class supercar hiding within.  "Recharge" means its all-electric, and while it won't outrun the fastest Teslas or even the quickest gas-powered Corvette, it would have thirty years ago.  That's how far we've come and how impressive is this super safe Volvo.
Travel back with me to 1990 when Chevrolet launched the Corvette ZR-1 to challenge the Lamborghini Countach, Ferrari Testarossa, and Porsche 911 Turbo.  That car had a 32-valve 5.7-liter V8 conjuring 380 horsepower and 0-60 mph in about 4.5 seconds.  This little Volvo-safe crossover, which would quite happy delivering your kids to band practice, delivers 402 horsepower and runs 0-60 mph in 4.5 seconds.  It does so with the confidence of all-wheel-drive, allowing it to handle sick roads and deep snow like no Corvette ever.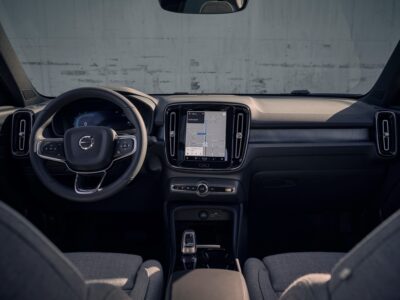 But, of course, the C40 is more capable than that.  Fully charged, it has 226 miles all-electric range and can recharge 10-80% in just 37 minutes.  It's a big pudgy, registering 87-MPGe.  In case you care, the ZR-1 managed 19-MPG combined, which was actually pretty efficient back then.  Back in the Volvo, true one-pedal driving kicks in regenerative braking as soon as you lift off the throttle, mostly negating the need for the brake pedal except at rest.
You would never know its potential from the exterior, which looks like a sportier version of Volvo's other crossovers.  Sure, the jacked-up four-door coupe profile is a little more expressive, and there's a plastic panel where a grille would normally reside, but "Thor's hammer" headlamps, beefy fenders, thick doors, and 20" wheels could have come from other models.  You would have to stand on top to see the fixed panoramic glass sunroof that brightens the bunkered interior.  Still, it's a handsome little devil that balances familiar and fashionable.
Much of the same is true inside.  There's little to differentiate the C40 from other Volvos, but I'd argue there's no need.  Channeling its Swedish heritage, everything is well-made and understated while providing all of the technology and conveniences modern humans desire.  There's a large 9" swipescreen in the middle for most infotainment functions with redundant climate functions below.  Drivers face a crisp flatscreen instrument cluster.  Faux woodgrain and vegan upholstery look suave while protecting the environment.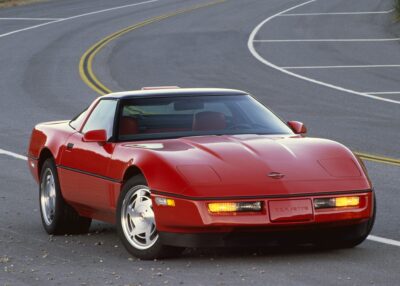 Conveniences and safety live up to Volvo standards.  Heated front/rear seats and steering wheel zap winter chill while Harman Kardon audio, keyless entry, and a power liftgate add delights.  Being a Volvo, you know the C40 is safe.  Adaptive cruise, blind spot warning with steering correction, cross traffic alert with autobrake, and forward automatic emergency braking help.  There's also 360-degree camera, lane keep assist, and run-off mitigation systems.  Should all of that fail, the C40 is blessed with a very stout body structure.
Out on the road, the C40 feels really heavy for its size, which adds to the sense of security.  Battery weight is down in the chassis, which improves handling.  I drove my father-in-law in the car on the way to a bourbon tasting and had a little sprint on the freeway.  When I stepped down, and the car leaped forward instantly and silently, it was clear he had never experienced anything like that.  Well, unless he rode in a 1990 Corvette ZR-1.
A base price of $55,300 – $60,540 as tested – puts the C40 Recharge against the Mercedes EQB, Genesis GV60, Lexus RZ 450e, and Cadillac Lyriq.
Storm Forward!
Send comments to Casey at [email protected]; follow him on YouTube @AutoCasey.