Back in 1976, Mercedes-Benz threw its entire engineering book at a new generation "E-Class" that won Motor Trend Car of the Year.  Known among Mercedes enthusiasts as the W123, it's perhaps the best car ever made.  My grandmother bought a baby blue one in 1979.  She paid an inflation-adjusted $75,000 for a car with AM/FM radio, vinyl seats, and no active safety systems.  I think Grandma would have liked the car I drove this week:  The Mercedes-EQE350 4MATIC – the brand's first all-wheel-drive mid-size EV.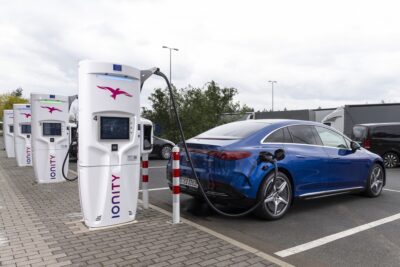 Gone are the traditional chrome grille and star on hood, replaced by one of the most aerodynamic shapes ever put to road by Mercedes.  Viewed head-on, it's an amorphous blob with a big star hung low on a black background embedded with a constellation of smaller stars.  From the side, some of the CLS four-door coupe profile shines through as the rear ends high for clean airflow.  Check details like 20" wheels and digital headlamps with millions of pixels that project driver indicators onto the roadway ahead.
Designing an elegant EV is not easy.  A thick battery pack placed beneath the floor raises the car to near crossover heights, but a long body hides the heft while providing a spacious cabin that transitions from analog to digital without losing its Mercedes heritage.
Wide swaths of wood panel the dash while flatscreen gauges and large touchscreen integrate technology.  It takes a second to learn how to pinch and expand functions, but it's easy to access navigation, Apple/Android connectivity, and the saturating Bermester 3D audio system when you do.  Ambient lighting encircles the dash, doors, and even the seats.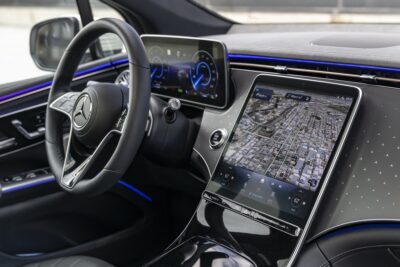 There's no head-up display, rear seat cushions are a little brief, and our car lacked the optional full-width "hyperscreen", but it's a pretty delicious place to ride.  Safety systems are as expected in a Mercedes:  Adaptive cruise, automatic emergency braking, lane keep assist, rear cross path detection, and lane change assist are all on the menu.  It's a long way from my grandmother's 280E.
The lady who once raced an Amtrak and won, would be impressed with the EQE's performance.  It harnesses lithium ion batteries and twin motors to send 288 horsepower and 391 lb.-ft. of torque through the all-wheel-drive system.  It runs 0-60 mph in just 5.6 seconds.  Charging is accomplished in 9.5 hours on a 220v home charger or 10-80% in just 30 minutes on a DC fast charger.  Range is about 240 miles with a light pedal.
With all of the battery weight low in the chassis, the AWD system and four-wheel steering, drivers can toss the heavy sedan about with total confidence.  It slips through city traffic with bursts of torque, but wafts down the Interstate with that iron sponge feeling of decades past.  Four-wheel steering allows the rear wheels to turn 10 degrees to provide compact car maneuvering or turn in the same direction to provide stability at speed.  It's both a product of the digital age and a true-born Mercedes.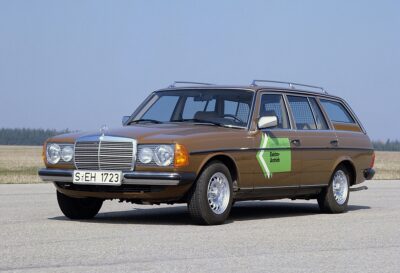 In truth, Mercedes-Benz experimented with an electric version of the W123, but focused instead on turbo-diesel variants that routinely cross 500,000 miles.  Going diesel was a fair compromise for aspiring executives in an era of epoch gas prices, but the EQE dispenses with that smoggy mess as you zap cleanly towards the future.
If my grandmother was still living, she'd be driving the latest Mercedes E-Class – and she'd pay no more for the privilege.  The EQE costs $74,900 or a few grand more with 4MATIC.   Competitors include the Tesla Model 3, BMW i4, Genesis Electrified G80, and Hyundai IONIQ6.
Storm Forward!
Send comments to Casey at [email protected]; follow him on YouTube @AutoCasey.