If every Mazda is created around its own piece of Miata soul, then the CX-9 three-row crossover receives a bigger helping than most.  But, by now, it is only a bridge to the first-ever CX-90 crossover that recently debuted for 2024.  Whether you buy now or later, there could be a very beautiful and practical Mazda in your future.
2023 Mazda CX-9 Signature
Trying to find a reasonably affordable three-row crossover that's luxurious, family-friendly and offers fun to the driver is not that easy.  Most three-row crossovers are way too big and tall to be fun and those Euro wagons that aren't cost big coin.  However, if you need to carry your larger family on vacation or friends to dinner, the 2023 Mazda CX-9 Signature may be your ride.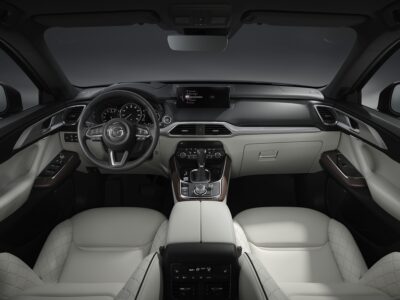 Mazda gained a reputation of being a "Japanese Alfa Romeo" and that is evident in its styling.  Looking like it came from an Italian carrozzeria, exterior shapes seem as much hand formed as stamped.  Mazda's trademark grille with precise edges stands tall, flowing back into the long hood, curvaceous fenders and low roofline.  Bodysides are accentuated in all the right place.  It's distinguished further by 20" wheels, LED headlamps, and signature lighting.
The art show continues inside where stylists embraced minimization and rich materials, highlighted by Deep Chestnut Nappa leather, Santos Rosewood trim, and controls kept low in the console.  Rear passengers get twin captain's chairs with a large console.  Heated/ventilated front seats, heated second row chairs, and a heated steering wheel sooth chilly souls.  A power moonroof, crisp 12-apeaker Bose audio, and tri-zone automatic climate control add comfort.
Infotainment is handled via a console joywheel and new 10.25" display, employing Apple CarPlay, Android Auto, and Bluetooth to connect devices while rain sensing wipers and a head up display make driving easier.  Charge phones wirelessly on a console pad.  Safety is enhanced with radar adaptive cruise control, forward collision warning with auto brake, lane keep assist, blind spot warning, and rear cross-traffic alert.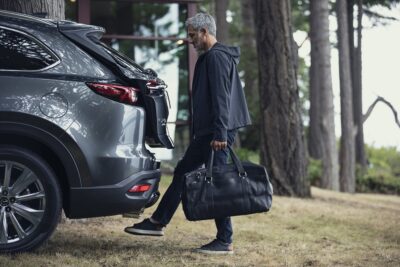 There's not an over-abundance of power, but the CX-9 has enough.  The 2.5-liter turbocharged four-cylinder engine generates 227 horsepower and 310 lb.-ft. of torque, all routed to the all-wheel-drive system through a six-speed automatic transmission.  With a couple of people aboard, acceleration is fine.  Load up with six and their luggage and it will be strained.  Upgrading to an eight-speed transmission would improve fuel economy ratings beyond 20/26-MPG city/highway.
Put it into the twisties, or attack a downtown on-ramp with vigor, and the CX-9 betrays its Miata DNA.  The firm yet compliant suspension encourages you to travel far and wide, but you can also enjoy a weekend backroad hustle.  I could do without the cumbersome joywheel control, and the drive mode selector doesn't really do much, but the CX-9 is a beautiful place to spend time, is super comfortable for four passenger, and looks good in the driveway.
Prices start at very reasonable $38,750, but came to $50,130 as-tested.  That's not cheap, but a fair price for all you'll enjoy.  Competitors include the Acura MDX, Volvo XC90, Ford Explorer ST-Line, Toyota Highlander XSE and Chevy Traverse RS.
Preview – 2024 Mazda CX-90
As much as families will enjoy the CX-9, they should get one fast as soon it will be completely replaced by the just introduced 2024 CX-90.  A larger more sculpted body encompasses a roomier third-row seat and two hybridized powertrains for improved fuel economy and an alternative for those not quite ready to go fully electric.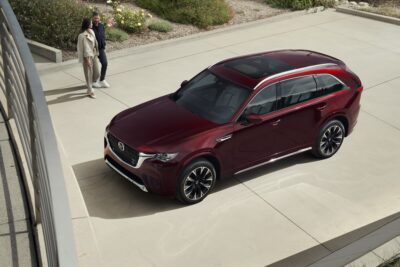 Beyond its voluptuous sheetmetal and lush interior, the CX-90 will be available with two powertrains:  The base 3.3-liter V6 delivering 340 horsepower with a mild hybrid system to enhance fuel economy or an optional plug-in hybrid with a 2.5-liter four-cylinder engine helping create a system combined 323 horsepower.  All-electric range was given as "competitive", which should mean something around 30 miles after a full charge.
Back inside, the comfy interior features Japanese aesthetics with wood and tone-on leathers plus a third row-seat with USB-C charging ports and cooling vents.  Drivers will appreciate a large 12.3-inch infotainment screen.  Sales begin in the spring with prices slightly higher than the current CX-9 – think $40,000ish as a base.
Storm Forward!
Send comments to Casey at [email protected]; follow him on YouTube @AutoCasey.