Unlike some of you, I love my mother-in-law.  She actually introduced me to my husband.  So, when she came to me about her next new car, I was in for the chase.
She wanted a car of the highest quality, durability, and comfort, but it also had to be easy to drive.  Fuel economy was important as was safety.  She has two young grandchildren.  All-weather capability would also be good since she was planning long drives to see said grandchildren.  She was essentially describing a luxurious Toyota Camry crossover.  I propose the redesigned 2023 Lexus RX350 Luxury to become her rolling mother-in-law suite.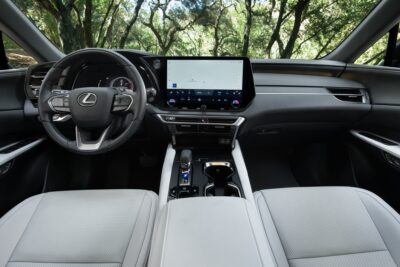 It's a brash design, but also one that's familiar.  For sure, nobody will miss the bolder version of Lexus' trademark spindle grille, but how the body color gradates into satin silver from top to bottom is an inspired design flourish.  Piercing strings of LED headlamps define precision.  The side view is more muscular with curved forms, but is topped by the last generation's floating roof that works just as well.  Around back, LED blade taillamps and LEXUS spelled across the decklid enhance elegance.
My mother-in-law craves comfort and she'll find plenty here.  Traveling under a panoramic glass roof are plush stitched dash coverings, brushed nickel accents, and soft leather trimmed seats that are heated and ventilated front/rear.  Add to that a heated steering wheel and saturating Mark Levinson audio.  She can crank up her favorite oldies and groove.  Infotainment is controlled through a wide intuitive touchscreen, connected via wireless Apple CarPlay and Android Auto.  Charge phones wirelessly on the console pad.  It all sounds complicated, but is very easy to use.
Safety was definitely a priority in the RX350's design.  Protecting everybody are automatic emergency braking with pedestrian detection, lane keep assist with steering intervention, adaptive cruise, lane tracing assist, and side exit assist that prevents passengers from stepping into traffic.  A wide head-up display that projects speed, navigation, and safety system status over the hood keeps eyes ahead.  There's also an automated parallel/perpendicular parking and hands-off traffic jam assist for creeping through morning commutes.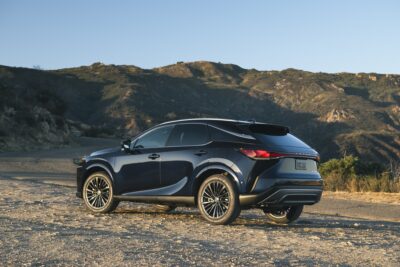 There are hybrid and plug-in hybrid plus F Sport versions of the new RX, but my mother-in-law will do just fine with the base 2.4-liter turbocharged four-cylinder engine that delivers 275 horsepower and 317 lb.-ft. of torque.  It shifts to the all-wheel-drive system through an eight-speed transmission, which enables fuel economy ratings of 21/28-MPG city/highway.  If she decided to go camping or boating, my daughter's grandmother could tow up to 3,500 lbs.
Driving the RX350 is much like piloting a tall Camry.  The turbo-four sounds raspy at full throttle, but moves the car from naught to sixty in a brief 7.2 seconds.  On smoother roads, it provides a calm ride.  However, the car-based independent suspension works overtime to tame those 21" steamrollers when they encounter rough pavement and potholes.  It's a little harsh when the road fights back.  An electronic suspension would help, but would also add unnecessary cost.  Overall, Lexus made good trade-offs between comfort and performance.  This is, after all, Luxury trim and not an F Sport.
It was not difficult to recommend the redesigned RX350 to my mother-in-law.  I want her to be comfortable and safe for many years to come.  If it is essentially a taller Camry with advanced safety systems, then it should serve her well.  A base price of $48,550 rose to $61,740 as tested.  Competitors include the Cadillac XT5, Lincoln Nautilus, BMW X3, Mercedes-Benz GLE, Audi Q5, and Genesis GV70.
Likes
Bold upscale style
Comprehensive safety systems
Lush luxury appointments
Dislikes
Raspy four-cylinder engine sounds
Harsh ride with 21" wheels
Pricey with options
Storm Forward!
Send comments to Casey at [email protected]; follow him on YouTube @AutoCasey.