When I was a car-obsessed kid back in the '80s, one of my favorites was the Volvo Turbo Wagon, made iconic in an advertisement showing it sitting next to a Lamborghini Countach pulling a trailer.  The comparison was apt – a superwagon with no penalties of a supercar.  That infatuation is probably why I've owned two Subaru Outbacks, the latest endowed with turbo power.  Streamline that original turbo wagon, add a bit of the Outback's off-road capability, and you have the 2023 Volvo Cross Country B5 AWD.
Gone are the razor edges of past Volvos, evolved to a streamlined version with a sweeping windshield, strong shoulderlines and bold grille with Volvo logo strewn across.  "Thor's hammer" driving lights show the way.  Around back, taillamps that zig into the roof identify the V60 as a Volvo.  Look closer and you'll notice the Cross Country rides on 20" wheels and clears 8.1" for that crossover look and added capability even if it essentially a tall station wagon.  It looks best in black!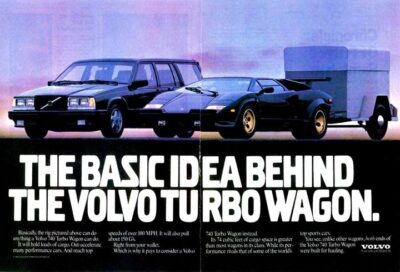 The Swedish design ethos continues inside where perforated woodgrain graces the dash and console while soft Nappa leather caresses one's backside.  Crank up the Bowers & Wilkins audio system with concert hall and jazz club modes and you will think it's worth every penny of the $3,200 it costs.  Four-zone automatic climate control, panoramic moonroof, heated/ventilated front seats, heated rear seats, heated steering wheel, and four-zone automatic climate control elevate luxury.  The 9" touchscreen isn't as easy to navigate as before, but it is intuitive after a few minutes.  Just swipe and click.
This is indeed a Volvo, which means safety rules every aspect of the wagon's engineering.  Check the list for automatic emergency braking, rear cross traffic alert with auto brake, lane keep assist, and blind spot warning with steering assist.  Drivers lighten their load with adaptive cruise and head-up display.  If all that fails, the car's body structure is tops in protecting passengers from extreme impacts
Putting the turbo in wagon is a 2.0-litre turbocharged four-cylinder engine producing a peppy 247 horsepower and 258 lb.-ft. of torque.  Putting that in perspective, a Corvette barely matched those numbers in the 1980s with a 5.7-liter V8.  Power and efficiency are helped along with an 8-speed automatic transmission and 48v mild hybrid system that contributes 13 horsepower and replenishes batteries with regenerative braking.  No Volvo – or Corvette – of that era felt as smooth while delivering the CC's 23/30-MPG city/highway.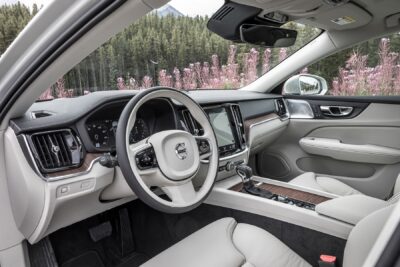 Let's be clear, this turbo wagon is more about running a quick 0-60 mph in 7.1 seconds, storming onto fast freeways, or hauling down mountain Interstates than tackling boulders, but it does have an off-road mode to configure the powertrain for light trails, deep snow, and muddy driveways.  The hybrid system even makes short work of traffic-congested city avenues.  With a long wheelbase and longer rear cargo area, many will find it a more practical alternative to mid-size crossovers…even if it is essentially a car with a longer roof.
Perhaps the ultimate irony is that Lamborghini now sells a crossover of its own, the Urus, with four doors and a modicum of all-terrain capability.  But, Volvo wagons are really in a class by themselves in terms of safety, performance, style, and heritage.  But if you wanted to compare options, go drive the Subaru Outback XT, Mercedes-Benz E450 All-Terrain, and Audi A4 allroad quattro.  Expect to pay at least $48,000 for the V60 Cross Country or $63,585 as-tested.
Storm Forward!
Send comments to Casey at [email protected]; follow him on YouTube @AutoCasey.