For way too long, Cadillac built cars better suited to riding than driving.  But over the last twenty years, GM's luxury brand kept a grip on its opulent heritage while engineering truly world-beating sport sedans.  The CTS-V, STS-V, and current CT5 Blackwing are a few examples.  But just as Cadillac put its German competitors to bay, it's decided to let their cars chauffeur themselves.  Let's drive and ride in the 2023 Cadillac CT4 with Super Cruise.
Lucky for me, I'm planning a drive from Indianapolis, Indiana to Bowling Green, Kentucky and back to visit a certain sports car museum.  It's one of my favorite drives, combining wide-open Interstate through cornfields and fast curvy roads south of Louisville.  Sharing basic architecture with the Chevy Camaro, the CT4 is as much sports car as luxury sedan, so I can't wait to settle in for about 250 miles each way.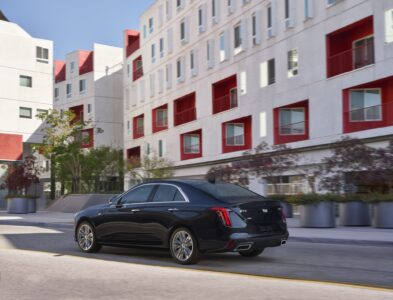 I'm greeted by a sleek design with familiar cues.  A proud grille, long horizontal bodylines, and vertical taillamps that hint of fins recall the past while thin LED headlamps, vertical driving lamps, 18" wheels, and formed rear deck spoiler impart fresh attitude.  The long creased hood and streamlined C-pillar hugging the beltline add a pleasing combination of formality and sport.  Dynamic styling lends the car presence beyond its compact size.
Even for a small sedan, the CT4 embraces proper Cadillac luxury.  It's not as lavish as larger Cadillacs, but I there's no complaining about heated and ventilated front seats, heated steering wheel, crisp Bose audio, and dual-zone auto climate control.  I connect my phone wirelessly via Apple CarPlay rock out.  A new flatscreeen instrument cluster accompanies a super simple touchscreen to access navigation and phones.  There's a joywheel in the console if you prefer, but I do not.  Wireless console charging adds convenience.  Just toss the phone in and go.
I feel safe.  I'm a big fan of the head-up display that hovers over the hood, especially when pressing the car to beat closing time, but Cadillac went further with adaptive cruise, automatic emergency braking, lane keep assist, and blind-spot warnings.  Should I lose attention, rear cross traffic alert with auto brake protects pedestrians and bicyclists.  The safety alert seat cushions buzz in the direction of danger.
Base CT4s come with a 2.0-liter turbocharged engine, but this one is stoked with the 2.7-liter turbo-four generating 310 horsepower and 350 lb.-ft. of torque.  All of that power routes to the all-wheel-drive system through a 10-speed transmission.  Naught to sixty rolls up in a smidge over 5 seconds.  Sport and Touring modes adjust sharpness of throttle and steering, but there's no Magnetic Ride Control.  Drive gently to see 21/29-MPG city/highway.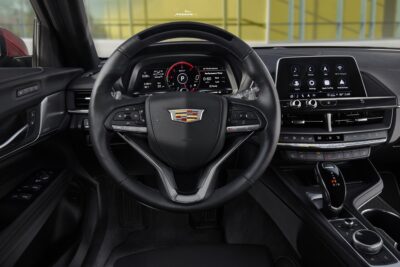 This is a seriously confident car.  The peppy engine, AWD, and crisp analog suspension press the car firmly into pavement.  After some fun on backroads, I hit I65, set the cruise, press a button on the steering wheel, wait for green lights, and lift my hands.  The car monitors traffic, automatically switching lanes and passing when necessary, buzzing the safety alert seat to communicate intentions.  A camera on the steering column makes sure I'm watching the road.  As much as I enjoy driving the CT4, it's calming sitting back, having a cup of coffee, and listening to my music.
The CT4 is the kind of cozy unflappable sport sedan Germany used to build, but no longer does.  If you want this one, get it quick because whatever replaces it will soon be electric.  A base price of $34,395 makes baby Caddy surprisingly affordable, but add the $7,700 Super Cruise package to Premium Luxury models like ours and the total comes to a loftier $53,215.
Storm Forward!
Send comments to Casey at [email protected]; follow him on YouTube @AutoCasey.