I have to admit I didn't give this second-generation Nissan Leaf EV a fair shake.  I went to the media preview of the first-generation Leaf a decade ago and was impressed with the effort, but a wobbly oddly-styled compact that could only go 75 miles on a charge wasn't going to lure many out of their hybrids at a premium price for the pleasure.  When the second generation debuted, it was a more solid car, but still posting range far below Tesla and Chevy.  With greater range and styling tweaks, the deliciously affordable 2023 Nissan Leaf deserves a second look.
If reactions from my 17- and 20-year-old nephews are any indication, styling is spot-on.  It has a bit of future-tech '80s vibe with the front aero panel, tall crossover proportions, and black crosshatch 17" wheels, but cues like the boomerang rear lamps, floating roof, and outline of Nissan's trademark V-Motion "grille" connect to its greater family.  Squinty LED headlamps and accentuated lower body moldings give it attitude.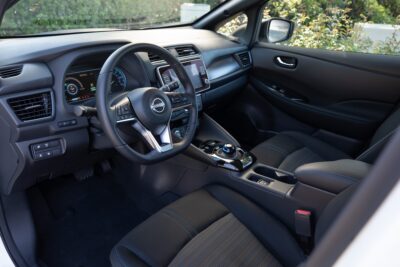 That tall techy exterior encloses a roomy airy cabin that comfortably seats four passengers with a deep well of luggage through the hatch.  Flip down the rear seats for bicycles and camping gear.  Up front, supportive cloth seats face a lot of hard plastic, but the intuitive touchscreen channels audio, navigation, and phone while retaining proper volume and tuning knobs.  Phones connect via Apple CarPlay and Android Auto.  Heated front seats and steering wheel add comfort, but are also more energy efficient than a blower.
Compared to some EVs, the dashboard is a little underwhelming.  There's a reconfigurable flatscreen portion that shows energy use and range plus a speedometer if you want it, but the main speedometer has an actual dial – no glassy flatscreen.  The touchscreen works well, but seems a generation behind.  I do like the drive selector orb in the console and there's a full roster of safety tech that includes adaptive cruise with lane tracing, automatic emergency braking, rear cross traffic alert with auto brake, and blind spot warning.
Styling promises an advanced powertrain the Leaf mostly delivers.  If you're looking to rip off 3-second 0-60 blasts, look elsewhere, but the Leaf's 214 horsepower is plenty to squirch the front wheels and accelerate briskly onto the freeway.  Base models have 149 miles range, but our SV Plus extends to 212 miles – a fully usable range for a car that will rarely travel beyond city limits.  In a world where Kia and Hyundai charge to 80% in 20 minutes, the Leaf requires a lengthy 45 minutes on a DC fast charger and 11 hours to fully recharge on a 240v home or public charger.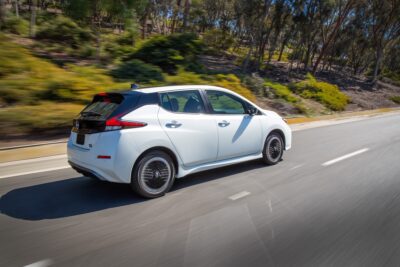 While I had the car, my family traveled to my parents' house an hour away for Easter dinner.  The car had no problem making the round-trip, but range diminished much more quickly while hammering the left lane.  If you want to travel over 200 miles, I admonish you to drive gently.  That said, the Leaf was smooth, quiet, and plenty roomy for my family on the highway, but it also made a surprisingly good city car with its compact footprint and one-pedal driving mode that immediately enacts regenerative braking upon lifting from the accelerator.
If you're looking for an affordable EV, the Nissan Leaf definitely deserves a second look.  Sure, some of the interior materials are low rent, but everything looks and functions well – especially given a super affordable base price of $28,040 or $36,985 as-tested.  Since it is built in Smyrna, Tennessee, the car will be eligible for the full $7,500 federal incentive.  At under $21,000, the Leaf is an epic steal!
Storm Forward!
Send comments to Casey at [email protected]; follow him on YouTube @AutoCasey.