Ford's crossover-based Maverick pickup comes standard as an 42-MPG hybrid starting at $22,595.  It even looks great in its standard steelie wheels with a cloth interior.  Good luck getting one, though, because the order books are closed for 2023.  Still, some may want a bit more attitude and capability than base models provide.  For them, let's take a spin in the uplifted and facelifted Maverick Tremor.
As with other Ford pickups, Tremor denotes models with enhanced off-road capability and flashier style.  Base models are handsome with their melted blocky forms, but Tremor is enhanced with copper accents on the grille bars, 17" black wheels with copper kiss, and TREMOR logos on the bedsides.  Look closer to notice black Ford ovals, grippier off-road tires, spray-in bedliner, and a 1" suspension lift for 9.4" of ground clearance.  It's a more capable truck, but also one that embraces city living.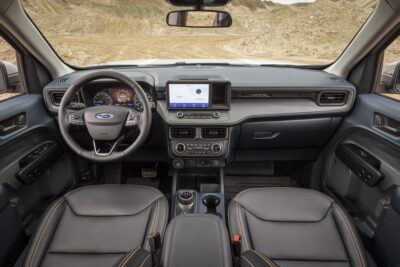 Its interior is a master stroke in using low-cost materials that never seem cheap.  Most surfaces are hard plastic, but the dash and doors are sensually molded in textured bluish gray plastic, granite ridges appear in contrasting dash panels, and gray sweatshirt seats add copper stitching.  Large door and console cubbies hold large water bottles and kid gear.  Manual climate control, rubber steering wheel, and the rotary gear selector keep it simple while infotainment is handled by a dash screen using simple icons.  Add Apple CarPlay and Android Auto connectivity.
Simple doesn't relate to safety as our Maverick came with sophisticated automatic emergency braking, blind spot warning, lane keep assist, and rear cross traffic alert systems.
I'd want my Maverick with the hybrid powertrain, but few are likely to complain about our truck's 2.0-liter turbocharged four-cylinder engine that pumps a peppy 250 horsepower and 277 lb.-ft. of torque to the four-wheel-drive system through an eight-speed automatic transmission.  In fact, it scoots from 0-60 mph in a scant 6 seconds, which is plenty quick to zip onto freeways or get away from a stoplight.  Load up to 1,200 lbs. of payload or 2,000 lbs. of trailer for light yardwork or to pull a small camper.  Fuel economy is rated 20/24-MPG city/highway.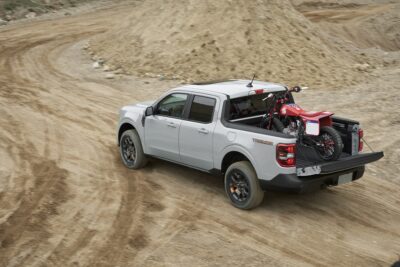 You may be thinking towing and fuel economy seem low.  It's true the Tremor cannot tow the 4,000 lbs. delivered by other Mavericks, but that's because it lacks the tow package.  This truck is more about off-roading, facilitating light yardwork, and looking cool than moving heavy loads.  Fuel economy, unfortunately, is the price paid for those big tires and enhanced ground clearance.  It's all a matter of choices.  Get another Maverick if this bothers you.
The most difficult part about the Maverick may be getting one since the order books are filled for 2023.  When your number finally does come up, price will be a delight.  Base Mavericks start at just $22,595 while Tremors rise from $31,665.  Ours topped out at $32,990.  That's a lot of very cool truck for not a lot of money.
Storm Forward!
Send comments to Casey at [email protected]; follow him on YouTube @AutoCasey.