If you need and want a luxury compact car for getting around town – and your really don't need much interior room – the 2023 Lexus UX is worth checking out….
With the added bonus of an average 39 miles per gallon.
It's pure Lexus inside: nice and plush, all the materials are solid yet comfy.  You definitely won't feel like you are stepping into a rental car. If you are a parent, you're the one who will have to clean up any mess, but that shouldn't be too much of an issue with the UX.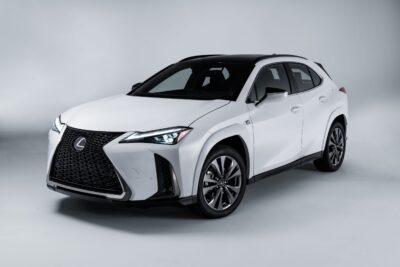 This compact luxury vehicle is a breeze to drive around town. Aside from going to the office (for those who still do), this vehicle is great for running to the laundromat, to the grocery store, to the pet-supply store or to your volunteer assignments.
(If you do have dependents, even a dog that thinks it's a human because of its size, you'll want to think of carefully about getting the UX.  I am hard-pressed to call this a family car.  It's very family-friendly, sure, but room and agility are at a premium.)
Average miles per gallon is 39, which is why you buy a car so 'cozy' and practical. Starting at $37K US, it's not the cheapest luxury compact SUV out there, but it does have a lot going for it.
Lexus technology is some of the most comprehensive and easiest to use.  I am not much of tech nerd, so being able to hop in and sync my phone with a quick press of the phone icon was a dream. I am still learning how to use voice commands without having a charge show up on my MasterCard.
Lexus is also smart enough to give you essential physical buttons and knobs (like volume and tuning) on the console so you can just feel your way around the infotainment wonderland (though you will have to put down your hamburger first).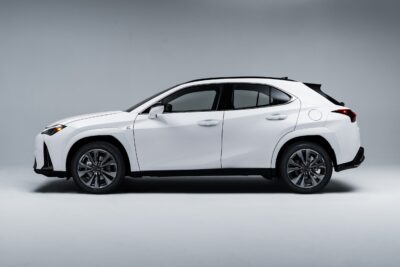 I tested the UX 250h F-Sport trim (seen here), which is the fanciest, most expensive one – and, wow, was it impressive. It's features mostly exterior design elements that make the car look more attractive, racier, aggressive…. It's the Lexus Sport package, if you will, and it will bump the price up at least $10K. You'll get a sunroof, cornering lights, black / body-color trim, 18-inch wheels.  If you get the F-Sport Handling trim, you can also get performance boosters like paddle shifters and a sport-tuned suspension.
I love driving the UX.  Every year, I hope I have not put on significantly more weight, I strap myself in – and I go out and enjoy the ride.  It's a very nice ride: smooth, poised, nothing stressful, even when traffic around you is challenging.
Still, we here at gaywheels.com recommend you shop around – and ask yourself if luxury is important to you and your pocketbook.  We know many of our readers are paying lotsa money every month for childcare, student debt and other facts of life. Worthy non-luxury competitors include the Honda CR-V and Toyota RAV4.
As you go through life making adult decisions, remember – we are here to help. We know you often start your car research here, read a bunch of other reviews, and ultimate circle back to us to check on your decision.
We like that.  We really do.