The blue stripe on the hood signifies this is a Trailhawk, the most trail-capable of the Jeep breed but the turquoise tow hooks identify this Grand Cherokee as a 4xe plug-in hybrid.  It's the luxury wagon that can get you deep into the muck (or mall) to find fossils (or clothes) without burning them to get there.  If you want extreme adventure without leaving any of the comforts of home, take a romp in the 2023 Jeep Grand Cherokee 4xe.
Let's start with the plugging in part.  A 240v home or commercial charger adds 25 miles of range in 3.4 hours.  For most of us, that's plenty for our daily drives.  But, there is also a Fiat-built 2.0-liter turbocharged four-cylinder engine routing power to the four-wheel-drive system through an eight-speed transmission.  Total system output is a potent 375 horsepower and 470 lb.-ft. of torque to tackle mountains…or scoot out expeditiously when a semi bears down on your freeway on-ramp.  Fuel economy is rated 56-MPGe, but you'll burn more towing up to 6,000 lbs.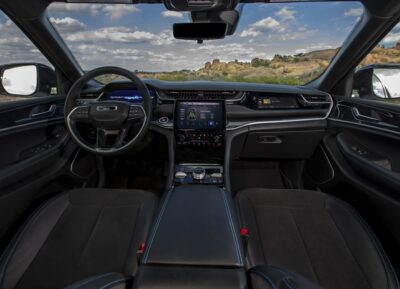 If the idea of an Italian-infused hybrid shoving a big Jeep down-trail seems nuts, styling makes clear this is no sleek little Tesla.  If the bright tow hooks and hood stripes weren't clear, then the 18" dark wheels with blue Jeep decals, deep-tread off-road tires, black cladding, and black floating roof make it clear.  Designers did a commendable job of streamlining the current version without weakening its all-trail fashion.
The interior may be dominated by a big intuitive infotainment screen, connected to devices through Apple and Android connectivity, but passengers are spoiled rotten with heated/ventilated front seats, heated rear seats, and a thick heated leather-wrapped steering wheel.  Add to that a passenger side dash screen, dual-zone automatic climate control, dual-pane panoramic sunroof, and thumping audio with subwoofer.  Charge devices wirelessly.
On-road or off, the Grand Cherokee excels at safety.  Adaptive cruise, automatic emergency braking, blind spot warning, and lane keep assist cover the basics.  Night vision with pedestrian and animal detection go one further.  Selec-speed control keeps the big Jeep to a safe speed off-road.  It's all pretty impressive.
An area where the Grand Cherokee separates itself from most other plug-ins relates to off-road prowess.  Like any good Boy Scout, it respects nature while sporting hiking boots and grappling hooks.  Those tow hooks may be painted pretty, but are also there to drag the big SUV out of trouble.  But, with its low gear range, front disconnecting stabilizer bar, and Selec-Terrain System to configure the powertrain for all conditions, it's not likely to need it.  And the same adaptive air suspension that provides a smooth controlled ride on asphalt can raise up for 10.9" of ground clearance and the ability to ford 24" of water.  Boulders beware!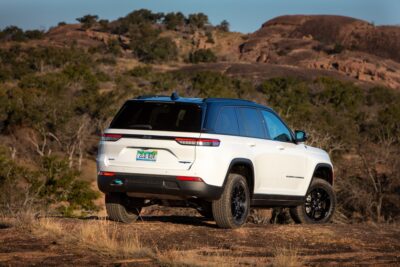 The Eagle Scout in me admires the Grand Cherokee's capability, the environmentalist in me appreciates its respect for ancient dinosaurs, and the spoiled adult in me just wants to drive cross-country in comfort.  Given a base price of $40,030 for the Grand Cherokee and $72,630 as-tested for our loaded 4xe, I'd have to say the spoiled adult wins.  Others to consider include plug-in versions of the Mercedes-Benz GLE plug-in, Range Rover Sport, and BMW X5.
Storm Forward!
Send comments to Casey at [email protected]; follow him on YouTube @AutoCasey.