In the age before crossovers, mid-size sedans were the most popular wheels in American driveways.  Epic battles between the Ford Taurus, Honda Accord, and Toyota Camry were as fierce as today's between Chevy, Ford, and Ram pickups.  Since then, Ford, Chrysler, Mazda, and GM have mostly dropped sedans.  But, if you're looking for a combination of value, sleek style, tight handling, and excellent fuel economy, these sedans impress.  Most are American-made!
2023 Honda Accord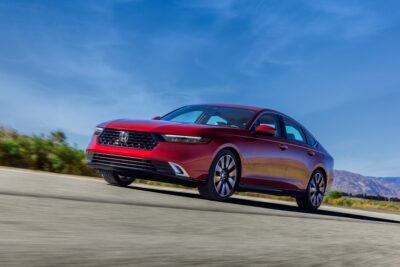 New styling is shared with the CR-V crossover.  It's not fancy, but feels expertly engineered whether thwumping the door closed or working the chassis over backroads.  Rough pavement is passed with hushed rumbles.  Base models employ 192 horsepower turbo-four engines, connected to CVTs, achieving 29/37-MPG city/highway.  A 46-MPG hybrid is available.  Standard equipment includes automatic climate control, automatic emergency braking, and adaptive cruise.  Production moves to Greensburg, Indiana for 2025.
Base price: $27,295
2023 Chevy Malibu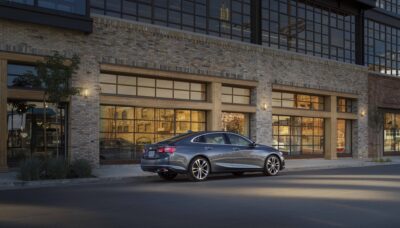 Styled under long-time Corvette designer John Cafaro, GM's only mainstream sedan shows an elegantly arched roofline, wide grille, and side creases that recall 1950s Corvettes.  A minimalist interior includes an 8" touchscreen connecting wireless Apple CarPlay and Android Auto.  The peppy 1.5-liter turbo-four delivers 160 horsepower and 27/35-MPG city/highway.  Architecture shared with the Cadillac XT4 provides balanced handling and comfort.  AEB and lane keep assist come standard.  Malibu is built in Kansas.
Base price:  $25,000
2023 Toyota Camry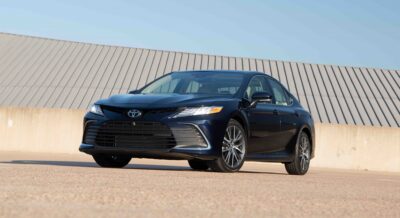 America's best-selling sedan defies boredom.  Toyota ensures the Kentucky-built Camry is one of the world's highest quality cars, but flashier NASCAR styling adds excitement.  Beneath the hood is a 2.5-liter four-cylinder engine delivering 203 horsepower and 28/39-MPG city/highway.  Dual-zone automatic climate control, 8-way power driver's seat, and Apple/Android connectivity come standard – as do radar cruise, automatic emergency braking, and Lane Keep Assist.
Base price: $26,320
2023 Nissan Altima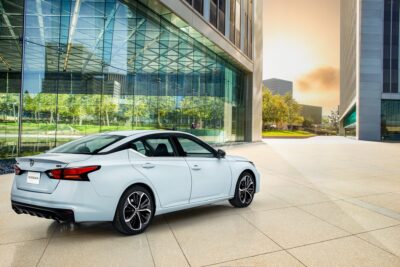 It shares its sporty V-Motion grille and floating roof with Nissan's crossovvers, but provides a sportier driving experience without sacrificing passenger space.  The standard 2.5-liter four-cylinder engine conjures 188 horsepower and 28/39-MPG highway.  A 248 horsepower turbo-four is optional.  The intuitive touchscreen and NASA-inspired Zero-gravity seats delight.  AEB, rear auto braking, and blind spot warning keep them safe.  Altima hails from Smyrna, Tennessee.
Base price:  $25,490
2023 Kia K5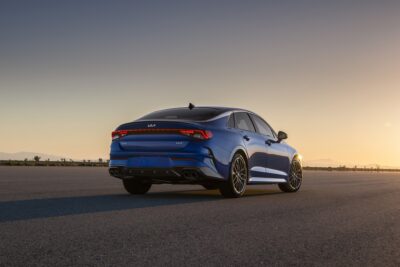 Styled like an Audi and handling like one too, the K5 harbors a 1.6-liter turbocharged four-cylinder engine with 180 horsepower and 27/37-MPG city/highway.  A proper 8-speed transmission adds to the Euro feel on the highway or in city traffic.  Inside, wide screens, sport steering wheel, and bolstered seats add to the upscale experience.  Safety is enhanced by automatic emergency braking, lane keep assist, and rear child detector.  Production comes from West Point, Georgia.
Base price:  $25,090
2023 Hyundai Sonata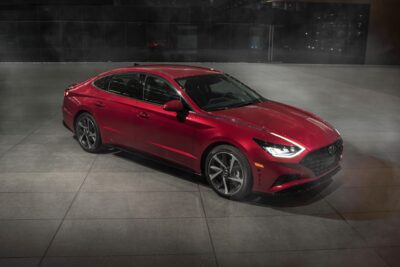 From driving lights that extend into the hood to deep body creases, fastback roofline, and boomerang taillamps, it's a seriously stylish ride.  Add to that a glassy interior fit for a Genesis with Apple/Android connectivity, adaptive cruise, blind spot warning, and safe exit warning.  Go with a 191 horsepower 2.5-liter four-cylinder engine delivering 28/38-MPG city/highway.  A 50-MPG hybrid is available.  Assembly recently moved from Alabama to Korea.
Base price:  $25,250
2023 Subaru Legacy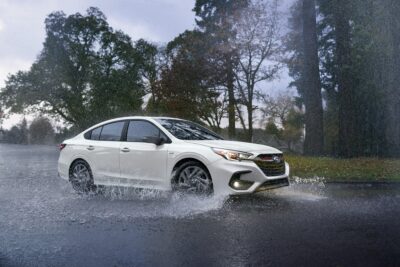 The Outback's little sister, sharing architecture, tablet touchscreens, and standard all-wheel-drive.  Styling was refreshed for 2023 with a WRX vibe.  A turbo is available, but base models come with a Porsche-style 2.5-liter Boxer four-cylinder engine plus a CVT, churning 182 horsepower and 27/35-MPG city/highway.  Active torque vectoring sharpens handling while Subaru's EyeSight system adds adaptive cruise with lane centering and automatic emergency braking.  It's been built in Lafayette, Indiana since 1989.
Base price:  $24,895
Storm Forward!
Send comments to Casey at [email protected]; follow him on YouTube @AutoCasey.