Land Rover makes an array of fancy and capable SUVs from the entry-level Defender Sport to the Billionaire class Range Rover.  But, the one that traces its roots to 1948 and gained popularity after World War II is the classic Defender that first appeared as Britain's take on the Jeep.  Aluminum bodied and loaded for bear, it could assault trails like a soldier in hiking boots.  A couple of redesigns since brings us to the current generation, available in two-door 90 series, four-door 110 series, and this giant posse-hauling three-row 2023 Defender 130.
Like the original Land Rover, our Defender sports an aluminum body with strong shoulders, but this one flaunts flanks smoothly tapered rearward to politely part wind.  The molded front looks tough with satin silver trim and round LED headlamps, but the wide hood with non-slip pads looks made for adventure.  The side profile is highlighted by lower body cladding, 19" wheels with off-road tires, and cool square accent among the rear windows.  Rear views encompass classy square flush-set taillamps and externally mounted spare tire.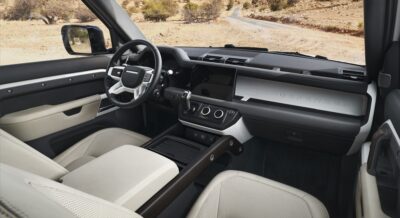 Interiors look serious, but are considerably more upscale than the old Defenders that looked like you could open the doors and hose them out.  It still looks pretty rugged, though, with heated leather seats, heated leather-wrapped steering wheel, and padded dash materials.  Cleaning trail mud or kid yuck should be equally simple.
Flatscreen instruments and wide touchscreen would fit in a Range Rover, but look little glass lakes here.  Devices connect to the cherubic 400-watt Meridian audio system via Apple CarPlay, Android Auto, and Bluetooth.  Charge wirelessly with a pad in the console too.  Safety is enhanced by lane keep assist, blind spot warning, and rear cross path detection systems.
Underneath that flat wide hood is a turbocharged 3.0-liter inline-six-cylinder engine producing 296 horsepower and 347 lb.-ft. of torque – all routed to the four-wheel-drive system through an eight-speed automatic transmission.  It employs a mild hybrid system for optimum torque and smooth acceleration.  That may not seem like a lot of power for a truck that wears its big tires with pride, but it runs 0-60 mph in 7.5 seconds and tows up to 8,000 lbs. of mini-yacht or mobile mansion.  Drive how you want because fuel economy is rated a guzzling 17/21-MPG city/highway.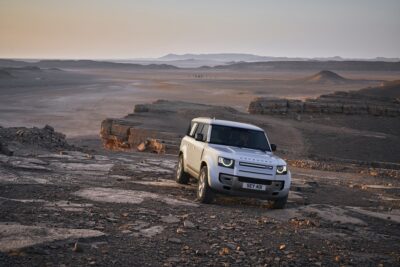 Driving this behemoth lets its Range Rover siblinghood shine through.  The same air suspension that allows it to rise up with 11.5" of ground clearance also wafts serenely at unmentionable speeds on the highway.  Land Rover's Terrain Response system configures the chassis and powertrain for a range of conditions, but also features a Wade mode that softens the throttle response, sets the heating/ventilate to recirculate, locks the driveline, and adjusts ride height.  The depth finder keeps maximum fording to 35.4 in.  Few vehicles are as talented no matter the road or lack thereof.
It's not perfect, though.  Eight seats plant plenty of butts, and the middle row is quite roomy, but the new third row is for children and dogs.  And, you'll have to retract that third row for any semblance of luggage space.  With the two rear rows deployed, however, a couple of bicycles or a troop's worth of backpacks and rations are swallowed whole with zero indigestion.
One thing for sure; the Defender 130 leans more towards Range Rover than Land Rover in price.  Even the base Defender 90 starts at $56,400.  Our Defender 130 came to a considerably loftier $74,175, but that's plenty competitive with the Chevy Suburban, Ford Expedition, Jeep Grand Cherokee, and Toyota Land Cruiser if you're inclined to spend that much on an all-capable trail wagon.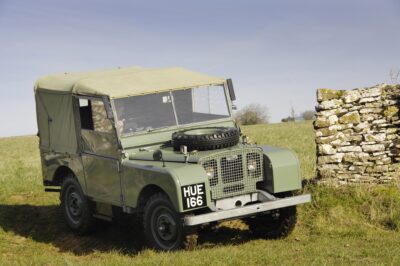 Storm Forward!
Send comments to Casey at [email protected]; follow him on YouTube @AutoCasey.