Like many of you, I'm slowly getting used to driving electric vehicles.  Running in the city, where chargers are plentiful, I have no concerns.  But, my recent mission was to drive from Indianapolis, Indiana to Danville, Illinois and back to visit my grandmother with enough extra range to pick up lunch and make it home with miles to spare.  Fortunately, I had the 2023 Mercedes-EQS 450+ SUV at my disposal.  No need to worry.
I checked before driving to my grandma's.  There is no DC fast charger in Danville, Illinois, and the fastest commercial charger was at the Ford dealer.  Tapping into her garage outlet would take days, so I wanted to avoid that!  When I noticed the car was using less range than predicted on the drive over, I was able to de-stress with some left-lane shenanigans returning to Indy.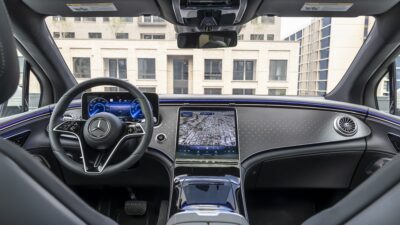 Range is listed at 305 miles, but I was seeing more like 320-340 miles.  Good advice is to set the adaptive cruise close to 70 mph and relax.  It's not slow given a system output of 355 horsepower and 419 lb.-ft. of torque.  With my foot fully extended, it ran 0-60 mph in a respectable 6.5 seconds, but I could do without the faux engine rumble.
The EQS' neat trick is the DYNAMIC switch that configures the powertrain for quick get-aways in Sport mode, wafting cruising in Comfort mode, and ultimate range with a stiff accelerator in Eco mode.  Plug into a DC fast charger to replenish 10-80% in 31 minutes, but my 240v home charger topped off in 12.5 hours.
Accompanying all of this technology is an amorphously sleek package that casts grilles and stand-up ornaments to the past.  The front is dominated by a wide black panel with center star flanked of multi-pixel LED headlamps.  Step to the side and you realize it is a very large car riding atop a thick battery pack.  There's a connection to the CLS four-door coupe in its window profile, and 21" wheels mount meaty tires, but a swoopy swath of LEDs across the hatch signify this one banished gasoline.
I remember when Mercedes interiors wore simple buttons and analog gauges with white and orange markings, but that's history.  Now, flatscreen gauges and the infotainment screen dominate the dash.  It takes a minute to learn how to pinch and expand functions, but it's easy to access navigation, Apple/Android connectivity, and the saturating Bermester 3D audio system when you do.  Ambient lighting with 64 color choices provides an ethereal glow to the personalized cabin.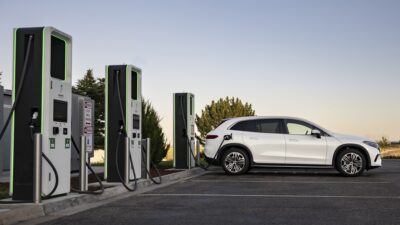 It's clearly an S-Class with exquisite stitched coverings and soft leather seats with heat, ventilation, and massagers up front.  Unlike the old Zebrano wood, ours was paneled in thin strips of walnut separated by aluminum to give the feel of a yacht deck.  Four-zone automatic climate control keeps everybody comfortable – even under the enormous panoramic sunroof.
Out on Eisenhower's Autobahn, it was a joy to drive.  The air suspension lends the iron sponge feel so common in older Mercedes sedans as its three tons are clearly present.  Though big, four-wheel steering allows the vehicle to maneuver more like a compact.  Just flick the turn signal to let the car safely change lanes autonomously.  Should a lapse happen, adaptive cruise with lane-centering steering, blind spot warning, lane keep assist, and automatic emergency braking stand by.
Driving an EV long distances can cause anxiety, but there was no need to stress.  The American-built EQS450+ completed its mission profile with panache, performance, and parade to spare.  A very S-Class base price of $104,400 or $113,865 as-tested rivals the Tesla Model X, GMC Hummer, Audi Q8 e-tron, and upcoming Cadillac Escalade iQ.
Storm Forward!
Send comments to Casey at [email protected]; follow him on YouTube @AutoCasey.