When an automaker says a vehicle is "more approachable", that usually means it costs less as a concession to its poorer clientele.  But, being more approachable can also apply to size, maneuvering, fuel economy, and handling.  When I tested the Jeep Grand Cherokee Trailhawk a couple of weeks ago, I liked it very much, but it is a bit large for city living and tight trails…and it cost $72,000.  Fortunately, Jeep offers the more approachable Compass Trailhawk as the perfect hiking partner whether aiming for mountains or malls.
It does look like a smaller Grand Cherokee Trailhawk, sporting similar hood graphics, red tow hooks, dark grille, and 17" gloss black alloy wheels with Falken Wildpeak off-road tread.  There's 8.6" of ground clearance to cross rutted trails, shallow streams, or neighborhood speed bumps with no concern of damaging its under-bits.  The current design appears more upscale and expertly sculpted than the previous generation Compass.  It's serious without being a brute.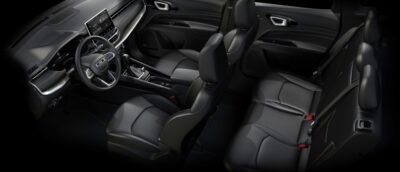 Interiors were upgraded with larger touchscreens and flatscreen instruments for 2023, lending even more of that Grand Cherokee vibe.  You can intuitively control audio, climate, navigation, and phones via the screen or use redundant buttons and knobs for key audio and climate functions below (volume, tuning, temperature…).  Or, use voice commands – whatever you want.  Devices connect easily via wireless Apple CarPlay and Android Auto plus wireless phone charging in the console.
Look close to notice faux aluminum trim and actual stitching across the dash.  Liberal use of piano black on the console adds to the upscale allure.  Settle in, though, to appreciate the comfy heated and ventilated leather front seats, thumping Alpine audio system, dual-panel moonroof, and automatic climate control.  Keeping everybody safe are adaptive cruise control, automatic emergency braking, lane keep assist, and blind spot warning systems.  Slip in and out of tight parking spaces with parallel/perpendicular assist too.
Tromp the throttle to sense the 2.0-liter turbocharged four-cylinder engine and hear its raspy snarl that sounds more Italian city coupe than American trail scout…which is appropriate since it's a Fiat engine.  It makes a healthy 200 horsepower and 221 lb.-ft. of torque, routed through an eight-speed automatic transmission.  That's plenty of power to abolish on-ramps, scale trails, or cruise the left lane.  Fuel economy is rated a relatively frugal 24/32-MPG city/highway.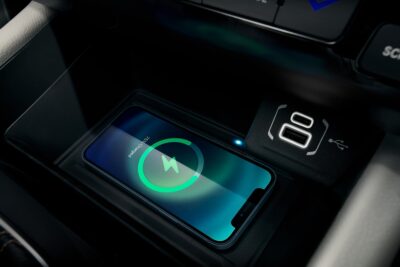 The driving experience is also Italian-American.  Steering is tight and there's a finesse to the chassis uncommon in American SUVs.  The Compass does without the Grand Cherokee's air suspension that can be raised for off-roading, but boasts 8.6" of ground clearance nonetheless.  The standard Selec-Terrain system configures the powertrain in Snow, Sand/Mud, Rocks, or Automatic modes.  Four-wheel-drive with crawl ratio goes above the average crossover and underlines the Compass Trailhawk's fortified Jeep pedigree.
I like the Grand Cherokee very much, but a vehicle that's easier to park, more efficient to fuel, and yes, cheaper to buy does seem more approachable even if there are compromises in not having the air suspension, super quiet cruising, nor all the carnal luxuries.  In that spirit, the Compass starts at an affordable $28,400, but came to a less approachable $46,290 all-in.  Competitors include the Subaru Forester Wilderness, GMC Terrain AT4, Land Rover Discovery Sport, and Ford Bronco Sport.
Storm Forward!
Send comments to Casey at [email protected]; follow him on YouTube @AutoCasey.