I'm often asked what would be a good affordable car that can carry all of someone's stuff, get decent gas mileage, carry family and friends, handle winter weather and…last forever.  That sounds like the stolen Swiss Army Knife of cars, able to do everything and cost nothing.  But, the Subaru Crosstrek often comes to mind and it is completely redesigned for 2024.
It's the kind of car that originally made Subaru popular in America:  Affordable compact jacked-up wagons with go anywhere capability.  Now in its third generation, the Crosstrek looks more like a smaller Outback with sharper creases, wider stance, and 17" alloy wheels.  A robust 8.7" of ground clearance adds a rugged flair, but also allows the little scout to hike real trails.  It's a more sculptural design, but one that's recognizably Crosstrek.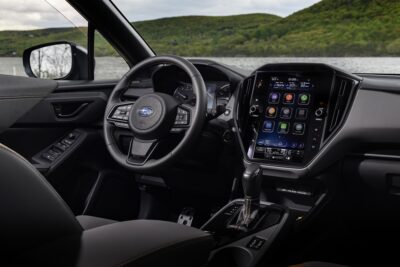 Everybody wants fancy leather seats and brand-labeled audio systems, but our Premium trim is how most people will probably option a Crosstrek.  The seats are cloth, but heated.  There's dual-zone automatic climate control, but not the Harman/Kardon audio system.  Steering wheels are rubber, but contain paddle shifters and an array of buttons for audio and cruise.  There's a power sunroof, but only one pane.  It's all you need.
Keen observers will notice the new tablet-style touchscreen that's shared with the Outback, Legacy, and WRX.  It's a little slow on start-up, but provides easy access to climate, audio, and phone functions.  Redundant buttons for key climate controls plus volume/tuning are placed around it.  There's no wireless charging, but devices connect via wireless Apple CarPlay, Android Auto, and USB-A plus USB-C ports.
Safety, a Subaru hallmark, is fortified with automatic emergency braking, lane keep assist, blind spot warning, rear cross traffic alert, and automatic emergency steering to avoid accidents.  A rear seat reminder keeps adults from forgetting their offspring in hot weather.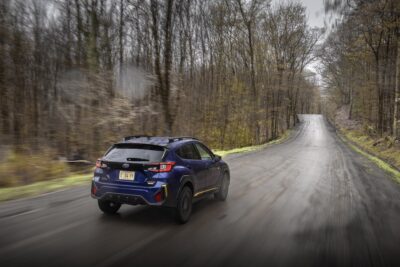 Premium editions have adequate if not overwhelming power.  The 2.0-liter horizontally-opposed "Boxer" engine sends 152 horsepower and 145 lb.-ft. of torque to the torque-vectoring all-wheel-drive system.  It revs to rafters through the standard continuously variable transmission (CVT), but drivers can paddle-shift through eight pre-set gear ratios to quell the zing.  Step hard and most people will find enough power, but a more potent 2.5-liter engine is available in higher trim levels.  Clicking into Sport mode summons the power more easily with a more sensitive throttle.  The ability to tow 1,500 lbs. and achieve 27/34-MPG city/highway are nice consolation prizes.
But, driving the Crosstrek is about more than posting acceleration and fuel economy digits.  The chassis is 10% stiffer, which means a more finely tuned suspension, more precise steering feel, and less squeaking and creaking.  Off-road driving is amped by X-Mode that lets drivers configure the powertrain for all trails and creep down extreme hills without touching brakes or throttle.  The Crosstrek is not a rock-crawler, but is plenty capable of getting to remote fishing and camping spots.
According to Subaru, 97% of Crosstreks sold during the past 10 years are still on the road.  There's no guarantee of eternal longevity, but Subarus tend to last a very long time.  Add to that compact car fuel economy, all-road capability and roomy interiors, they make a compelling case for fulfilling many wish lists.  While not free, Crosstreks are affordable.  Base models start at just $24,995 with standard AWD and came to just $29,685 equipped as most will want one.  Competitors include the Honda HR-V, Chevy Trailblazer, Jeep Renegade, and Hyundai Tucson.
Storm Forward!
Send comments to Casey at [email protected]; follow him on YouTube @AutoCasey.