It would seem easy to understand the updated 2024 Mercedes-Benz GLE450 crossover.  Placed between the compact GLC and full-size GLS crossovers, echoing Mercedes' traditional C/E/S line-up, the GLE should have more luxury and space than the GLC and less than the GLS.  One would also expect it to handle better and have more advanced interiors than the C and be sub-par compared to the S.  That's kinda true, but it's full of contradictions.
Let's start with the styling.  It pays homage to the classic Mercedes 300SL gullwing sports car through its grille-mounted star, twin hood bumps, and narrow wrap-around taillamps.  This generation GLE's styling is my favorite because bulging fenders shadowing 21" AMG wheels give it considerably more swagger and a greater sense of elegance.  It's obviously a Mercedes, meaning it looks ready to storm the Autobahn before pulling up to the valet stand at your favorite bistro.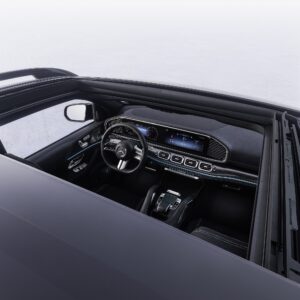 It's a fancier affair inside.  The dash is dominated by twin horizontal screens from the previous-generation S-Class, a generation behind the GLC, but it all works well.  I've never loved touch pad and joy wheel controllers for infotainment, and the GLE nestles one in the console, but the screen can also be swiped, touched, and commanded by voice.  Engage any way you prefer to access radio, media, phone, and navigation.  Connect devices wirelessly via Apple CarPlay and Android Auto.  Charge wirelessly too.
Beyond electronics, the GLE's cabin is sublime.  Heated and ventilated front seats, twin-pane panoramic roof, four-zone automatic climate control, and infinitely adjustable ambient lighting seeps luxury from every crevice.  There's plenty of space for four passengers, but up to seven fit with the optional third-row seat.  Keeping everybody safe are automatic emergency braking, lane keep assist, adaptive cruise, and rear cross path detection.  A head-up display keeps eyes on the road.
Power and performance are much more S-Class than C-Class.  Behind the tall facia is a 3.0-liter turbocharged inline-six engine with mild hybrid assist.  Combined, the powertrain delivers a robust 375 horsepower and 369 lb.-ft. of torque to the 4MATIC all-wheel-drive system through a smooth-shifting nine-speed automatic transmission.  It can run 0-60 mph in a scant 5.3 seconds, tow up to 7,700 lbs., and achieve a relatively frugal 19/26-MPG city/highway when driven responsibly.  That's the good stuff.
While on paper the GLE would appear to have a far superior chassis than its smaller sibling, I'm not sure I prefer it.  I recently drove the smaller GLC300 and its analog multi-link rear suspension was as finely tuned as any Mercedes before it.  Adding air to the GLE's suspension should enhance control, but the GLE wallows like a 1970s American luxury barge in Comfort mode and isn't especially sporty in Sport mode.  It needs a re-think.  At least the Dynamic Select system allows drivers to mostly configure the steering, suspension, and throttle for Eco, Comfort, Sport, or Individual configurations.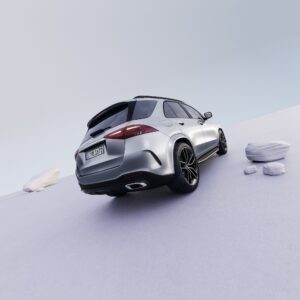 The GLE450 is full of contradictions.  Styling, luxury, and performance are unquestioned.  Anybody who's ever driven a Mercedes E-Class of any type will be impressed.  But, the infotainment system is a generation behind and I'd prefer the simpler suspension from the GLC.  That said, I certainly wouldn't deny a GLE450 if it appeared in my driveway.  Given a base price of $62,650 or $69,500 as-tested, somebody would have to give me one.  Others to consider include the BMW X5, Cadillac XT6, Lincoln Nautilus, and Jeep Grand Cherokee.
Storm Forward!
Send comments to Casey at [email protected]; follow him on YouTube @AutoCasey.