When I reviewed the Mazda 3 last week, I said that it's basically the same as the 2023 Mazda CX-30. That's not totally true.
The Mazda CX-30, ranked No.1 in Subcompact SUV at U.S. News and World Report, is indeed an SUV. It sits a bit taller and has a bit more room inside. It has a bit more utility to it as well, especially if you have a family – and especially if you have pets that need room.
And it is indeed a great little car.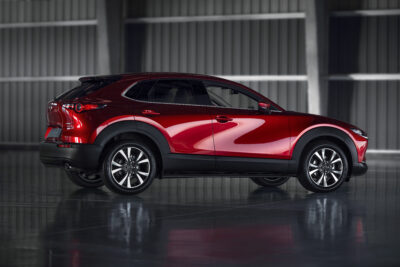 Overall, I really enjoyed driving it. Whether you are in day-to-day traffic.  Or going into the woods or the wild. Or, for you rural types who can no longer afford urban life, traveling back into the city to get your 'gay' on, this car can accommodate you and your partner in so many ways for so many years to come.
Described as an "extra small crossover SUV" by Edmunds.com, the 2023 CX-30 is considered a premium, sorta kinda luxury vehicle, if you will, for those who don't want to always feel like they are totally roughing it just because they can't afford or don't want to buy a rolling castle or piano lounge.
It really is the best of both an SUV and a small car.  Prices start at just under $23K US (but truly, good luck finding one at that price). You'll get All-Wheel Drive, 16-inch alloy wheels, 8-speaker audio and an infotainment system that is fairly easy to navigate.
Standard safety includes adaptive cruise control, forward collision mitigation, lane-keep assist, automatic high beams and a 'drowsy driver' monitor. That's not bad, really.
Combined mpg on the base 2.5 S trim is 29, which is decent.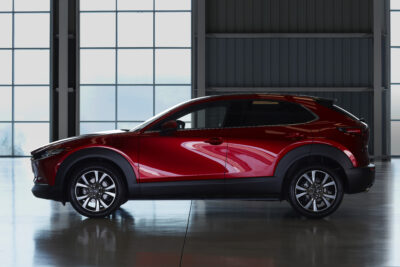 I had the privilege of testing the top-tier 2.5 Turbo Premium Plus, which starts at $35,400 US. Surround sound, surround-view cameras, traffic jam assist – yes, it was nice and maybe not all that necessary. But indeed, what a joy.
A word of caution: if you are planning on growing your family, you won't want to hold onto your CX-30 for long.  It may be comfortable now, but as your family (and bills) grow, everything will get a little tighter.
I have also driven the Hyundai Kona and like that a lot, FYI. As always, do your homework, run the numbers, but IMHO, you should always get in it, drive it around and see how you like it.
I admit, I am still not a fan of buying online and having a car magically delivered.  Too many things can go wrong – and then you are stuck with it for a long, long time. If you don't like it or even 'just kinda' like, you can't just toss it partially eaten in the trash and be done with it.
This isn't like getting a pizza from Door Dash.