I woke up in a tent this morning with coyotes howling near Zion National Park in Utah thinking about the day ahead.  If you've never been to Zion, it's extraordinary with valleys of sheer rock high and deep.  Eating dinner beneath the stars and moon last night with mountains reflected beneath was stunning, but I didn't just come to awe and eat.  I came to drive the 2024 Subaru Crosstrek Wilderness in its natural habitat.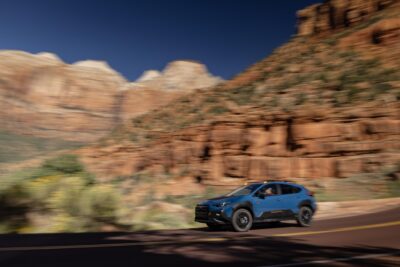 First Impressions
Wilderness editions are Subaru's most capable line of vehicles and the compact Crosstrek crossover is the third following Outback and Forester.  Like its siblings, it's distinguished by angry black body cladding, black anti-glare hood patch, and 17" matte black wheels shod in all-terrain tires.  Given Subaru owners are an active bunch, the roof rack is rated 700lbs. for pop-up tents.  A drive confirms it's not just for looks (though it looks ruggedly sexy).
The first leg of the drive is from camp to Zion National Park – about 20 miles on twisty paved roads.  Despite a higher ride and fat tires, the engine placed low in the chassis, quick steering, and torque-vectoring all-wheel-drive imbue a playful spirit.  After a few miles, I found myself aiming for apexes and tipping into fast corners.  It's noticeably quieter than previous Crosstreks.
I wouldn't decline a turbo, but the 2.5-liter horizontally-opposed "Boxer" four-cylinder engine delivers a peppy 182 horsepower and 178 lb.-ft. of torque routed to a continuously variable transmission that can be paddle-shifted through eight pre-set ratios.  The smallest Wilderness tows up to 3,500 lbs. – plenty for a small camper or a couple of jet skis.  Fuel economy rates 25/29-MPG city/highway.  Thank the fat tires and ride height for diminished MPGs.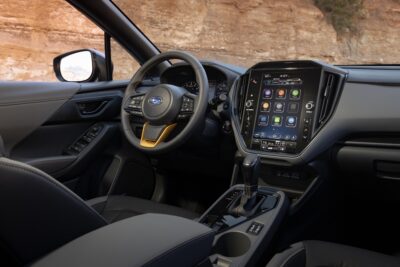 It's a slow slog through the park, but I fill time examining the car's interior.
A giant tablet-style touchscreen takes center stage for tapping audio, phone, and climate, but proper volume and tuning knobs plus buttons for key climate functions flank it for convenience.  I'm also a fan of the heated StarTex "vegan leather" seats that are both all-day comfortable with power driver lumbar and easy to wipe off dirt.  A power sunroof and Harman Kardon audio put a soundtrack to it.  Looking closer, I notice copper accents on the steering wheel, shift knob, gauges, and seat stitching.  Not a bad place to wait out traffic.
Getting Dirty
Not far out of the park, we hit dirt roads, climb rocky trails, and skip pavement until dinnertime.
It's pretty capable for a jacked-up Impreza.  Wilderness ground clearance increases from the Crosstrek's standard 8.7" to 9.3" to clear ruts, logs, and even parking lot speed bumps.  Add Dual Mode X-Mode, a traction control system that allows the car's AWD system to claw through deep mud/snow and use hill descent control to automatically creep down steep inclines.  The suspension soaks up rough roads and articulates over rocky trails en-route to our lunch overlook.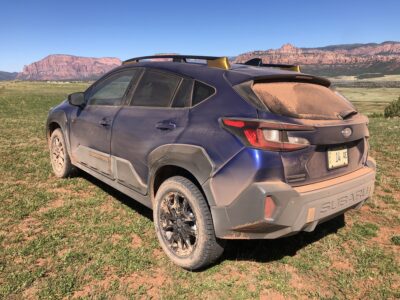 It was a busy morning, clawing up and down rugged trails deep rutted by Jeeps and Broncos.  I had to straddle the deepest ruts to keep the car from banging skid plates, but this compact car that's very happy commuting to work daily was doing very trucky things and seemed unbothered.  The suspension can become chattery, but did a good job even when pounded over rough roads.  And, there are many more miles of them to pound.
While impressive, the Crosstrek Wilderness is imperfect.  Unlike other Wilderness models, the Crosstrek is not available with a front camera or navigation.  Most drivers use Apple CarPlay or Android Auto anyway, but front cameras are as helpful at negotiating tight side streets as bending narrow trails.  It's an omission worth correcting.
Final Verdict
Driving back to camp, I think about the Crosstrek Wilderness.  Even more than Jeep drivers, Subaru owners take their cars off-road.  They also attack freeways, dodge potholes, carry dogs, and take kids to bassoon lessons.  Features that make it capable also make it a very nice car.  Vegan leather repels trail dust, but also welcomes dog dribbles and baby burbles.  Under-hatch lights aid loading gear and unpack strollers at grandma's.  The Crosstrek just possesses the cleats to carry all you consider family to remote picnic spots on weekends.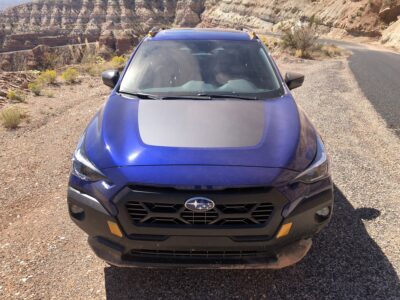 Wilderness represents the top Crosstrek trim, but is the least expensive way to enter the club.  A base Crosstrek starts at $24,995 with the Wilderness rising from $31,995.  That's a lot of car for the money, whether you live in Utah or Utica.
Storm Forward!
 Send comments to Casey at [email protected]; follow him on YouTube @AutoCasey.