Scroll through web pages from major automakers and you'll quickly realize compact sedans are in short supply.  Haven't looked for a while?  Good luck!  Ford, GM, Chrysler, and Mitsubishi have all waved adios to a segment they once dominated.  While the Toyota Corolla still sells in respectable numbers, its maker recognizes buyers are shifting to taller rides.  So, to capitalize on the storied brand, and throw in some Prius DNA to a package buyers want, we get the 2023 Toyota Corolla Cross Hybrid.
It does kind of look like a tall Corolla wagon with its pinched nose, squinty headlamps, and narrow wrap-around taillamps, but our XSE edition's dark badges, black body accents, and contrasting roof give it a devilish flair.  I didn't know what to think of our car's Acidic Blast goldish metallic paint, but it does look striking with the noir contrasts.  Large 18" wheels fill hunky chiseled fenders nicely.
It was easier to slide inside the higher seats, but sitting behind the wheel, I could just as easily have been in a Corolla sedan.  And, this generation feels appreciably more upscale with a thick leather-wrapped steering wheel, soft dash coverings, and intuitive touchscreen perched proud of the center dash.  Even the gear selector and firm SofTex-and-cloth seats seem more expensive.  Luxuries like a power sunroof, JBL audio, dual-zone automatic climate control, and wireless phone charger confirm the XSE's premium position.
Toyota makes safety a priority in all of its vehicles, so the Corolla Cross comes with the latest crash avoidance technology:  Automatic emergency braking with pedestrian recognition, lane keep assist, blind spot warning, and rear cross path detection with auto brake.  Radar adaptive cruise and lane centering steering assist drivers on longer highway drives.
Nobody does hybrids better than Toyota, so it's no surprise the Corolla Cross comes stoked with excellence.  The hybrid system combines a 2.0-liter four-cylinder engine, continuously variable transmission, lithium ion batteries, and motors to put 196 horsepower to the road through standard all-wheel-drive.  Fuel economy is rated a frugal 45/38-MPG city/highway.  Use Sport mode to make the throttle most sensitive and to zip off 0-60 mph in 7.3 seconds.  Even if not racing neighborhood teens, you'll feel the pep when skipping onto the freeway.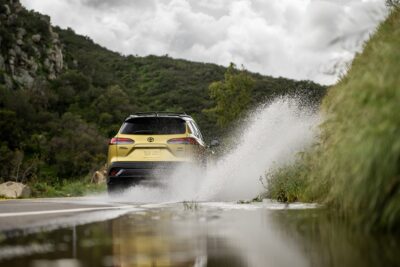 Some hybrids can whine and scream as they rev the engine and shift continuously variable transmissions, but the Corolla Cross feels smooth and refined.  Batteries add torque, which translates into surer acceleration without drama.  The XSE's sport-tuned four-wheel independent suspension provides a good balance between ride comfort and firm handling.  It can bounce some off some bridges, but just rumbles over rough pavement without a creak, squeak, nor rattle.
Toyota has sold more Corollas since its 1966 debut than Ford sold Model Ts or Volkswagen sold Beetles.  It's a global icon, but its genre is in decline.  Almost nobody buys compact sedans and hatchbacks today, so Toyota made a smart move in creating an affordable crossover, imbuing all the efficiency, affordability, and durability for which Corollas are known.  And if it stirs in a little Prius and Supra DNA, then all the better.
The base all-gas Corolla Cross starts at $23,610.  Hybrids rise from $27,970 to our car's $36,337 all-in.  Also check the Honda HR-V, Chevy Trailblazer, Subaru Crosstrek, Kia Seltos, and Mazda CX-50.
Storm Forward!
 Send comments to Casey at [email protected]; follow him on YouTube @AutoCasey.