It's getting that time of year when we gather our loved ones and hit the road to see more of our loved ones.  My family and I had that experience last weekend when we traveled four hours round-trip to visit my adopted in-laws.  It's an easy drive with hours on the Interstate book-ended by narrow city streets.  A twisty-two lane to lunch and tight parking further tested the 2023 Jeep Grand Cherokee Altitude L's skills as we took our ride the long way.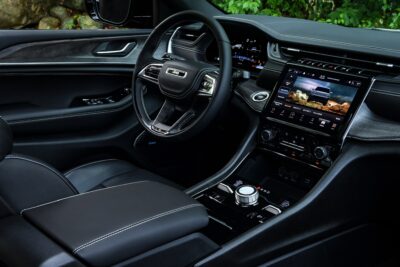 Flexible Positions
Unlike in the past, the Grand Cherokee comes in short-wheelbase five-seat or the L edition like ours with three rows of seats and available center captain's chairs.  We didn't need the tight third row for little ones, but my daughter lounged like a lazy lizard in her own middle-row throne.  Easier to keep the kids – or arguing grandparents – separated.  I'm liking the Altitude package that gives all the luxuries you really want without much you don't.
Outside, that means dark grille trim, black 18" wheels, and black badging on the sides and rear, but Jeep's trademark seven-slot grille is front and present.  So are LED headlamps and smoked taillamps.  From the curb, it's obvious this is an L edition with its ample broadsides, but the floating roof and sleek sheetmetal looks appropriately upscale.
Same inside where seats are all-day supportive upholstered in leatherette and suede that can be easily wiped after kids and adventure.  Heated front seats, heated steering wheel, power single-pane moonroof, and tri-zone automatic climate control add comforts.  There's no MacIntosh audio system, which I would love, but the six-speaker system in our vehicle sounded fine enough.  Devices connect wirelessly through Apple CarPlay and Android Auto.  They charge wirelessly too.  While the touchscreen is super intuitive to use, connecting devices wirelessly was not easy.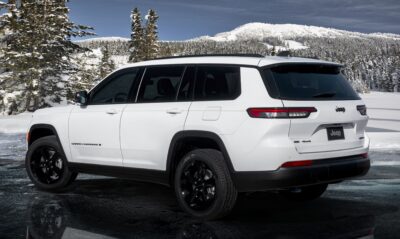 Safety, a priority of all of us who carry kids and need to get home to them, is enhanced by adaptive cruise, automatic emergency braking, blind spot warning, and rear cross path detection.  It's everything you need to keep your family safe wherever you roam.
Ample Performance
On paper, our Grand Cherokee doesn't seem to have an over abundance of power for a large three-row crossover.  Stepping into the 3.6-liter V6 summons 293 horsepower and 260 lb.-ft. of torque – all routed to the four-wheel-drive system through an 8-speed automatic transmission.  I never felt like I needed more power, but there's a 357 horsepower V8 available for those who want more, but even a properly equipped V6 can tow 6,200 lbs. of boat, RV, or classic car.  Fuel economy is rated a respectable 18/25-MPG city/highway, especially considering isn't a hybrid.
Parked next to my in-laws Ford F-150 Super Crew it was nearly as long, but the Grand Cherokee shrinks on the open road.  Steering and chassis responses are sharp for a large crossover and it is very comfortable on the highway.  Where some of its breed can bounce off bridges and road humps, the GC remains poised on its four-wheel independent suspension system.  The basic architecture is derived from the Alfa Romeo Stelvio and it shows.  A load leveling rear suspension keeps it straight and level no matter how many passengers are aboard.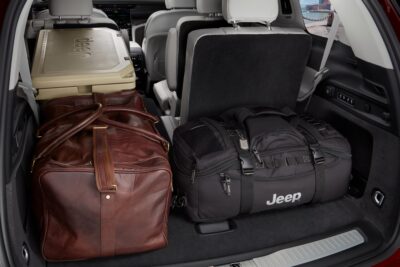 If you're planning to hit the road for the holidays, or everyday on the way to school and back, the Jeep Grand Cherokee L would be a good choice.  I'd gladly drive it a thousand miles and look forward to the return journey.  It's also a fair deal.  Base two-row Grand Cherokees start at $36,495.  L editions rise from $43,130 to our Altitude's $54,565.  Competitors include the Subaru Ascent, Honda Pilot, Toyota Highlander, Chevy Traverse, and Kia Telluride.
Storm Forward!
 Send comments to Casey at [email protected]; follow him on YouTube @AutoCasey.