Considered one of the best and truly 'out'-standing in the electric car field, the 2023 Hyundai IONIQ 6 is an EV you can't miss – literally, because it is that unique.
Just take a look at this stylish stretched-out VW Beetle. Sci-Fi movies and cartoons of years past had floating cars that looked like this, and now, ironically, icon-ically, or IONIQ-ly, here we are…
Counterintuitively, the IONIQ '6' is smaller (or tighter) than the IONIQ 5, which is a small SUV that looks just like the Hyundai Kona. The '6' does not look like anything else on the road, so if you get one of these, you really will stand out from the crowd.
And you should be able to find your car at the mall.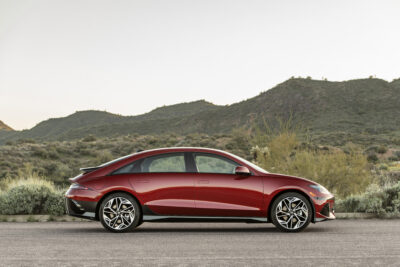 Range is impressive: 361 miles on a full charge. Prices start at $41,600 US, which is a little steep for what is essentially a small sedan, I guess. (No one is really sure how to label this car).
Notable standard features include fast-charging capability, 12.3-inch touchscreen, remote vehicle monitoring, keyless entry and start, power seats, navigation, front collision warning with automatic braking, lane-keep assist, lane-centering system, front and rear parking sensors and driver attention monitoring – to name a few.
Edmunds.com compliments the 6, finding that they got a "wonderful overall drive experience."
U.S. News & World Report lists the 6 as No. 1 in Electric Cars for the year, stating that despite some deficits, the 6 is "still a great electric car overall." Car and Driver went so far as the name the 2023 Hyundai IONIQ as its EV of the Year.
High praise indeed from all around the Worldwide Web for the first year of the IONIQ 6.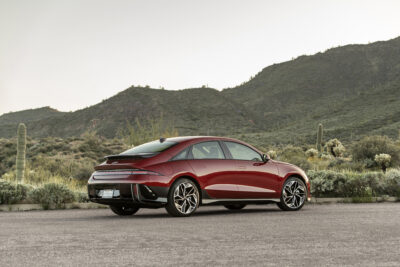 After driving it all over the city for a week, I have a few observations:
I still struggle with Hyundai's 21st Century tech interface approach.  They are not into physical buttons (not many) nor doing things like the Flintstones or the Golden Girls. You can eventually program and sync your phone and get on with your drive and your life once you hop in, but patience here is a virtue and a requirement. Not a fan, but, hey…..
The IONIQ still has a bit of a bumper car feel to it, especially when you are shifting between Park and Drive and Reverse: you have the hit the gas to get going again, and that can prove troublesome depending upon where you are stopped.
And when you do go from a dead Stop to Start, you really have to give it the 'gas', which can really make you feel like you are at an amusement park. Indeed, there were times when I was not amused.  But maybe it was my medications.  Old queens like me are easily agitated as the holidays approach and Mariah Carey seems to be omnipresent, even at a traffic light.
Depending on where you live, there are still rebates to be had when you buy an EV.  Also depending on where you live, EVs will soon be all you can buy.
I thoroughly support cleaning up the planet, and electric vehicles are one of the best ways to do that.
I just have to stop and think about my own personal convenience – or inconvenience, I will admit.