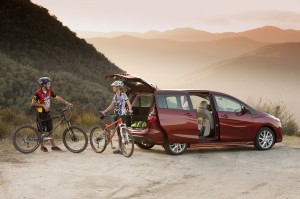 The term "mini van" has become an oxymoron; it's like "jumbo shrimp" or "livable wage", you just can't reconcile the two words. The truth is, today's so-called minivans are almost as big as their full-size van cousins. So, when Mazda got the grand idea to build a family hauling wagon on the zippy MAZDA3 platform, they wisely chose to incorporate the best features of a minivan (namely its three-row seating configuration and sliding side doors) with the heart and soul of a compact performance sedan, thus creating the first sport-oriented mini , minivan. For 2012, Mazda has taken its mini masterpiece one step further by giving it something few other minivans to date have offered: style.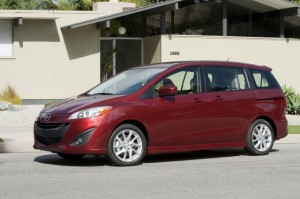 To understand what has transpired, one must first familiarize themselves with the Nagare show car that made the auto show rounds a few years back. Its elegant shape and unique side sculpting turned heads (as did the man who designed it, Lauren van den Acker) and set in motion the idea behind the new MAZDA5. The Nagare's most striking detail is its flowing lines which appear similar to the imprint left behind when a rake is pulled over sand. I'm sure I've just committed a horrible injustice to Lauren's work, but that's the best visual my tired old brain can muster at the moment. Daring styling that looks amazing on show cars rarely translate well into production vehicles. But, in the MAZDA5's case, the transplant is a complete success. The MAZDA5's sleek shape, sporty wheels and grinning wide mouth grille are enough to make it stand out on its own, but the Nagare side sculpting, representing by three flowing creases that sweep along the side sheet metal and culminate with dramatic flair on the front doors, really identifies this wagon as something special. Even cooler is the way the van changes appearance depending on the time of day. The sculpted side lines are easily influenced by lighting, sometimes popping out like three dimensional racing stripes, and at other times appearing so subtle as to look like shadows.
That the words "visually alluring" and "minivan" can be used in the same sentence is praise enough for Mazda's latest accomplishment. But, that this rolling sculpture is also extremely functional and fun to drive is nothing short of a miracle; oh wait, did I mention you can have all this for well under $20,000? Somebody call the Vatican; it's officially a miracle.
Matching the MAZDA5's sporty exterior is an equally sporty driving experience. Power is derived from a 2.5-liter four-cylinder engine producing 157 horsepower and 162 lbs.-ft of torque. While these numbers may seem a bit low for a vehicle intended to carry six passengers, the little 2.5-liter engine is actually quite robust. When teamed with the five-speed automatic, the MAZDA5 had no problem merging with traffic and passing slower moving vehicles. Then again, we didn't have a full complement of passengers on board, a condition we admit will probably produce less stellar results. Still, the MAZDA5's engine never felt taxed or underpowered , and we averaged just under 30 -mpg on our part highway, part twisting mountain road sojourn. The MAZDA5's stiff suspension and precise steering make it a joy to drive, but the ride can became a bit harsh over rough or uneven pavement. Chalk it up to the big 17-inch low profile tires and the stiffer suspension set up.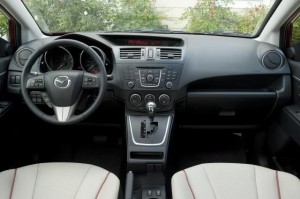 Although it is consistently referred to it as a minivan, don't let the MAZDA5's size fool you; there is plenty of room inside for six people (or four passengers and their gear). Unlike many smaller crossover utility vehicles (CUVS), the MAZDA5's third row seat is actually useable, and the dual sliding side doors make accessing the interior much easier than with conventional swing out doors, particularly when trying to anchor in two child seats. Base models offer handsome fabric seating, while the Grand Touring features black or cream colored leather, the latter fitted with contrasting red piping that brings back memories of the 1975 Lipstick Lincoln Mark IV; nice touch.
If there is one gripe we have with the MAZDA5's seating configuration, it's the standard second-row captain's seats. They are very comfortable and a real God send for separating feuding teenagers, or quarreling boyfriends, but there are certainly plenty of times a bench seat would be more convenient. On the flip side, the MAZDA5 is incredibly versatile, with a 50/50 split-folding third-row seat that can be stowed flush into the floor , and second-row seats that fold flat to create a massive cargo bay. Small conveniences abound, such as the second-row 's flip up center table and cup holder, sliding side door windows that can be rolled down, and additional storage beneath the second-row seat bottom cushions.
From the driver's seat, the view is equally nice with large legible displays and easy to reach switch gear. Steering wheel mounted controls for the cruise, audio and, on upper- end models, Bluetooth make it easy to keep your eyes on the road while selecting your favorite music or dialing up a buddy. One thing sorely missing from a vehicle whose intended audience is the under 30 set is a decent audio system. The MAZDA5 doesn't offer the same Bose setup found in the MAZDA3 Grand Touring. It doesn't even have a USB input for your iPod; only an auxiliary audio input jack. For a generation that cares more about music than mechanicals, this omission seems glaring, especially since Ford will soon be launching the C-Max minivan competitor probably with the SYNC audio system.
Audio misstep aside, the MAZDA5's standard content list has clearly been given some thought. The entry-level Sport model starts just under $20,000 and includes a six-speed manual transmission (all other trims receive a five-speed automatic with manual shift control). Standard features include 16-inch alloy wheels, power mirrors, power windows and door locks, air conditioning, an AM/FM/CD/MP3 stereo with six speakers, audio auxiliary jack, tilt and telescoping steering wheel, remote keyless entry system, one-touch up/down driver's window, 50/50 split fold-down third row seats and steering wheel-mounted audio and cruise controls. Standard safety features include Dynamic Stability Control (DSC) with Traction Control System (TCS), Anti-lock brakes (ABS), advanced dual front air bags, front seat side air bags, three-row side air curtains, second row LATCH child safety seat anchors and a Tire Pressure Monitoring System (TPMS).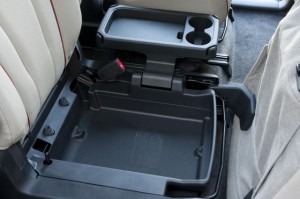 The Touring trim adds 17-inch alloy wheels, rear spoiler, fog lamps, Bluetooth hands-free phone connectivity with streaming audio and a trip computer, while the top-of-the-line Grand Touring adds a power moonroof, HID headlamps, heated side mirrors, rain-sensing wipers, driver's seat lumbar support, heated front seats, in-dash six-disc CD changer, SIRIUS satellite radio and leather seating surfaces.
Is the MAZDA5 a suitable replacement for a full-size van or SUV? Probably not. Can it go off-roading or tow a boat? Nope. But, if you're in the market for a fun, affordable and extremely versatile family ride that is as easy on gas as it is to park (and is a blast to drive), the MAZDA5 should definitely be at the top of your test drive list.