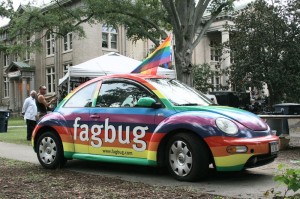 In the spring of 2007, Erin Davies' life changed for good: that's when she walked out to her VW Beetle in Albany, New York, to find it vandalized — spray-painted with the words "fag" and "u r gay". Adding salt to the wound: it was the National Day of Silence.
But Erin didn't let semi-literate homophobes get her down. Instead, she left the paint as it was, packed her bags, and embarked on a two-month road trip across the U.S. and Canada. She brought a video camera along for the ride, documenting other cases of discrimination and prejudice and working to energize members of the LGBT community.
The "fagbug" (as its known) has since been gussied up, but Erin's message of empowerment has remained as forceful as ever. This spring and fall, she'll be on another cross-country tour. Keep up with her appearances on the fagbug website or on Facebook. And if you have time — an hour and 22 minutes, to be exact — here's the documentary Erin made during her first trip.
[via Joe T, John V]