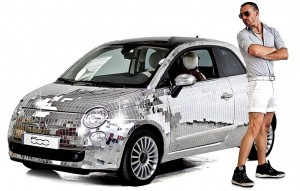 A couple of weeks ago, we posted Lauren Marie's great preview of the 2012 Fiat 500 — the American version of the ubiquitous (in Europe) Cinquecento, which will soon debut on this side of the pond. Given the fondness LGBT shoppers have shown for other small, sporty models like the MINI Cooper and even Volkswagen's New Beetle, we have a hunch that the 500 could prove similarly popular.
What we didn't know — until one of our Brazilian readers recently pointed it out — was that Fiat returned our affection with five fantasy models of the 500: the Fiat 500 Bear, Fiat 500 Drag Queen, Fiat 500 Leather, Fiat 500 Lesbian, and Fiat 500 Cool (pictured above, presumably targeted to gay hipsters who like circuit parties). The one-offs were produced by Fiat Spain in conjunction with last summer's gay pride celebrations.
As snazzy as most of them look, the majority seem pretty impractical for everyday use. Still, the 500 Drag Queen red sequin/carbon fiber exterior is something we could easily learn to love. Hey, Mr. Marchionne: any chance of making that a premium option over here?
P.S. If our Brazilian fan's website is down (as it looks to be), check this post at Autoblog Argentina. For a full translation, click here.