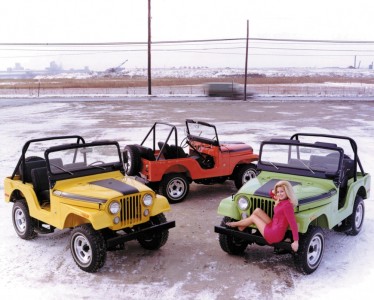 Jeep Wrangler Turns 60
No vehicle is more American than the Jeep Wrangler. Opening a photo album from across the decades, it would be hard to imagine G.I.s in World War II crossing Europe without their Jeeps. After coming home, they started the first SUV boom when they civilianized the little four-wheelers for fun, sun, and toil. Jeeps fought in Korea, ravaged the jungles of Vietnam, and still had time to boogie through the 70s as fashion accessories. Daisy Duke looked wicked sexy in her shorts – never more so than when driving her white Jeep CJ7 Golden Eagle. Pick any era since 1941 and you'll find Jeeps in the background.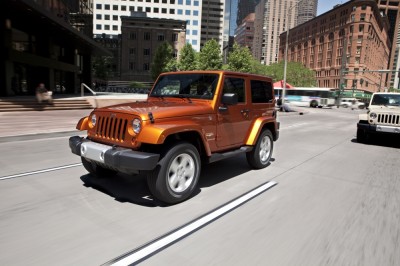 Enter the 2011 Wrangler, whose design looks more like a proposal for the next Model T than something derived from a 21st Century design studio. Jeep's famous "grater grille" flanked by round headlamps and exposed bumpers form the front. Separate fenders and a domed hood lead to an upright windshield that, as in the war years, can still be folded forward. An extra wheel attached to the back to help drivers if they're ever in a time of need. Custom tire covers are also available to create a bespoke look. Exposed door hinges, external pull-type hood latches, plastic fender extensions, and a rear end as vertical as the Chrysler Building is the definition of form after function. Elegantly curved windshield glass, a slightly raked-back grille, and 17" aluminum wheels blend the line between then and now.
Refinement is in the details, however, as the new Wranglers are wider and longer than previous generations. This change not only makes the Wrangler more accommodating to American-sized drivers, it also adds stability on road and off while helping to smooth out the Wrangler's once choppy ride. You can get a folding soft top as in the old days, but I prefer the hard top that allows passengers to just remove panels over the front seats, or to disassemble the entire thing for total open air; doors can still be removed for driving naked through the breeze.
Because of the ability to remove its top and doors, riding in the Wrangler is like no other automotive experience. Accessing the cab requires some effort, usually aided by grabbing the steering wheel or the roll bar, or both. The Wrangler's dashboard was redesigned for a more curvaceous Grand Cherokee look and even adopts its upscale sibling's primo three-spoke leather-wrapped steering wheel with integral audio controls. Everything inside, including the doors with roll-up windows, can be hosed down after mud-filled fun. Increased acoustic materials hush the interior dramatically on the highway, a blessed relief compared to the constant thrumming of earlier Wranglers. While I'd say the new Wrangler is almost civil, it is still probably the last vehicle you'd want to take on the Autobahn.
All Wranglers, including my Sport test model, come with a 3.8-litre V6 that generates 202 horsepower and 237 lb.-ft. of torque. Hard-core rock crawlers will likely choose the six-speed manual transmission, but probably never get past fourth gear. In an apparent attempt to get the best fuel efficiency possible, Jeep's engineers have made fifth and sixth gear to tall (too tall? Don't get what that means) they are useless for anything other than highway cruising. No matter as I prefer the four-speed automatic which makes driving in the city a bit easier. No matter what transmission you choose, you can shove this brick through the wind, but you'll be lucky if you see better than 19 mpg on the highway.
Running all day at interstate speeds really isn't the Wrangler's strong suit; you could buy any other Jeep if that's really your mission. It's the rock solid chassis and tenacious 4×4 systems that are the core of Wrangler's talent. Solid front and rear heavy-duty axles articulate over almost anything, allowing the tuned shock absorbers to tame rough trails and pot-holed city streets. Skid plates protect the fuel tank, transfer case, and oil pan. This combination of mechanical and protective technology allows the Wrangler Sport's part-time 4×4 system to tackle sand, gravel, snow, ice, or mounds of muck with ease.
Until I started looking around my neighborhood, I didn't realize how many Jeep Wranglers are on the road. College kids, old men, high school girls, CEOs, lawyers, mountain climbers, hotties in tank tops, Southerners in short shorts, and pissy club queens all drive them. Everybody relates to the simple honesty of the Jeep Wrangler. It is the perfect summer car with the top removed, and the ideal winter chariot with the four-wheel drive engaged and hard top in place.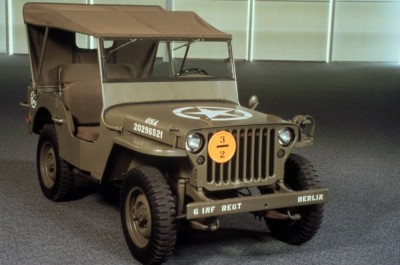 The fact that Jeep has been controlled by the French (Renault), Germans (Daimler), and Italians (Fiat) over the years does nothing to diminish the Jeep's status as an American hero and symbol of freedom around the world. Imitators come and go, but nothing has matched the Wrangler's simple style, incredible capability, and relative affordability. Perhaps no vehicle has remained as original for so long without losing relevancy. As Jeep celebrates its 60th Anniversary, the iconic Wrangler proves age only makes some things more enjoyable. Price as tested came to $26,310.
2011 Jeep Wrangler Sport
Four-passenger, 4×4 SUV
Powertrain: 202-HP 3.8-litre V6, six-speed manual transmission
Suspension f/r: Solid axles
Wheels: 17"/17" f/r
Brakes: disc/disc fr/rr with ABS
Must-have feature: Authentic!
Manufacturing: Toledo, OH
Fuel economy: 15/19 mpg city/hwy
As-tested price: $26,310.