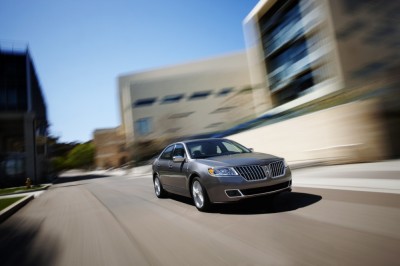 You're walking down a dark alley coyly looking for the door to a house of ill repute when a 2011 Lincoln MKZ Hybrid stealthily sneaks up behind you. Its dark metallic paint is glimmering under the street lights. You couldn't tell it was coming because its engine wasn't running. It was in electric vehicle mode, slipping unheard through the night. It is eerie. It is creepy. And, it is a Lincoln.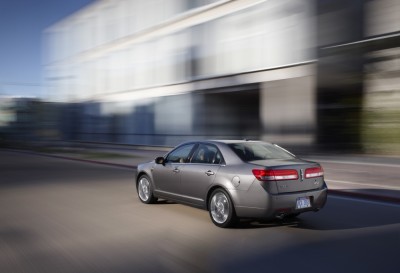 This is not exactly what one expects from Lincoln, home of the Navigator, purveyor of all things Town Car, and imbued with the spirit of Continental. Lincolns aren't exactly known for subtlety, what with their flashy chrome teeth, slab sides, and limousine stretches. You'll shake your head a couple of times when I tell you this American luxury car is not only technological advanced, but it achieves 41 mpg city and 36 mpg highway; quit wiping your eyes, you read it correctly.
The soul of this eco-gent is a 2.5-litre Atkinson-cycle four-cylinder engine that works in conjunction with batteries, electric motors, and regenerative brakes that recapture energy during deceleration. Full-on power nets 191 horsepower, but driven discreetly, the car can run on electricity alone up to 47 mph over short distances. Hybrids typically achieve better mileage in town because they can run on batteries more often. That also allows them to creep down dark alleys, looking for attendees to houses of ill repute.
To augment the aforementioned sorted affairs, the MKZ has a partial-LCD instrument cluster that communicates power usage, battery recharging, and gas mileage. There's also a cool display in which leaves and flowers "grow" when the car is driven ecologically and disappear as the scourge of Gore when leaden feet apply. I'm happy to report that after traveling a duration of 400 miles, I have grown a full bouquet.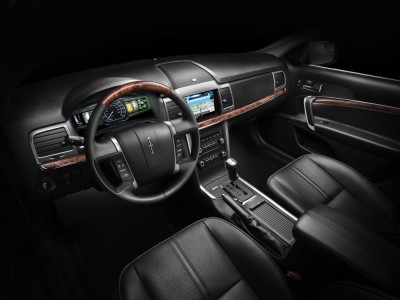 Even with all of this high-tech gadgetry, there is plenty of old-world Lincoln luxury inside the MKZ Hybrid. Seats are trimmed in Bridge of Weir™ leather, known for its refined grain, just like the '56 Continental. Front buckets are heated and cooled and enjoy a view of genuine wood trim on the dash and doors. Blind spot warnings and a rear view camera keep everybody safe while Lincoln SYNC® serves up voice-activated audio and navigation. iPods can be connected to the car's controls through a USB port while Bluetooth links to cell phones, and the theatre-quality THX speakers are Lucas-worthy.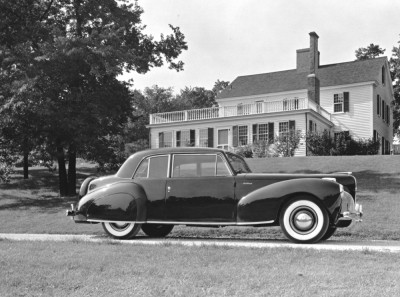 There's nothing but discreet Hybrid badges on the MKZ's decklid and doors to reveal this car's inner soul. If you want a flashy, look-what-I-bought hybrid, go shop the Lexus HS250h. Most MKZ drivers will be thrilled that they enjoy obscene fuel economy while slipping by unnoticed, especially since most have no interest in driving an arcade of buzzers and video screens. The car's shape is Euro-conservative, but delights with a "bow wake" grille inspired by the '40 Continental, wide rectangular taillamps from the '61 Continental, liberal use of chrome, and 17" alloy wheels that derive more from a SEMA show than anything ever displayed by a Continental. Should you want to dispense with the shady alley slinking and arrive like a movie star, puddle lamps built into the side mirrors light the way.
Long drives are required for appreciating the attention to detail in the MKZ. That Bridge of Weir leather from Scotland is milled for up to 12 hours, and uses a chromium-free tanning process so it feels buttery to the behind and can be easily recycled. Interior sounds are reduced via an acoustic laminated windshield, as well as body and door seals that help to squelch wind noise. Lincoln further banishes unwanted noise with expandable stuffers in the fenders and pillars, an acoustic headliner, and damping material on the floor to defend against road rumble. The result is a hybrid so serene you'll barely know it is a hybrid.
If this is what the new federal mandates produce, then praise Nader, build a temple to the EPA, and bring on more mandates! Lexus didn't see this one coming, but it is about to know where the MKZ has been as the hybrid is currently taking 25% of MKZ sales. The MKZ Hybrid's foes cover a broad spectrum, and include the Buick LaCrosse with eAssist, the Mercedes-Benz E450 Hybrid and Hyundai Sonata Hybrid. Pricing for the 2011 Lincoln MKZ Hybrid start at $34,330, but our test car, equipped with navigation, blind spot warning, rear view camera, and rear cross traffic alert systems, top out closer to $39,000. If you're comparing cars, that's the same price as a non-hybrid V6-powered MKZ. I didn't want it to slip by you.
2011 Lincoln MKZ Hybrid
Five-passenger, FWD sedan
Powertrain: 191 hp 2.5-litre gas engine, hybrid electric drive
Suspension f/r: ind/ind
Wheels: 17"/17" f/r
Brakes: disc/disc fr/rr with ABS
Must-have feature: Obscene mileage
Manufacturing: Hermosillo, MX
Fuel economy: 41/36 mpg city/hwy
Base price: $34,330