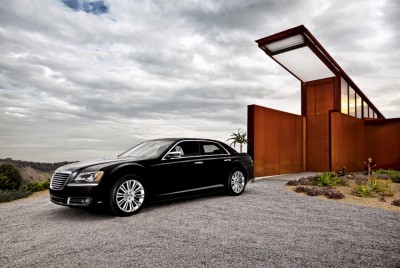 What to do When Your Biggest Obstacle is Looking at You in the Mirror
Being in competition with one's self can be some of the toughest competition you'll ever face. The story is as old as time itself. In your youth, you were innovative, fresh, a risk-taker, carefree, and sexy. Thanks to these assets and a lot of hard work, you easily made your way to the top. But now, you've grown older, maybe more cautious and less prone to risk. Up and coming youngsters are hot on your heels, however, so there is no resting on your laurels, no slowing down. This is the predicament that now haunts Chrysler as it finds itself trying to rejuvenate the "most award-winning car ever," the 300.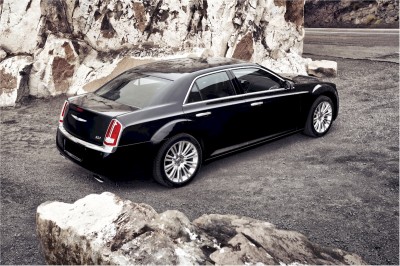 When it debuted in 2005, the new 300 was a bold, original car that harkened back to the great American rear-drive V8 sedans. Ralph Gilles' brilliant design reached across all demographics and income levels, as equal in appeal to middle-aged middle managers as it was to 20-something wannabe rappers. The aftermarket had a field day with the car as well, cranking out Bentley knock-off grilles and massive wheel and tire packages that were snapped up as fast as the 300 itself. If there was one complaint that was universal, however, it was the 300's drab interior. Fix this one area, and the car could probably carry on unchanged for another five years. But, Chrysler apparently feels the 300's time to mature has come, and so while they have made major improvements to the 300's interior, they have also dared to toy with the exterior formula, and with mixed results.
Chrysler starts by toning down the 300's exterior appearance. The tamed grille, and the conservative lines and proportions take away from the former car's bold look, a move Chrysler says is aimed at capturing a more upscale market segment. The square edges are now rounder, the rear end softer and the headlamps encase a very Audi-like string of LED lights. The tall beltline is still there, giving the 300 an almost gangster car-like profile, but the new wheel design seems a bit frilly and not quite as aggressive as in the past. Opinions of the exterior makeover varied amongst the journalists invited to see and drive the new 300, with most giving the new design an enthusiastic thumbs up. But, for me, some big questions keep popping up. Can and will Chrysler keep its avid 300 fans? Will the changes to the interior and technology be enough to satisfy loyal customers? And, will the new pricing prove too expensive, especially with cars like the Hyundai Sonata and Kia Optima tearing up the old marketplace rules?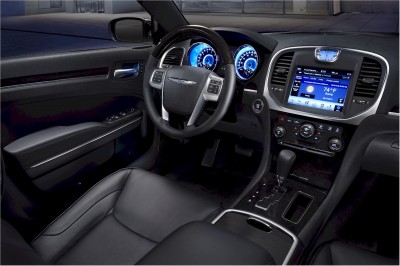 Thankfully, much of Chrysler's energy was spent on refreshing the interior and updating the 300's technology. Substantial upgrades include "soft touch" materials, real wood appliqué, and attractive chrome trim. Nearly one inch of additional rear passenger knee room makes for a more comfortable backseat. The primer gray interior of the former 300 has been banished, replaced by lovely contrasting shades of beige or black. Chrysler also updated their standard technology with elegant new steering wheel controls and an 8.4-inch full color touch screen display. Other improvements include additional storage space, an oversized glove box and door pockets, dual cup holders equipped with LED-illuminated sapphire blue light rings; choose cooling/heating cup holders to make that $4 latte last a little bit longer.
The 300 and 300 Limited show off Chrysler's all-new 3.6-liter Pentastar V6 engine which delivers 292 horsepower and earns an EPA rating of 18 mpg city and 27 mpg highway. Talk about power! This machine will satisfy the most rabid lead foot—that is as long as they don't drive Chrysler's celebrated 5.7-litre HEMI V-8 first. For those who can't live with the thrust of a V8 engine, the 300C's HEMI V8 delivers 363 horsepower and 394 lb. ft. of torque. As fuel efficiency is a staple to compete in today's market, the V8 engine features "Fuel Saver Technology" allowing the engine to run on four cylinders when less power is needed resulting in up to a 20-percent improvement in fuel economy. The 300C's extra power does come at a price, however, with window stickers starting around $39,000 and fuel efficiency decreasing to just 16 mpg city and 25 mpg highway.
Chrysler also spent time redesigning the 300's front and rear suspension for improved handling, and added all-new shock absorbers to deliver better control and comfort. Although the 300 is still a large car, the adept suspension and big tire and wheel packages allow it to navigate through the tightest of turns with no problem. One of the most notable—and bragged about—features in the revamped 300 is the major decrease in road noise. Chrysler used the Lexus LS as its benchmark to perfecting the essence of silence; and silent it is. Over long expanses of torturous California highway, the 300 seemed to glide over unruly expansion joints, allowing only the faintest "thump" to enter into the cabin.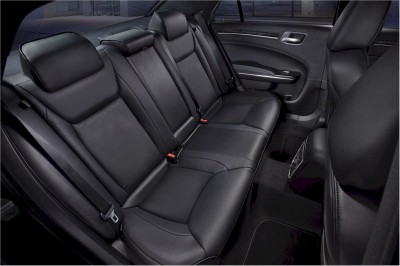 The 300 is available in three flavors: 300, Limited and 300C. The base 300 provides plenty of standard features, but with a starting price of nearly $28,000, is priced far above comparably equipped competitors from Honda and Toyota. If you want to turn your 300 from standard sedan to full-blown luxury land yacht, you'll need the leather seats, navigation and a sunroof available on the Limited and 300C trims. Limited models starts around $32,000 and include heated front seats, an Alpine sound system, UConnect interface with voice command technology, upgraded tires, 18" wheels, and a backup camera (very useful for this car's big rear end!). I suggest adding the 20" wheels to bring back the real reason why you're looking at the 300 – because you're bold, but not overly flashy. As mentioned earlier, the 300C starts around $39,000, with the all-wheel drive adding another $2,100 to the bottom line. Toss in Adaptive HID headlamps, Adaptive Speed Control and Rain-sensing Wipers, and the 300C's price tag balloons to just over $45,000.
In all, I think Chrysler has done a good job with the new 300. From a driving standpoint, it is still an exhilarating ride, with great handling, gobs of power and plush interior. The big question roaming around in my mind is this: Will the toned-down exterior still entice younger buyers to get onboard? Or will the new Chrysler 300 fill the void left by the Buick Lucerne and Mercury Grand Marquis. Stay tuned.