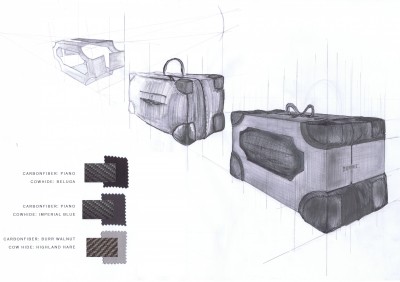 The marriage of luxury cars and bespoke luggage is nothing new — in fact, there's a long, fascinating history of design houses building travel gear for specific makes and models, continuing right up to the present day. When Infiniti launched its "Essence" concept a couple of years ago, it came with a swellegant set of Louis Vuitton valises, and Prada offered bags for Audi around the same time.
Now, students at Britain's Royal College of Art are trying their hand at travel gear in a contest to develop a line of womenswear for Bentley. Three finalists have been announced, and at least one student will have a prototype of his or her design manufactured by Page and Boydell this summer. Included in the mix: a car coat (natch), a weekend bag (above), and our favorite: a pair of driving shoes.
For more details, check out the official press release below. We'll be back shortly with news from this side of the pond at the 2011 New York Auto Show.
* * * * *
FASHION FIRST WITH BENTLEY
Royal College of Art students create exciting new concepts for iconic British manufacturer with state-of-the-art womenswear
(Crewe, England, April 2011) World-class student designers from London's Royal College of Art (RCA) have created a cutting-edge series of inspirational designs for women in a unique project with the famous British company.
Seventeen fashion students have spent the past few months immersing themselves in the work of Bentley's leading designers, including Head of Interior Design Robin Page and Senior Designer Brett Boydell, to fulfil a design brief based on three travel products for women:  a Car coat – three-quarter length travel coat; Footwear – driving shoe; Weekend overnight bag.
Christine Gaskell, Bentley board member for HR, said: "I am delighted that we are working with the RCA on a collaboration which marries the best of design in both the automotive and the fashion worlds.
"As a brand, Bentley knows the importance of its female customers and the discerning influence they bring to bear. Our cars reflect their understanding of the best in quality materials, design technology, style and sophistication. The RCA students have captured these attributes perfectly."
Drawing on Bentley's proud design heritage, the RCA students developed a set of striking and modern designs for women. The object was to design and make products which reflect Bentley's pinnacle position in the luxury sector of the car market and which pick up key design cues from the new Bentley Continental GT.
The new Continental takes its design inspiration from the original GT which in turn was inspired by the 1950s R-Type Continental, but moves the story on. Signature styling cues remain but the sculptured new body, produced using the latest construction techniques, delivers even crisper, more highly defined feature lines and form to every area of the exterior design. The GT's new look is bolder and more athletic than ever before.
Now, three of the RCA students have been shortlisted to refine their designs with Page and Boydell to produce prototypes for display at the end of the summer term.
They are Rebecca Thomson (car coat); Louise van Hauen (weekend bag) and Alvaro Gonzalez (driving shoes).
Professor Wendy Dagworthy, head of the college, said: "Sponsored industry projects are an important part of our students' time at the college. They learn invaluable skills, such as working to a client brief and are given the opportunity to collaborate with world-class brands, such as Bentley.
"This project will provide the students with the experience needed for a professional career in the fashion industry."
Robin Page said the overall standard was extremely high and the project was an important part of Bentley's creative approach to attract women to the brand.
"The fashion design competition with the students from the RCA is a first for Bentley. It is important to Bentley that we appeal to our female customers with exciting new designs in both our cars and branded goods.
"It is thrilling to work with the post-graduates at the RCA who are the elite in fashion design and who are young students with fresh and exciting ideas. The students visited the Bentley factory in Crewe to understand our design language and the quality of the materials we use, along with the exquisite craftsmanship that is worked into our cars.
"The students embraced the brief very well, producing excellent work in the three categories, which I feel captures the design language, craftsmanship and the spirit of the Bentley brand."
Rebecca Thomson, 23, from Southport, England, said:  "For my coat design I wanted to capture the spirit of the Bentley woman. The final design reflects Bentley's traditions through a more conservative washed silk cloth, mixed with the modern innovation of the developing Bentleys using a waterproof sports fabric. The lining of the coat is quilted for comfort and style, mirroring the beauty and fine detail of the Bentley interior. Like a Bentley exterior, the outer coat is simple, sleek and elegant using the lines to effectively frame the body."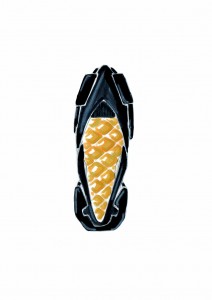 Alvaro Gonzalez, 29, from Spain, said:  "With my design I wanted to rethink a driving shoe and its shape, taking the essence of a court shoe and encapsulate it in rubber to achieve a visually effective design as well as a well functioning product. I looked into shapes from Bentley cars to create my shoe, but I abstracted and resized these shapes to create something new out of a Bentley root."
Louise van Hauen, 27, from Copenhagen, Denmark, said: "The mood for this project is a mix between a romantic 1950s ride on the Riviera and casual contemporary luxury. With reference to classic luggage yet finished with modern details and materials, my goal was to design a product that respects both the heritage and presence of Bentley.
"My final design is a two-part product: first a soft leather bag with padded corners and hand-stitched details – such as logo on front and handle seams. Second, a carbon fibre case with wheels and trolley handle that closes around -and contains – the soft bag. The concept being that the wearer can change a shoulder bag into a piece of luggage."
Brett Boydell, senior designer, commented:  "It has been very inspiring for me to work with fashion students from the RCA because they approach design in a very different way to the automotive world. They work very freely and without the normal constraints that automotive designers operate under in terms of engineering and other highly technical specifications.
"They have done a great job of understanding the brand and its customers, and this is evident in their design proposals which capture the correct level of creativity and usability. I think the design proposals are luxurious in their use of materials and their understanding of what highly discerning individuals are looking for. The proposals have all been crafted with a modern design approach which reflects perfectly our cars.
"I was very interested in the level of craftsmanship and techniques behind their work and it has broadened the scope of products which can be associated with our cars.
A prize-giving ceremony will be hosted by Christine Gaskell in the Bentley room at Mosimann's, London, in late June.
Side Note: The Royal College of Art is the world's most influential postgraduate university of art and design, specialising in teaching and research and offering the degrees of MA, MPhil and PhD across the disciplines of fine art, applied art, design, communications and humanities. There are over 900 masters and doctoral students and more than a hundred professionals interacting with them – including scholars, leading art and design practitioners, along with specialists, advisors and distinguished visitors.