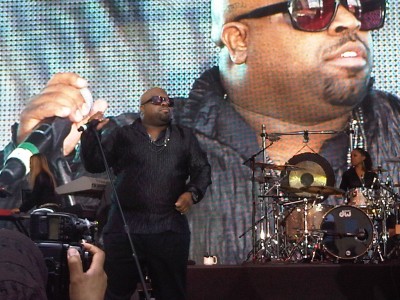 On Saturday morning, May 21, Range Rover held a free concert in downtown Manhattan to celebrate the impending arrival of its new Evoque sport-utility, the brand's smallest and most fuel-efficient model ever. Special guest performers included deejay Solange Knowles (Beyonce's sister), along with singer Cee Lo Green.
Held under brilliantly sunny skies in Battery Park City, the morning start time was necessary for the New York festivities to coincide with Evoque-themed concerts held simultaneously in Shanghai and Milan. Scottish-born singer Paolo Nutini crooned for the crowds in Milan, while deejay Mark Ronson worked the turntables in Shanghai. Each event was broadcast on a large LED screen onstage.
Cee Lo finished with his hit "F—You," though he left it up to the cheering crowd to fill in the expletive-laced highlights of the song. The concert marks the first stop for the "Evoque Experience," a global tour bringing the new sport-ute (and free music) to more than 100 cities around the world. The Range Rover Evoque goes on sale later this year, with a starting price of approximately $45,000.