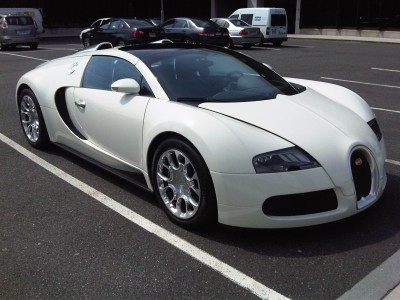 Driving a Bugatti in the Big Apple

With its $2.1 million price tag and mid-mounted 1001-horsepower engine, the Bugatti Veyron 16.4 GrandSport is one of the world's most exclusive automobiles. For the price of one GrandSport, you can buy nine Ferrari 458 Italias (and still have cash left for a Corvette). So what would inspire anyone to take this multi-million exotic onto the mean streets of Manhattan?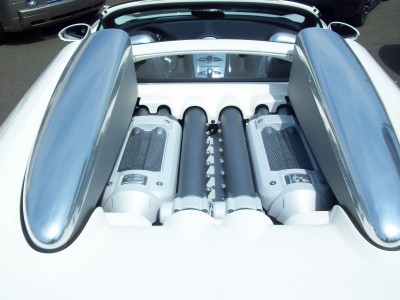 For starters, you don't mess around with details like 'where to' when the chance comes to drive a Veyron. The invitation from Bugatti U.S.A. was to start around noontime from the posh suburban enclave of Greenwich, Connecticut, before heading west to New York State, and down into Manhattan and to the heart of Times Square. My co-pilot was racing driver and three-time 24 Hours of Daytona winner, Butch Leitzinger.
As he deftly steered the Bugatti around road-hogging soccer moms in Porsche Cayennes, Butch offered a few pointers before I got behind the wheel.He assured me the Veyron is extremely "easy" to drive – at least once you forget the wheels and tires alone cost more than $60,000 to replace. His assurances about the car's normalcy were, of course,followed by a highway merge that felt like being dropkicked by God.
There aren't many adjectives (at least PG-rated ones) that accurately describe a Veyron's acceleration. There is a whoosh from the four turbochargers, the bellow of the W-16, and a split second as the four-wheel-drive system and massive tires grab hold of the asphalt. You're fired down the road with ethereal speed. Top speed is more than 250 mph. The sprint from 0 to 60 mph takes less than 3 seconds.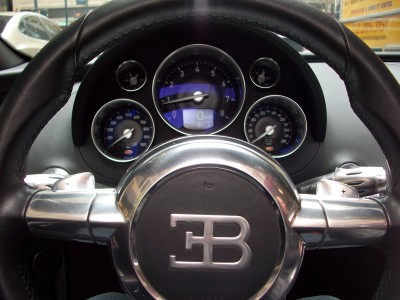 Sliding behind the wheel, I couldn't help but notice the speedometer reads up to 280 mph. The seats are exceptionally comfortable and finding all the major controls takes only a minute or two. Anything not covered in rich black leather is finished in solid metal, with brushed aluminum covering the center console. It's very business-like and, with the top removed (a two person job), there is the bonus of unlimited headroom.
After the first overly cautious couple of minutes, the Veyron GrandSport proves itself to be extremely user-friendly. The suspension is firm, but soaks up bumps with a solidity that makes the car feel like it was honed from solid rock. The Veyron feels like a real car, not simply an expensive toy priced higher than a Central Park East luxury condo. The steering is direct and fluid, though not hyperactive and constantly alive in your hands. That's a good thing when you have more than 1000-hp lurking over your shoulder.
The 7-speed dual-clutch transmission has shift-paddles on the steering wheel, though you're better off leaving it in fully automatic mode and focusing on the road ahead. Or in the case of my test drive, the sudden appearance of blinking blue lights directly behind me. I was being pulled over in a Bugatti. The coolness factor was only limited by the fact that I'd actually been doing the speed limit.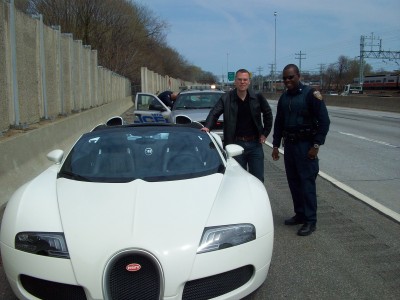 The young officer sauntered up to the driver's side and, peering down at me from his Oakley sunglasses, asked if I knew why I'd been stopped. When I admitted to having no clue, he flashed a smile. "To check out the car, of course," he exclaimed. After a sigh of relief and quick tour of the car (on the shoulder of I-95 south) we were back on our way – minus any ticket, but also lacking my request for a police escort.
There was some time to make up if the Veyron was going to make its 2 p.m. appointment in Times Square.Seeing any gap in traffic, all it took was a dab of the gas pedal for the car to streak forward. Vehicles that, only moments before, were far in the distance were reeled in and suddenly only inches away from the Bugatti's chrome-ringed nose.
Down the West Side Highway, around the tip of Manhattan at Battery Park, and back up the FDR, the Bugatti devoured city traffic. At every red light, other drivers and pedestrians would scramble to snap a photo with their mobile phone. People shouted and waved, and I admired the car's reflection while cruising past the glass-walled lobbies of Midtown skyscrapers.
On time and with the car in one piece, I hopped out in Times Square and said good-bye to Butch and the Bugatti. Somehow I'd expected to feel a sense of relief. After all, my career was safe again; the burden of piloting a $2.1 million supercar in New York was no longer mine. Instead, I felt like I'd just partied with a rock star but had to leave before the concert began.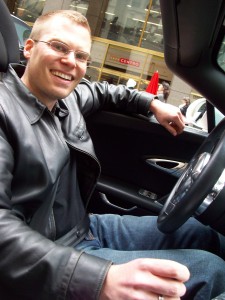 Could I ever afford this car? Absolutely not. But could I get used to this kind of four-wheeled celebrity lifestyle? Oh yes, you bet I could! The Bugatti Veyron 16.4 GrandSport is outrageous in every detail: price, power, performance and exclusivity. It's the most awesome machine I've ever driven, period.