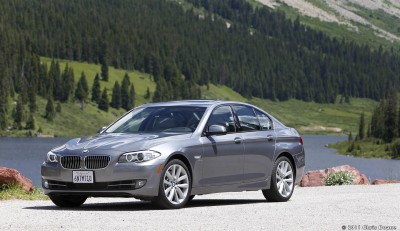 I'm going to admit something slightly embarrassing here in the hopes that other people out there, who suffer from the same thing, won't feel so alone.
OK, here goes.
I'm a virgin.
…a BMW-virgin.
I've driven many Audis, Vokswagens, Mazdas, Infinitis, Cadillacs and even a few Porsches, but never a car with the blue and white roundel on the hood.
All that changes today as I step into the new, 2011 BMW 5-series.
Today, I become a man. Or, something…
What Works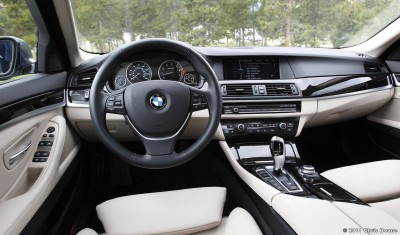 Good news first. The 535i is packing a 3.0L, inline 6-cylinder motor with a twin-scroll turbocharger, and it likes to party. Its 300hp will get you to 60mph in about 5.5 seconds, and a $250 speeding ticket in another four seconds. While that might sound raucous, the turbo six delivers its power in a very smooth fashion, whooshing your passengers up to 100mph without them realizing it.
The exhaust note and rumble this inline six-cylinder makes might be the best part of the entire car. As the growl builds from 3,000 to 4,000rpm, it will only egg you on to keep revving and increase your aural pleasure. Keep in mind that approach will make mincemeat out of your fuel economy.
The view from the driver's seat is pretty fantastic as well. Most of the luxuries you'd expect to find in a large German sedan are there. Fine leather and rich wood surround you, along with a 10-way adjustable seat with heat, but oddly, no cooling in this particular 5-series with the near $68-grand price tag.
There's also a bird's eye view camera system, which makes it possible for you to see everything around the car on the dash screen. If you back into something or clip someone's bumper because you thought you had enough space to make the turn, it really is your fault this time.
What's So-So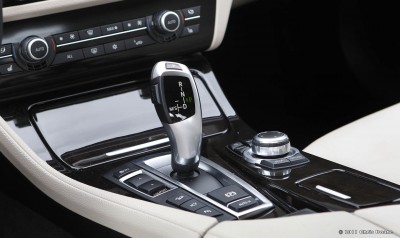 Let's just jump right to the often-dissed BMW iDrive system. After so much discussion, I probably don't need to explain it at this point, but briefly, it is the multi-function dial on the center console that controls most of the systems in the car.
It's not really the dial itself that is bad, it's the way the system is laid out and appears on screen. Navigating through the many levels of menus just isn't as user-friendly as it could be. Like any technology, though, the more you use it, the more sense it makes
Right next to the iDrive dial is another piece of questionable technology: the shifter for the 535i's 8-speed, automatic transmission. For whatever reason, it's been styled to look like a Norelco electric razor and has some slightly-less-than traditional looking controls. I suspected this might throw off certain drivers so I tried a quick experiment.
I had two people from, let's say, slightly advanced generations, sit in the driver's seat. All I asked them to do was turn the car on and put it in drive. Figuring out the push-button start didn't cause too much trouble, but when it came to the shifter, things got hectic. There was double-clutching of the shifter, pushing of multiple buttons at once and general confusion. The BMW alert chime sounded several times to alert them something was not being done correctly.
Both found it needlessly complicated. That should, at the very least, get BMW's attention as their target market for the 5-series would likely be drivers of their age.
Once you get the 5-series moving, the handling is pretty good, and a bit strange, all at once. The good part is that, like many BMW's before it, this 5-series can take a bend in the road quite well. As part of the optional Dynamic Handling package, this Bimmer has adaptive suspension dampers, along with the standard anti-roll bars, to make sure you corner quickly and flatly.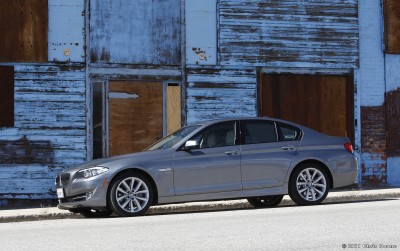 The strange part is that the steering feels…strange. The culprit is BMW's electric-assisted steering system. While I know I can take a corner quickly in the 535i, the steering feels so light, it just comes off as unnerving. It's something you really have to feel in person to understand.
On the plus side, BMW's xDrive, all-wheel-drive system has been updated and now features torque vectoring. When going through a corner, this system will brake the inside rear wheel, while feeding more power to the outside rear wheel, to help you rotate the car through the bends.
Past the techno-whiz bangs, the new exterior design is a nice step forward from the old model. Where the 2010 5-series had many slab-sided surfaces, the 2011 model has new, tightly formed sculpting and some sharp, leading lines to it. It's still conservative, sure, but in the luxury sedan market you can't expect massive spoilers and crazy, sweeping sheet metal.
What Sucks
I know it's probably ridiculous to bitch about this, but the alert chime in the 535i drove me up the wall. It is the most polite-sounding "hey, idiot, your seatbelt isn't on" chime I've ever heard. A chord played on a marimba, I believe.
The fact that it comes on with such frequency is what gets annoying. Yes, I know I didn't push that button on the shifter. Yes, I know the lights are on. Yes, I know my seatbelt isn't on, give me five seconds to put it on before you start yelling at me. Yes, I know I started the car, what the hell is wrong with that??
On a completely different plane, the side mirrors on the BMW are much too small. I found myself wanting more rear visibility in that department.
Wrap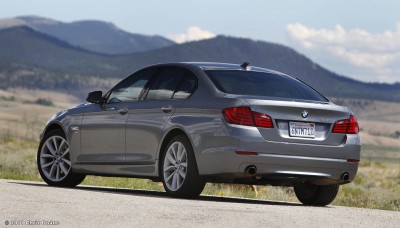 In the end, the 535i is a little two-faced. You've got a hot-tamale powertrain and chassis, but it's being cooled off by a conservative, vanilla luxury design style and a steering system that leaves you confused.
None of that is likely to bother most of the 5-series' potential customers, though. The 5'er is an extremely comfortable, very capable luxury cruiser.
As for me, I'll save my pennies for the much hotter, harder (way more expensive) M5 sedan. Monte Carlo Blue and the 6-speed for me, please.
2011 BMW 535i xDrive – $52,400
-Premium Package – $1800
-Premium Package 2 – $4500
-Dynamic Handling Package – $2700
-Sport Package – $2200
-Cold Weather Package – $1050
-Comfort Access Keyless Entry – $1000
-Side & Top View Cameras – $800
-Space Gray Metallic Paint – $550
Destination – $875
TOTAL – $67,875