Finding the 2011 Volkswagen Jetta's Truth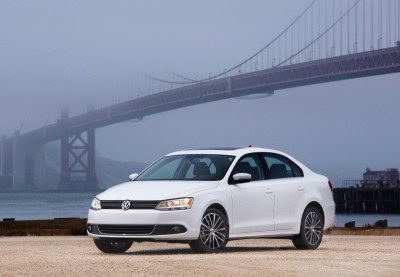 Here's what we have to find out: Is the re-designed 2011 Jetta the great new car Volkswagen claims it is, or just an Americanized version of its former self? There's no denying sales are up 58% since 2010. The new Jetta is bigger, re-styled, and more powerful – but is it a better car?
I have a silly test that I like to do with cars that drives my friends nuts. I tap every interior surface with my fingernails. In seconds, I can tell what is high quality or just thin plastic. Your eyes would tell you the new Jetta is as expensive as its predecessor with nicely grained dash panels, piano black touches around the radio, metallic finishes, and a thick sport steering wheel. But my tapping soon sets the truth free.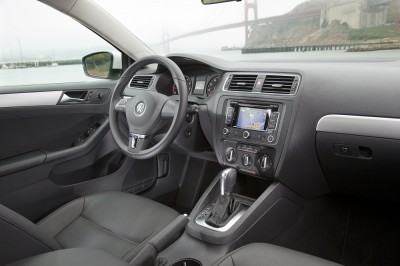 My fingers found hard plastic where soft padded rubber used to live on the dash and doors. The center armrest is no longer height adjustable either. And, apparently, nobody cares (note those increased sales). The heated leatherette sport seats, leather-wrapped steering wheel, Bluetooth, and in-dash NAV must be dazzling VW's new customers. The trunk, with rear seats folded, is at least big enough to conceal three German Shepherds and two Cannondale bikes [Casey, we're hoping this is just a theory—ED]. I could really go for a USB port to connect my iPod, but no luck here. At $24,865 as tested, the new Jetta is not cheap and should have that kind of extra.
Outside, we get the design equivalent of hard plastic. The Jetta isn't ugly; I just liked the old shape better. Its horizontal grill slats, chiseled body-sides, and 17" alloys should age well. Yet the overall impression is that VW has traded in the Jetta's urban-chic exterior for something a tad too church-lady-conservative.
My father, who builds street rods in his spare time, may find the Jetta underpowered. You and I won't. Step on the throttle from a stop and the 170-HP 2.5-litre five-cylinder engine sets you in your seat. Click down a great at Interstate speeds and there's plenty of spunk. A six-speed automatic transmission with Tiptronic manual shift mode makes driving fun. But if VW wants to take on strong new competitors – like the Ford Focus and Hyundai Elantra – it must do better than 24/31-MPG city/hwy. Several competitors can top 40-MPG hwy.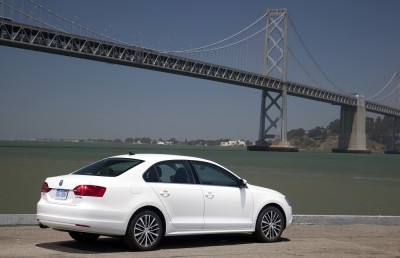 VW snuck another change under the trunk. In place of a sophisticated independent suspension system is a lower-cost twist beam axle. To be honest, I couldn't tell a difference from behind the wheel. The car feels sprung to run and laps up curvy roads. Nasty jolts at high speed didn't disturb it. As is typical in VWs, the steering is light and precise.
If you're planning a cross-country journey to your favorite parade with four friends aboard, the new Jetta is better. Getting baby seats in and out will be easier and that all-terrain stroller will fit in the trunk. Despite lower grade materials inside, the solid VW driving experience remains. I just miss the old Jetta's attention to detail.
2011 VW Jetta SEL
Five-passenger, FWD sedan
Powertrain: 170hp 2.5-litre I5, 6-speed automatic transmission
Suspension f/r: Ind/Twist beam
Wheels: 17"/17" alloy f/r
Brakes: Disc fr/rr with ABS
Must-have feature: Space, handling
Fuel economy (city/hwy.): 24/31 mpg
Manufacturing: Puebla, Mexico
As tested price: $24,865