Last week at FamilyCarGuide.com, I posted some suggestions for planning a perfect vacation with your pet. That was based on experiences my partner and I had over the course of a long road trip from our home in New Orleans all the way to Provincetown, Massachusetts and back.
But pets aren't the only consideration when planning a vacation by car — obviously, your partner figures into the equation, too. Here are a few suggestions that I've found to make road trips with your significant other (or a good friend) simpler and more stress-free.
1. Start slowly: If you're heading out for a long road trip, don't make your first day too grueling. The stress and strain of packing, handing off keys to housesitters, notifying credit card companies of your plans, and all those other vacation preparations adds up, meaning that you're apt to be pretty keyed up for the first few hours of "vacation". If you've got three full days of travel ahead of you, save the roughest for day two.
2. Plan your overnight stays in advance: Even the best of friends and partners have different body clocks. If I had my way, I'd stop after about six hours on the road, but my partner is comfortable driving much longer stretches. Mapping out overnight stays ahead of time is a good way to avoid arguing about whether to stop at the next La Quinta or keep going for another 100 miles. Nowadays, it's really easy to find your perfect holiday home or hotel so don't stress too much about accommodation options. Just book your accommodation as far in advance as possible!
3. Share expenses: In the case of most couples, one person earns more than the other. Still, both should share the cost of the vacation — not split, mind you, but share. That's not just good for the two wallets involved, it's good for morale, too, showing that both folks in the car are ready to pitch in and make the vacation a success.
4. Share the driving: It doesn't matter whether you opt into motorhome hire in the Auckland area for your trip to New Zealand (for example) or you're bringing your own car, it doesn't matter who likes driving and who hates it. As long as both of you have your drivers' licenses, you should share — again: not split — the driving duties.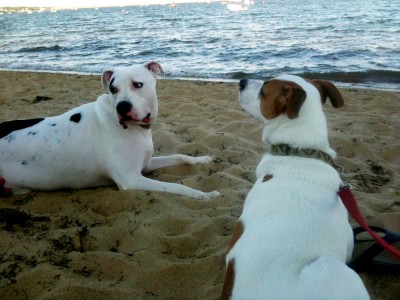 5. If you're planning to take pets, reconsider: I'm very fortunate that all four of our dogs do pretty well when traveling. They're antsy for the first hour or so, but after that, they settle in and do what they do best: sleep. However, I've had other dogs who've hated it — they've been sick in the car, they've tried to hide under seats, they've been nervous in traffic, and worst of all, they've not been able to relax when we've reached our destinations. And frankly, if your pet is a ball of nerves, you and your partner are going to be the same way. Be sure to check out the endless list of Dog Friendly Retreats you can choose from to make the end destination as peaceful as possible for your four-legged friend(s). But seriously, think long and hard before loading Rover in the Range Rover.
6. Reconsider for the sake of your relationship: I won't lie: vacations of any sort — especially road trips — can be taxing. Even the best of friends can find themselves at each other's throats after two days of being cramped in a car. If you're a new couple, or if you and your partner are having trouble, choose your vacation wisely. Additionally, taking some time a week or so before the trip to find out what to do in Norwood Massachusetts (if this is where you're thinking of visiting) could make this trip a lot less stressful. Some therapists might suggest that struggling couples should embark on a big, bonding experience; I say that a two-hour trip to the outlet mall makes for a good test run — and even better shopping.
Have other suggestions? Counseling advice? Dos and don'ts? Feel free to share them on our Facebook page or leave a comment below.