Note: Late last year, we received a letter from a Gaywheels reader in Croatia — a guy named Zach. (Since he's not out in his home country, he asked that we not use his real name). Recently, Zach contacted us again to say that he'd penned a couple of brief articles, and he wanted to know if we'd be interested in running them. The first is below; it's a follow-up to a piece we ran several years ago on openly gay NASCAR driver Evan Darling.
* * * * *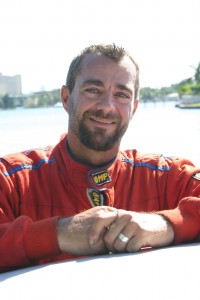 Last year, I came across an article about gay NASCAR driver Evan Darling, right here, on Gaywheels.com.  Since I adore cars and everything about the topic, I loved reading about his path to success, along with his fight for respect from other drivers and sponsors. A search on Google gave me additional data about him, and I was happy and proud to be a part of a community that has such a wonderful person as a role model.
Driven by my curiosity, I decided to contact him in March this year. I wanted to ask first-hand what was new in his life and career as a driver.  The feedback was discouraging: because of his coming out, one by one, his sponsors started to retreat, and he couldn't finance his car or pay his mechanics.
Knocking on the doors of different companies was getting him nowhere fast. I asked if he'd tried contacting gay celebrities, or gay-friendly companies. He'd had no luck there either. How disheartening, I thought, that Paris Hilton has her own motorcycle team while a truly talented individual was seeing his career fizzle.
Still, the economy has been anything but robust, so I asked if economic gloom had been one of the main culprits. To this, Darling responded that NASCAR is still "a highly viewed and profitable event." In his experience, even "gay-friendly" companies were not as open as they presented themselves to be. "They like when a gay person buys their product, but they are not ready to sponsor a gay athlete on a sports front, which is considered to be straight territory."
When we spoke in March, he was working as a mechanic and trying to work his way back into lower-profile races to attract new interest from sponsors. At the same time, he also worked as a driving instructor, helping younger and inexperienced drivers.
Only a few weeks ago, I was crushed when Evan updated me with the latest news. "Hey there, nothing new, lots of disappointments, looking for a job." He said he realized why gay people are often not out in sports, as finding sponsorship was proving impossible."We have a long way to go before we can call ourselves equal," he said. "I have lost almost everything that means something to me, so I am pretty bitter."
I could only offer words of support, sympathy, and understanding — along with the hope that being gay will someday not dictate someone's success in life, either on or off the racetrack.
Zach