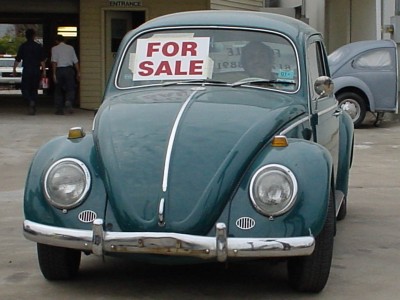 A guest post by Friend of Gaywheels, Michael Oroszi:
The most important purchases you'll ever make are likely to involve a roof or wheels. Here are seven helpful tips to make you a pro at one of those:
1. Narrow your list to fewer than seven options
Start by keeping it simple. Choose candidate cars that match your lifestyle. Seven choices will give you flexibility in the market and not cause your head to explode. (Need some suggestions? Check out KBB.com's "Ten Best Used Cars Under $8,000".) Do your research and get informed — we promise, it'll take less time than it takes to check your friends' Facebook updates.
2. Determine the vehicle value
You don't want to go home and realize you've just paid too much for that perfect vehicle. Edmunds and TrueCar are great tools to determine fair market values. You'll be able to negotiate with confidence if you know the going price for your car. Keep in mind that market values vary by region and even by season. You may be able to score a better deal on that convertible in the winter than in the summer.
3. Pull comps
Check out the listings for your car on sites like Autotrader and Searchtempest (which searches all of Craigslist). This is a quick way to fine-tune your negotiating strategy. Check the supply and demand for your target vehicle. You can negotiate more aggressively on more common cars and play one seller off the other Knowledge is power!
4. Vehicle history reports
Get the vehicle history report for any car that you are seriously considering. Autocheck and Carfax are greate sources. Vehicles listed on eBay Motors that are newer than 1981 come with a free Autocheck report. The folks at Popular Mechanics put out a pretty good vehicle checklist when you're ready to inspect your car.
5. The test drive
This is crucial! Bring an extra set of eyes and ears whenever possible — especially trained ones. We don't mean someone who can pick a color or likes the shape of the Audi A7, we mean a real enthusiast! A passenger can give great feedback on ride and performance, and she might also notice some of those little noises and vibrations that could end up costing you down the road. Don't forget to go through the vehicle service history file. If either of you do notice a strange or unreliable sound coming from the vehicle, it's time to investigate further. You do not want to end up with a costly lemon your hands, so ensure that you do your research into both the car and the dealer. It's important that you learn more about California lemon law to prevent you from making this mistake. Anyone willing to go through this process with you is either a great friend or relationship material.
6. Pre-purchase inspection
This should be done before negotiating the final price of a vehicle. Pre-purchase inspections will always come up with something and will often give you an edge at the bargaining table. They typically cost $100 – $200 and are performed by certified mechanics. Any vehicle repair facility is capable of a pre-purchase inspection.
7. Paperwork
Run or skip or fly away if any title says "Salvage", "Reconstructed", "Branded", or "Lemon Law Buyback". Did you know that if you purchase a vehicle that has serious and dangerous mechanical flaws, the California Lemon Law protects your rights and interests by making the automaker or dealer repurchase your car from you? To learn more about the lemon law repurchase formula, go to nealefhima.com. If you live in Florida and would like to know about lemon law in your state, take a look at the detailed information provided here. Ask to see the vehicle title. Make sure the vehicle owner matches the name on the title. Double check the VIN number on the vehicle with the VIN on the title. VIN numbers are usually located on the upper left hand side of the dashboard, inside the drivers door or B pillar which is that post thingy that the door latches into. Know that if you are sold a vehicle that fails to meet the standards promised or advertised, assistance from a California lemon law firm can help you out when you have a lemon on your hands and are unsure how to best proceed. Know your state laws for what is required when purchasing a used vehicle. Any state motor vehicle website will have this information. If the seller has financed the vehicle and there is still a loan on it, be sure and deal directly with the bank and vehicle owner. Dealer transactions are easier in this case. Dealers are required by law to make sure paperwork transactions run smoothly, though they do charge a documentation fee or processing fee for this.
These helpful tips should keep you behind the wheel of the right vehicle (at the right price!) for years to come.